Mar
7

Books, Notable JET Alums, Travel/Tourism, Uncategorized, Writers

Comments Off

on Notable JET Alums: D.H. Cermeño, author of "Rising Sunsets"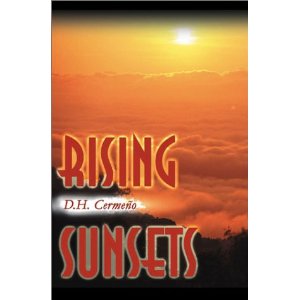 The below was shared by Hiroshima JET alum Angela Perrone, herself a travel writer, who recently met another JET alum book author in the course of her research for JetWit on JET local travel writing.
JET Alum Author: D.H. Cermeño (Hiroshima-ken)
Book: Rising Sunsets (click to purchase via Amazon)

Book trailer on youtube at:  http://goo.gl/A4P8a
Website: www.dhcermeno.com
Below is a synopsis of the book along with Cermeno's biography.
Synopsis:
Rising Sunsets is an enlightening journey through the mind of David Fletcher, a bright and ambitious young man who is determined to conquer the world and prove his unsupportive father wrong. When reality strikes and nothing works out as expected, an unusual opportunity to go to Japan to teach English to schoolchildren presents itself. There, he discovers his true self and finds an inner strength and independence he never knew existed. Throughout the story, David uncovers Japanese culture and easily embraces the traditions until suddenly, those age-old beliefs stand in the way of his happiness. And, through an unexpected encounter with love, the course of his life is changed forever.
A third generation Florida native, D.H. Cermeño worked in Japan as an English teacher for a year after graduating from Loyola University in New Orleans with a degree in Broadcast Production. Upon returning to the United States, he earned his M.B.A. from Crummer Graduate School at Rollins College and is a Database Marketing Manager in the hospitality industry. In his spare time, he writes, entertains, and volunteers in the local community and supports local theatre. D.H. has traveled extensively throughout Europe, Asia, and Central America and especially loves visiting his extended family in the northern part of Spain. He currently resides in Winter Park, FL. Rising Sunsets is his first book.
Click here to see a list of other JET alum authors and their works.  (If you know of others not included in the list, please email jetwit [at] jetwit.com.)