WITLife is a periodic series written by professional Writer/Interpreter/Translator Stacy Smith (Kumamoto-ken CIR, 2000-03). She starts her day by watching Fujisankei's newscast in Japanese, and here she shares some of the interesting tidbits and trends together with her own observations.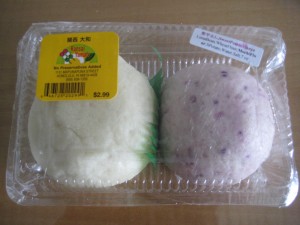 I am back in Honolulu, so of course I had to visit my favorite mochi stand, Kansai Yamato.  Every time I go I end up discovering something new, and this time it was the two plump manju pictured on the right.  The purple one was sweet potato flavored with this paste in the middle.  The white manju was of the standard kind, filled with red bean.  Both were quite substantial snacks, big and filling so the two-pack is likely meant for sharing.  As manju, I found them heavier than the lighter ones I am used to from Japan, as well as compared to the steamed kabocha bread I enjoyed during my last trip.
However, as much as I l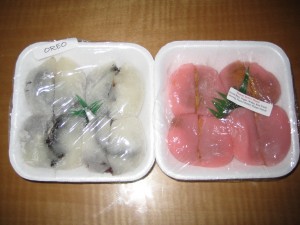 ike manju nothing beats my love for mochi, so of course I had to get some of those too.  As this time I am traveling with a Pacific Islander group, I am not sure how familiar they are with this dessert and decided to introduce them to it.  For this purpose, I bought my two favorites of peanut butter and oreo to share with them, pictured here.  I'm hoping they like this American-style mochi as much as I do!