Aug
9

Anecdote Article, Translating/Interpreting, WIT Life

Comments Off

on WIT Life #114: Sakura Square
WITLife is a periodic series written by professional Writer/Interpreter/Translator Stacy Smith (Kumamoto-ken CIR, 2000-03). She starts her day by watching Fujisankei's newscast in Japanese, and here she shares some of the interesting tidbits and trends together with her own observations.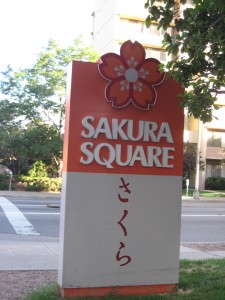 My travels bring me to the mile-high city of Denver, Colorado, not exactly what you think of as a hotbed of Japanese influence.  This is why I was surprised to catch a glimpse of hiragana during our city tour this past weekend.  Little did I know, but not too far from our hotel was a location called Sakura Square.  This plaza is overshadowed by the adjacent shopping area of Larimer Square, but nonetheless worth checking out  for its small shrine and Japanese garden featuring a few bonzai trees.
An interesting piece of trivia is that former Colorado Governor Ralph Lawrence Carr (1939-1943) was the only elected official in the United States to publicly apologize to the Japanese Americans for their internment during the war.  Some say that this is what might have cost him the 1942 election to the U.S. Senate, but it endeared him to the community and to Japanese Americans throughout the country. 
In fact, Denver's Japanese-American community was so grateful that it installed a bust of Governor Carr in Sakura Square as a tribute to his support of Japanese-Americans during their internment.  Carr is joined by busts of Japanese-American lawyer Minoru Yasui and Yoshitaka Tamai (1900-1983), a Buddhist priest who lived in Denver and presided over the neighboring Tri-State Buddhist Temple.     
According to our tour guide, Tamai Tower, the 20-floor apartment building in Sakura Square named after the priest, is exclusively for residents of Japanese ethnicity.  It was part of a development sponsored by the local Japanese community after Japantown was torn down by the Denver Redevelopment Authority.  There are several shops and restaurants on the ground and first floors of the building, but they seemed more like generic Asian establishments (i.e. supermarket) than Japanese ones.  However, the Japanese mom and pop restaurant Yoko's Express gets high marks for its homestyle offerings.  If you find yourself in Denver and craving something Japanese, make sure to check out Sakura Square!