Apr
23

Article/Journalism, Writers

Comments Off

on 【RocketNews24】Tokyo Tower lights up beautifully in Star-Spangled Banner style for President Obama
Posted by Michelle Lynn Dinh (Shimane-ken, Chibu-mura, 2010–13), editor and writer for RocketNews24. The following article was written by Kay, a writer and translator for RocketNews24, a Japan-based site dedicated to bringing fun and quirky news from Asia to English speaking audiences.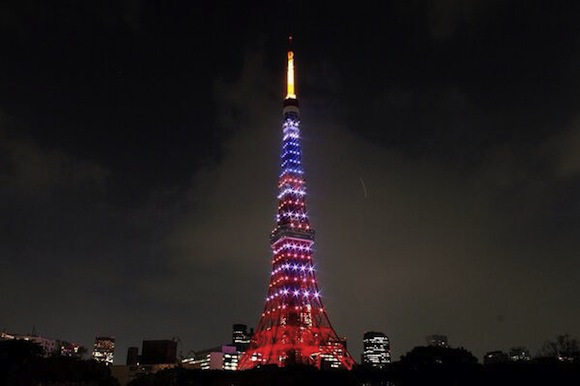 Yes, President Obama has arrived in Japan (and apparently already enjoyed the legendary sushi at Sukiyabashi Jiro), and with all the buzz and tightened security accompanying his visit, it's hard not to get a little excited. Well, it seems even one of the landmark symbols of Tokyo, the Tokyo Tower, is getting all dressed up to welcome Mr. Obama. For two nights only, the 333m (1093ft) tall tower will be illuminated in the red, white and blue colors of the American flag!
That's right, in honor of the President's visit, for the nights of April 22 and 23, Tokyo Tower will be lit up in bright Star-Spangled Banner colors from sundown (around 6:20pm) to midnight. Naturally, we wanted to get a look at the special red white and blue version of the tower, and take some pictures to share with you as well. We hurried off to the Tokyo City View Sky Deck in Roppongi, where we were able to take the pictures below:
Click here to see RocketNews24's images of the Star-Spangled Tokyo Tower.