Sep
17

Article/Journalism, Writers

Comments Off

on 【RocketNews24】Use your rice cooker to bake delicious cinnamon honey apples
Posted by Michelle Lynn Dinh (Shimane-ken, Chibu-mura, 2010–13), editor and writer for RocketNews24. The following article was written by Oona McGee, a writer and translator for RocketNews24, a Japan-based site dedicated to bringing fun and quirky news from Asia to English speaking audiences.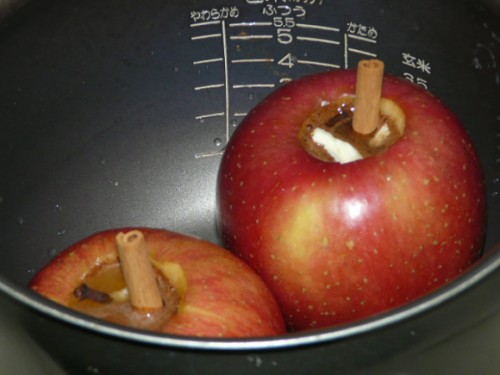 Life can be tough in Japan when the weather starts getting cooler and cravings for baked comfort foods start taking hold of our thoughts. With full-size western ovens an absolute rarity in the common Japanese home, roast dinners and home-baked pies become more like lost friends from a bygone era; somewhere else but still etched in our hearts and never quite forgotten.
If the Japanese kitchen is lacking in the stove department, it makes up for it in volumes with a marvellous piece of wizardry known as the rice cooker. Its mettle has only recently been put to the test with some surprising recipes like fast food dinners and enormous pancakes of epic proportions. And now as the weather cools, there's another easy recipe to try – soft baked cinnamon honey apples.
Get the recipe here!
Jul
29

Food & Drink, Rice Cooker Chronicles, Writers

Comments Off

on The Rice Cooker Chronicles: "'Rice' Cooker" by Adam H. Lisbon
The Rice Cooker Chronicles is a series of essays by JETs and JET alumni on the theme of cooking/eating and being alone in Japan. The brain-child of JETwit founder  Steven Horowitz (Aichi-ken, Kariya-shi, 1992-94) (and inspired by the book Alone in the Kitchen with an Eggplant), this series is curated by L.M. Zoller (CIR Ishikawa-ken, Anamizu, 2009-11), the editor of The Ishikawa JET Kitchen: Cooking in Japan Without a Fight. A writer and web administrator for The Art of Travel/ The Art of Japan: Kanazawa, ze also writes I'll Make It Myself!, a blog about food culture in Japan.
New submissions always welcome. Just e-mail it to jetwit [at] jetwit.com.
"Rice" Cooker
by Adam H Lisbon (ALT, Kobe-shi, Hyogo-ken; 2004-2007), Program Associate at the North American Coordinating Council of Japanese Library Resources & Instructor of Japanese Studies at the University at Albany. Adam just finished his graduate program, receiving a master's in information science. He is currently undertaking the perilous journey to become an academic librarian.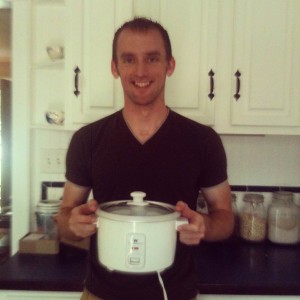 I fry eggs in my rice cooker. If I were still in Japan this would the kind of story I'd tell at the enkai, or to junior high students during my jikoshokai, explaining my wacky foreigner ways. But the truth is I got the idea from Japanese reality TV. The premise? Survive on 百万円 for one month. One contestant cooked everything in her rice cooker…at work, to cut back on her electricity use.