Aug
13

Article/Journalism, Writers

Comments Off

on 【RocketNews24】Pics of Pikachu packs from a day of Pokémon hunting in Yokohama
Posted by Michelle Lynn Dinh (Shimane-ken, Chibu-mura, 2010–13), editor and writer for RocketNews24. The following article was written by Casey Baseel, a writer and translator for RocketNews24, a Japan-based site dedicated to bringing fun and quirky news from Asia to English speaking audiences.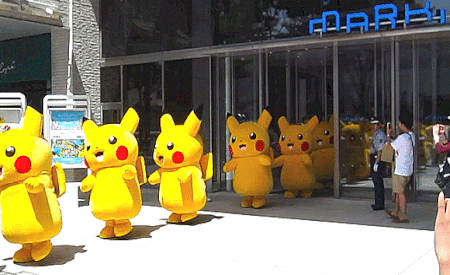 A few weeks ago, the handlers of the Pokémon franchise announced the Pikachu Tairyou Hassei Chu, or "An Outbreak of Pikachus" event. First they brightened our day with a TV ad showing the adorable Pocket Monsters hanging out in a shopping mall. Then they teased us with a photo of the electrified rodents landing on the dock.
And now, they're here!
We grabbed our cameras and went Pikachu hunting in Yokohama, and we were not disappointed. We were, though, almost completely paralyzed by the awesome overdose of cuteness that comes from a parade of a pack of 20 Pikachus.
Check out all the cute Pikachu action in videos and pictures here!