Sep
10

Article/Journalism, Writers

Comments Off

on 【RocketNews24】A diner's guide to oden: Japan's weird-looking, super-popular winter dish
Posted by Michelle Lynn Dinh (Shimane-ken, Chibu-mura, 2010–13), editor and writer for RocketNews24. The following article was written by Philip Kendall (Fukushima-ken, Shirakawa-shi, 2006–11), senior editor and writer for RocketNews24, a Japan-based site dedicated to bringing fun and quirky news from Asia to English speaking audiences.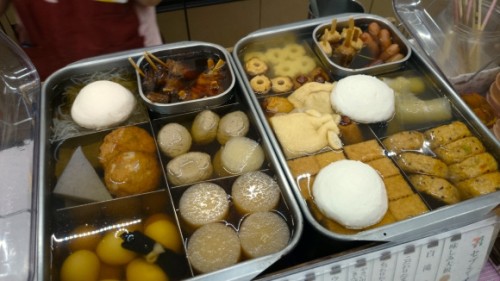 When it comes to Japanese food, everyone and their grandmother knows the classics like sushi, noodles and tempura. But one food that always takes visitors to Japan by surprise, and which has just this month started showing up in convenience stores again, is oden. Rarely seen outside of Japan, many of the ingredients in this incredible savoury pick 'n' mix look almost alien to non-Japanese eyes, and so visitors are often wary of trying it for themselves.
With this in mind, today we'd like to introduce you to a handful of typicaloden ingredients, teaching you their names and telling you a little bit about each of them, so that the next time you pass a food cart or duck into a conbini and get a waft of that unmistakable aroma, you won't be afraid to order some for yourself.
Essentially just a variety of foods served in a light, soy-flavoured broth, oden is a hugely popular winter dish in Japan, and usually appears around September or October depending on the region. Warm, filling and crazy tasty, there are all kinds of oden experiences to be had, with everything from typical convenience store fare (on which we'll be focusing today) to far more sophisticated takes on this winter warmer available from dedicated vendors.
Some of the typical ingredients you'll find in oden, however, can look a little intimidating, and buying some for yourself is made even trickier by the fact that vendors usually require customers to ask for the ingredients they want, rather than fishing them out for themselves. If you don't have the vocabulary and have never come across some of these food items before, you may well find yourself with naught but a hard-boiled egg floating in your broth. But fear not because RocketNews24 has got your back, and we're going to introduce you to some of the classics.