Job Title: Group Leaders
Posted by: Experiment in International Living
Location: Brattleboro, VT, USA & Japan
Contract: Full-Time
Posted by Sydney Sparrow. Click here to join the JETwit Jobs Google Group and receive job listings even sooner by email
---
Job Title: Assistant Curator of Japanese & Korean Art
Posted by: The Minneapolis Institute of Art
Location: Minneapolis, MN, USA
Contract: Full-Time
The Minneapolis Institute of Art currently has an opening for an Assistant Curator of Japanese & Korean Art:
The collection of Japanese art at the Minneapolis Institute of Art (Mia) includes more than 9,000 works, ranging from prehistoric pottery to contemporary photography, and is among the top five collections in the United States. The permanent display space for Japanese art is the largest in the Western world with 16 expansive galleries and over 10,000 square feet (930 sqm). The collection includes superb examples of Buddhist and Shintō sculpture, paintings and calligraphy, woodblock prints, textiles, and works of lacquer, bamboo, and ceramics. The Department of Japanese and Korean art has benefited greatly from generous gifts from knowledgeable collectors, like Richard P. Gale, Louis W. Hill, Jr., Elizabeth and Willard "Bill" Clark, and Mary Griggs Burke.
Job Title: Group Leaders
Posted by: Experiment in International Living
Location: Brattleboro, VT, USA & Japan
Contract: Full-Time
Job Title: Secretary
Posted by: Permanent Mission of Japan to the United Nations
Location: New York City, NY, USA
Contract: Full-Time
Job Title: Communications Director
Posted by: American Chamber of Commerce in Japan
Location: Tokyo, Japan
Contract: Full-Time
Job Title: Public Relations and Communications Associate
Posted by: Consulate General of Japan in New York
Location: New York City, NY, USA
Contract: Full-Time
JETAA Chapter Beat is a periodic mosaic of events taking place in the JETAA sphere. Compiled by AJET's Director of Alumni Relations Megan Buhagiar (Ishikawa Prefecture, 2017- Present)

Please click on the following link to see what's happening with your local JETAA chapter for January 2020!
Lillian Hanako Rowlatt, a former JET (ALT, Niigata-ken, 2003-05) wrote an article for this month's issue of Connect (an online monthly dedicated to the JET Program and expat community in Japan) about how her JET experience helped launched her career delivering Japanese food across the world.
Written by professional Writer/Interpreter/Translator Stacy Smith (Kumamoto-ken CIR, 2000-03), WIT Life is a periodic series about aspects of Japanese culture such as film, food and language. Stacy starts her day by watching Fujisankei's newscast in Japanese, and here she shares some interesting tidbits and trends along with her own observations.
It's been a long time since I've written here, and I can't believe the holiday season is already upon us! If you are like me and are still in the midst of Christmas gift shopping, what better present is there than books? In the last week I've visited various bookstores in the city, and was lucky enough to be introduced to the fantastic new cookbook Japanese Home Cooking (Simple Meals, Authentic Flavors) from the cooking teacher, noodle maker, grain activist and author Sonoko Sakai.
California-based, Queens-born Sakai shares personal stories while showcasing traditional Japanese dishes in this beautifully photographed book. She offers readers advice on how to stock their pantries with the necessary ingredients for creating any Japanese meal, as she views this as the most important aspect of Japanese cuisine (she often takes students on tours of Japanese grocery stores as they can be hard to navigate if you are not familiar with what is being sold). I like how she opens the book by describing freshness, beauty, seasonality, simplicity and economy as the five keys to Japanese cooking. As an introduction she also breaks down the five elements of cooking and eating (i.e. five colors, five senses, five flavors), making these essential aspects easy to remember.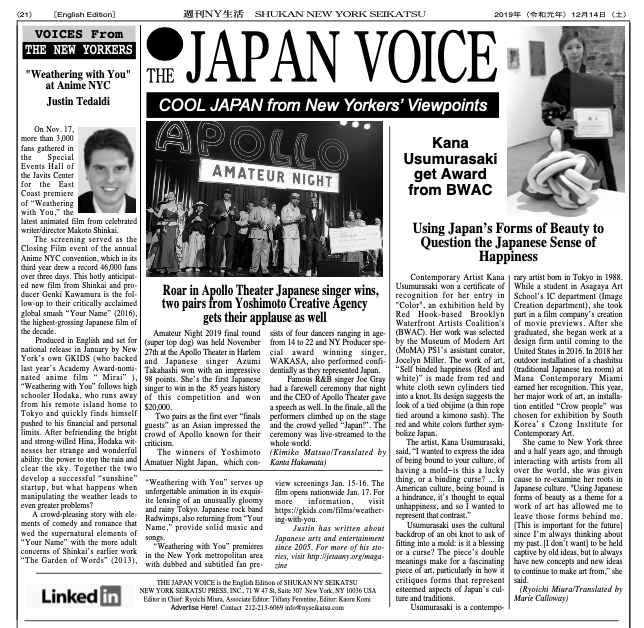 By JQ magazine editor Justin Tedaldi (CIR Kobe-shi, 2001-02) for Shukan NY Seikatsu. Justin has written about Japanese arts and entertainment for JETAA since 2005. For more of his articles, click here.
On Nov. 17, more than 3,000 fans gathered in the Special Events Hall of the Javits Center for the East Coast premiere of "Weathering with You," the latest animated film from celebrated writer/director Makoto Shinkai.
The screening served as the Closing Film event of the annual Anime NYC convention, which in its third year drew a record 46,000 fans over three days. This hotly anticipated new film from Shinkai and producer Genki Kawamura is the follow-up to their critically acclaimed global smash "Your Name" (2016), the highest-grossing Japanese film of the decade.
Produced in English and set for national release in January by New York's own GKIDS (who backed last year's Academy Award-nominated anime film "Mirai"), "Weathering with You" follows high schooler Hodaka, who runs away from his remote island home to Tokyo and quickly finds himself pushed to his financial and personal limits. After befriending the bright and strong-willed Hina, Hodaka witnesses her strange and wonderful ability: the power to stop the rain and clear the sky. Together the two develop a successful "sunshine" startup, but what happens when manipulating the weather leads to even greater problems?
A crowd-pleasing story with elements of comedy and romance that wed the supernatural elements of "Your Name" with the more adult concerns of Shinkai's earlier work "The Garden of Words" (2013), "Weathering with You" serves up unforgettable animation in its exquisite lensing of an unusually gloomy and rainy Tokyo. Japanese rock band Radwimps, also returning from "Your Name," provide solid music and songs.
"Weathering with You" premieres in the New York metropolitan area with dubbed and subtitled fan preview screenings Jan. 15-16. The film opens nationwide Jan. 17. For more information, visit https://gkids.com/films/weathering-with-you.
Job Title: Program Officer, Innovators Network
Posted by: Japan Society
Location: New York City, NY, USA
Contract: Full-Time
Please see the below document for a job passed along to us directly from the organization.
Join our team at this exciting time as our new President & CEO reintroduces Japan Society for the global era in our second century of promoting mutual understanding between the United States and Japan.
The Program Officer in the Innovators Network is part of a small team that develops and implements multi-year projects to facilitate unique opportunities for leaders and innovators from Japan and the U.S. to come together, share knowledge and insight, and catalyze positive social change. The Program Officer will also help administer the Japan Relief Fund, originally launched by Japan Society on March 12, 2011 to aid the survivors of the Great East Japan Earthquake, and now includes relief efforts as a result of the 2016 Kumamoto Earthquake and the 2019 Typhoon Hagibis.
Posted by Tom Baker.
---
Job Title: Tour Consultant / Coordinator / Guide
Posted by: Journeys of Discovery
Location: Tokyo area
Contract: Full-Time
The following information was passed along by Ryoji Shimada, a friend of a JET alum, who has sometimes worked with the company.
Journeys of Discovery is a Toronto-based Canadian tour company operating tours to Japan for Canadian travellers. We are looking for a Japanese team member who can work for us from Japan.
Responsibilities:
Researching, developing, and pricing Japanese tour products for the Canadian market; Communicating and negotiating with our Japanese suppliers; Accompanying and hosting of small groups from Canada to Japan (training will be provided); Maintain and update the company's databases; Making bookings and reservations by phone or online reservation systems; Training and managing future staff; General office administrative work including simple translation between English and Japanese
Place of Employment:
Your position will be home-based in Tokyo (or easy access to the center of Tokyo) with good internet environment.
Start Date:
Subject to negotiation
Probation period:
6 months
Salary:
From 220,000 yen per month (based on ability and experience)
Benefits:
Not provided
Hours of work:
9 am to 5 pm with some flexibility (days off: weekends and holidays *this will be varied when you have the guiding duty)
Vacation:
10 days of paid vacation will be provided after the first 6 months
Qualifications:
Japanese native speaker with excellent written and oral communication skills in English; Inbound travel industry experience; Can work independently; Ability to travel and guide small groups through Japan for duration of 7 to 14 nights
If interested, send a CV in English to Ryoji Shimada at ryoji829@gmail.com.
Posted by Sydney Sparrow. Click here to join the JETwit Jobs Google Group and receive job listings even sooner by email
---
Job Title: Co-Instructor for a Japanese nutrition program
Posted by: TABLE FOR TWO USA
Location: Providence, RI, USA
Contract: Part-Time
Please see the attached screenshot for a job passed along to us.
Posted by Sydney Sparrow. Click here to join the JETwit Jobs Google Group and receive job listings even sooner by email
---
Job Title: Production Intern
Posted by: Tokyo Broadcasting System
Location: Washington, D.C., USA
Contract: Full-Time
Posted by Sydney Sparrow. Click here to join the JETwit Jobs Google Group and receive job listings even sooner by email
---
Job Title: Various Jobs
Posted by: STAY JAPAN JOBS
Location: Japan
Contract: Full-Time
Thanks to JET alum, Giovanni Perez (Aomori-ken) for this week's job listings with his organization: