Posted by Sydney Sparrow. Click here to join the JETwit Jobs Google Group and receive job listings even sooner by email
---
Job Title: Technical Account Manager – Japanese Speaking
Posted by: SalesTribe
Location: Sydney, Australia
Contract: Full-Time
Here is a job courtesy of JETAA NSW:
At SalesTribe we are excited to be partnered with a Global SaaS vendor who empowers IT, professionals, to properly assess, deploy, and manage technology solutions in a cloud-first world. They have successfully delivered IT software solutions to more than 6.5 million end users across 31,000 customers in 155 countries. – Mission – to build a platform where businesses discover, implement, and manage a vast collection of IT services through automation. We are empowering our customers to be more profitable in the cloud era.
We are looking for: Pre or Post – Sales Specialist to support growth efforts in Japan. Based in either Australia, Singapore or Japan – you MUST be fluent in Japanese both oral and written communication.
What You'll Do?
Ability to understand customer's technical requirements and advise on the appropriate solutions
Proven experience delivering cloud-based products and SaaS applications
Strong technical background to diagnose customer problems and convey details back to the business through a deep technical understanding of service
Regular meetings with the Sales, Marketing and Delivery teams to ensure effective communication and sharing of knowledge
Communication/social skills to engage with both technical and non-technical contacts across all mediums but primarily email, telephone, chat and video conferencing.
Posted by Sydney Sparrow. Click here to join the JETwit Jobs Google Group and receive job listings even sooner by email
---
Job Title: Assistant Manager (Japanese Speaking)
Posted by: JTB
Location: Sydney, Australia
Contract: Full-Time
Here is a job courtesy of JETAA NSW:
The Company:
JTB is a well established global travel company with presence in 39 countries. We pride ourselves on providing our customers and clients with the best travel experience possible.
The Position: 
Due to company expansion, we require a Japanese speaking Assistant Manager to join our LOOK Centre Team based in the Sydney CBD Office. This position will be responsible for leading and motivating the team, and will assist the Manager with department budgets, sales and cost control. This role will also involve aspects of planning package tour products, as well as booking and purchasing tour components. This role is suitable for candidates with previous leadership experience in this field.
Key Responsibilities:
Support the Department Manager in all required areas, and manage the team in their absence;
Assist in the preparation of budgets, and monitor costs;
Lead, motivate and coach team members to achieve KPIs and targets;
Respond to enquiries from JTB Japan;
Research information, liaise with local suppliers & negotiate prices;
Maintain good relations with suppliers in Australia;
Supply information to the JTB Planning Team, and prepare proposals for Japan Package Tours;
Input information on Australian hotels in Japanese brochures in Japanese;
Conduct inspections of tours and hotels when required;
Travel interstate and overseas when required to negotiate with suppliers and clients.
By JQ magazine editor Justin Tedaldi (CIR Kobe–shi, 2001-02). Justin has written about Japanese arts and entertainment for JETAA since 2005. For more of his articles, click here.
As spring continues and the weather continues to warm, New Yorkers can enjoy activities all over the city both indoors and out.
This month's highlights include:
Monday, May 6, 8:00 p.m.
PlayStation Theater, 1515 Broadway
$50
Making their return to NYC after a three-year absence are the GazettE, a Kanagawa-based rock quintet that follows in the footsteps of other Gotham-conquering visual kei acts like X Japan and LArc~en~Ciel. Formed in 2002, the band has performed in Europe multiple times since 2007, and will headline across America this spring in support of its latest album, 2018's Ninth. Still completely self-produced, the GazettE continue moving forward, uncompromised in their artistic and unique worldview at home and abroad.
Premieres Friday, May 10
Pokémon Detective Pikachu
Various theaters
In this first-ever live-action Pokémon film, ace detective Harry Goodman (Justice Smith) goes mysteriously missing, prompting his 21-year-old son Tim to find out what happened. Aiding in the investigation is Harry's former Pokémon partner, Detective Pikachu (voiced by Ryan Reynolds): a hilariously wise-cracking, adorable super-sleuth who is a puzzlement even to himself. Finding that they are uniquely equipped to communicate with one another, Tim and Pikachu join forces on a thrilling adventure to unravel the tangled mystery in a modern metropolis where humans and Pokémon live side by side in a hyper-realistic live-action world.
Sunday, May 12, 6:00 p.m.
Japan Night: HYDE & WagakkiBand
PlayStation Theater, 1515 Broadway
$35
Presented in collaboration with Japan Day @ Central Park, Japan 2019 Presents Japan Night will celebrate contemporary popular Japanese music with four of the most successful artists in Japan today through two consecutive shows. HYDE, who is also known as a lead singer of L'Arc-en-Ciel (the first Japanese act to headline Madison Square Garden in 2012) and a member of VAMPS, is a pioneer of Japanese rock who has recorded more than 60 songs breaking the Oricon (Japanese Billboard Chart) top 10.
WagakkiBand is a viral video sensation that combines traditional Japanese instruments with modern rock. They fuse shigin (poetry recitation, one of Japan's classic performing arts), wagakki (traditional Japanese musical instruments), and rock. The music video of "Senbon Zakura," included in their 2014 debut album, has been viewed more than 100 million times on YouTube. After five years, they now sell out arena shows, and their special live organized by Tencent streamed more than 100 million times in the first 24 hours.
Posted by Sydney Sparrow. Click here to join the JETwit Jobs Google Group and receive job listings even sooner by email
---
Job Title: Executive Assistant (Must be fluent in Japanese and English)
Posted by: Kyocera Document Solutions Pty Ltd
Location: Sydney, Australia
Contract: Full-Time
Here is a job courtesy of JETAA NSW:
Kyocera Documents Solutions, a market leader in the business equipment industry has a rare opportunity for an Executive Assistant to support our Managing Director.
The successful candidate must be able to confidently communicate (verbally and in writing) in both English and Japanese and will be responsible for performing a range of duties, including but not limited to;
organising business appointments and travel arrangements for the MD and other Japanese guests
screening telephone calls, fielding enquiries and requests
escalating urgent matters for the MD's attention
managing the MD's diary
communicating on the MD's behalf with other executives, suppliers and clients
co-ordinating the organisation of business functions, lunches & dinners
preparing complex, high quality presentations and monthly reports
taking minutes
To start your long and rewarding career with Kyocera, you will be an experienced Executive Assistant with proven experience working at a senior management level. You will also need to demonstrate:
strong interpersonal, communication and negotiation skills
ability to confidently communicate in both in Japanese and English
exceptional corporate presentation and excellent people management skills
high proficiency in Microsoft (Word, Excel, PowerPoint & Outlook)
ability to liaise at an executive level and work under pressure
excellent organisational and administration skills
a sharp eye for detail
the ability to work with Australian & Japanese cultures
ability to work autonomously, employ initiative to find solutions, prioritise and exercise discretion.
Application Process: For more information and to apply please click here.
Posted by Sydney Sparrow. Click here to join the JETwit Jobs Google Group and receive job listings even sooner by email
---
Job Title: Implementation Specialist (Japanese Speaking)
Posted by: HomeAway
Location: Sydney, Australia
Contract: Full-Time
Here is a job courtesy of JETAA NSW:
HomeAway, a world leader in the vacation rental industry, is the place to book beach houses, cabins, and condos with more than two million places to stay in 190 countries. The site makes it easy to find and book the perfect vacation rental for any getaway, often for less than the cost of traditional hotel accommodations. HomeAway is part of the Expedia Group family of brands.
Are you passionate about travel and making a meaningful impact on a growing business across Australia and New Zealand? Do you thrive in a high pace, high energy workplace bent on revolutionising one of the most exciting industries – travel? Do you embrace ambiguity and cherish a challenge?
What you'll do:
The Implementation Specialist is a member of the Client Solutions team and manages activation of listings and e-commerce integrations for Property Managers (PMs) into the HomeAway platform. You'll be responsible for screening and discovery of client's projects through completion, including consolidation of accounts, activation of feeds, and e-commerce onboarding and training.
Your responsibilities will include:
Working with Property Managers and their Property Management Software Companies to activate listings content and online booking feeds on HomeAway.
Managing integration go-live periods, and actively driving to solve problems by working closely with internal teams to ensure a smooth customer experience for the PM.
Maintain continual communication with the PM's and key stakeholders throughout the project life cycle, while juggling many smaller projects simultaneously.
Providing recommendations, and contributing to, guidelines around customer performance and e-commerce best practices.
Conducting activation and testing including sending error reports, troubleshooting and working with respective teams to rectify issues.
Tracking and providing metrics related to personal and team performance, as well as various projects, all with the goal of providing excellent customer service
Participating in and managing pilot projects when new software integrations are launched.
If necessary, you may also project manage other PM-related projects, and be able to provide user acceptance testing and feedback on tools related to PM activation.
Written by professional Writer/Interpreter/Translator Stacy Smith (Kumamoto-ken CIR, 2000-03), WIT Life is a periodic series about aspects of Japanese culture such as film, food and language. Stacy starts her day by watching Fujisankei's newscast in Japanese, and here she shares some interesting tidbits and trends along with her own observations.
In Japan today was the last day of its 30-year Heisei (平成) Era, and tomorrow is the official start of the new Reiwa (令和) Era.  This is Japan's 248th era with an official name, a number higher than America's 243 years of history!  You might have heard how the new name has been slightly controversial and largely underwhelming in terms of people's reaction to it.  In celebration of the new imperial era, this year's Golden Week is an extra-long 10 days.  Japan is a famously vacation-averse country, and true to form some citizens have been lamenting the length of the holiday.  Other concerns in regard to the transition, such as updating stamps bearing the era name used for official documents and making sure computer systems are in compliance, are highlighted in this NYT article.
As the article details, there was plenty of time for preparation since Emperor Akihito's abdication was announced in 2017.  This is in contrast to the previous transition, which took place within Read More
Posted by Sydney Sparrow. Click here to join the JETwit Jobs Google Group and receive job listings even sooner by email
---
Job Title: English Workshop Facilitator/Stage Performer
Posted by: FunFun Learning Inc.
Location: Shinjuku, Tokyo, Japan
Contract: Full-Time
FunFun learning Inc. is looking for an English workshop facilitator/performer who can promote the attractiveness of English learning for the elementary school kids and deliver unique stage performances.
Please see below the PDF for a job working as an English Workshop Facilitator/Stage Performer based in Shinjuku, but has business trips to Osaka.
English Workshop Facilitator and Stage Performer
Posted by Sydney Sparrow. Click here to join the JETwit Jobs Google Group and receive job listings even sooner by email
---
Job Title: Full-Time English Teacher
Posted by: Saitama City Board of Education
Location: Saitama, Japan
Contract: Full-Time
Please see below the PDF for a full-time teaching position in Saitama City, which was passed along to us.
Posted by Sydney Sparrow. Click here to join the JETwit Jobs Google Group and receive job listings even sooner by email
---
Job Title: Direct Marketing Specialist
Posted by: InsideAsia Tours Ltd
Location: Boulder, CO, USA
Contract: Full-Time
Here's a job received directly from the company:
InsideAsia Tours Ltd is recruiting for a dynamic and analytical individual to develop innovative direct marketing programs that reach our target markets to sell and build awareness of our brands and services.
This is a new role with exciting potential to play an integral part in the travel industry and make an impact in travel to Japan and other countries in Asia.
This opportunity is a chance to apply your rigorous analytical, data management and consumer modeling skills to understanding the travel market and crafting programs to reach potential clients.
If you are curious, and enjoy digging deep into consumer needs, motivations and purchase behavior when they are planning a trip of a lifetime — then this position could be a great fit for you! You'll have a chance to build programs to attract our best customers and create opportunities for them to realize their dreams.
Posted by Sydney Sparrow. Click here to join the JETwit Jobs Google Group and receive job listings even sooner by email
---
Job Title: Associate Program Officer for the Arts and Cultural Exchange
Posted by: The Japan Foundation
Location: New York, NY, USA
Contract: Full-Time
Here's a job sent directly from The Japan Foundation, New York:
Established by the Japanese government in 1972, the Japan Foundation's mission is to promote international cultural exchange and mutual understanding between Japan and other countries. The Japan Foundation's activities consist of three major programs: 1) Arts & Cultural Exchange; 2) Japanese-Language Education Overseas; and 3) Japanese Studies and Intellectual Exchange. For more information, please visit our websites at www.jfny.organd www.jpf.go.jp.
Description: The Japan Foundation, New York seeks an Associate Program Officer for the Arts and Cultural Exchange program. This program promotes the introduction of Japanese arts and culture as well as exchanges between Japan and the United States through various fields of arts and culture. This position will report to the Program Director of Arts and Cultural Exchange.
Key Responsibilities:
Assist in the implementation of the Japan Foundation's programs, with a particular focus on, but not limited to, Visual Arts, Performing Arts, Film, Literature and Cultural Events.
Manage the grant programs in Arts and Cultural Exchange by processing applications, maintaining program files and documents, and communicating with prospective applicants and grantees.
Coordinate logistics for in-house meetings as well as public events by planning venues, catering, transportation, audio/visual equipment, materials, etc.
Create program materials and publications (e.g. newsletters, fliers, and webpages) and assist in the proofreading of documents.
Conduct outreach activities and site visits throughout the United States as a representative of the Japan Foundation.
Collaborate and correspond with program staff at the Japan Foundation Tokyo Headquarters.
Perform other duties and additional responsibilities as directed. Read More
Hendrix College record of six seniors have been accepted as Assistant Language Teachers (ALTs) in the Japan Exchange and Teaching (JET) Program:
Alex Berner, a psychology major from Keller, Texas
Jazmin Calixto, a psychology major/studio art minor from Dallas, Texas
Adrienne McGooden, a psychology major from Siloam Springs, Ark.
John Tran, a religious studies/neuroscience double major from Little Rock, Ark.
Katherine Verdaris, an economics major from Little Rock, Ark.
Hueseng Xiong, a biochemistry and molecular biology major/Chinese minor from Subiaco, Ark.
"I think this year's success is largely the result of these students' active participation in a broad range of Japanese cultural activities on campus and in the community," Gwen Stockwell, director of ESOL and International Student Services for Hendrix, said.
"It has been great to see Japanese language and culture contribute to diversity on our campus and in our community. As a JET alumna myself—I served in Miyazaki, Japan, from 1998 to 2001—I'm delighted to see our graduates now be able to benefit from cultural exchange programs like this."
Read more about the new ALTs and their experiences here!

Please give a warm welcome to the new staff at CLAIR New York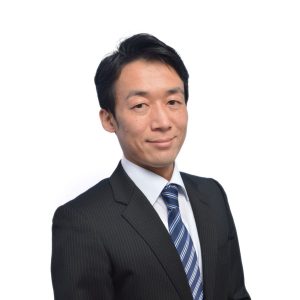 Takahiro Ando — Deputy Director, JLGC
Hello, everyone! I am Takahiro Ando, the new Deputy Executive Director of Japan Local Government Center. Like ex-Deputy Executive Director, Fukutomi, I am originally an officer at the Ministry of Internal Affairs, specializing in local government administration. In addition to my work in Tokyo, I have worked for two prefectural offices: Fukushima and Tochigi. Also, I was born in Kagawa, and raised in Chiba.
Although I have some "hometowns" in Japan, I have had almost no chance to visit foreign countries, so far. Therefore, I am so happy to have this opportunity to live and work in New York, which is full of energy and enthusiasm.
Concerning JET, my mother is an English teacher in Chiba, and I heard about ALT members she worked with. Unfortunately, I did not have a chance to meet them in Japan. So, I am looking forward to getting in touch with you!
---
CLAIR Staff Responsible for JETAA USA
Sugawara san and Fujiwara san will be responsible for JETAA activities in the U.S.  The same as last year, chapters will have a designated contact in CLAIR, separated into Eastern and Western Chapters. Shinori Nagasawa is still in New York and will be supporting JETAA Canada.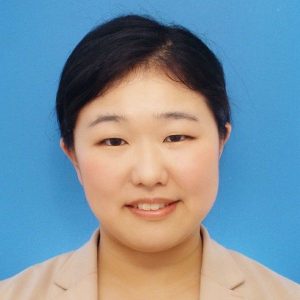 Aki Sugawara
sugawara@jlgc.org
Chicago, Heartland, Texoma, Rocky Mountain, Pacific Northwest, Portland, Northern California, Southern California, Hawaii, Minneapolis
I'm in charge of the western JETAA chapters this year. I'm originally from Yamagata Prefecture, which is located in northern Japan. Yamagata is famous for hot springs and ski resorts. Also, cherries and pears are so delicious. I've never been to America before, so this is my first trip. Everything about American life is new and it makes me excited. My hobby is playing instruments. But usually, I like to do things like walking and listening to music. I also like traveling. I'm looking forward to seeing many people and our getting to know each other. I'm so glad to be working with you. Let's keep building a good relationship. Thank you!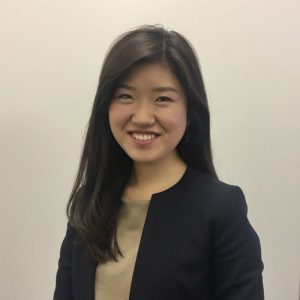 Tomoko Fujiwara
fujiwara@jlgc.org
Washington DC, New York, New England, Southeast, Mid-South, Florida, Alaska, Great Lakes, and Music City
I'm in charge of the eastern JETAA USA chapters this fiscal year. I'm from Nagano Prefecture. Originally, however, I was born in Hiroshima and then moved to Tokyo. I also lived in Kyoto too. After that, I started working at the Nagano Prefectural Office from 2016. I had been to the US three time before I came to New York in April. My first visit to the US was to Guam with my family. The second time was Indiana State through a study abroad program to learn about agriculture in the US. After the program, I went to Washington, D.C., and New York. When I was a graduate student, I visited Philadelphia and Boston. As you can see, I like traveling abroad. I've been to Kenya, Spain, Germany, Mexico, and so on. I would like to visit the places I've never been to in the US as much as I can. Also I love music, including singing karaoke. I'm looking forward to working with you all and hope I have the chance to get to know each of you!
---
Farewell to Kotaro and Shigeru!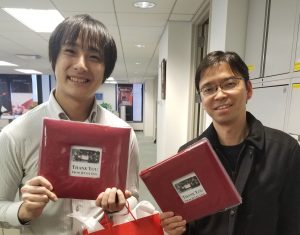 Thank you to all the chapters that submitted farewell messages to Kotaro (Tony) Kashiwai and Shigeru Fukutomi.  They absolutely loved the messages and photos you included in their personalized books.
To stay in touch with Kotaro (Tony) Kashiwai please reach out to him on Facebook https://www.facebook. com/kotaro.kashiwai. To contact Shigeru please email him at s.fukutomi1974@gmail.com
Posted by Sydney Sparrow. Click here to join the JETwit Jobs Google Group and receive job listings even sooner by email
---
Job Title: Assistant Curator
Posted by: Japan Society
Location: New York, NY, USA
Contract: Full-Time
Here's a job passed along to us:
Assistant Curator is a multi-faceted position supporting the realization of the Gallery's ambitious exhibition schedule, and coordinating the public programs accompanying the exhibitions. Reporting to the Gallery Director, the Assistant Curator will research and assist in the development of the contents of the exhibitions including developing checklists, negotiating loans, and managing the administration related to the exhibitions. S/he creates interpretative materials, printed matter, and publications in coordination with the Gallery Director, guest curators and external partners.
The position has lead responsibility for the educational programming related to the exhibition, and working with other departments, docents, and museum educators on the education programs. The Assistant Curator must be a team player. S/he must be an excellent writer able to produce educational and promotional materials to outreach to a broad audience. She/he plays a critical role in liaising between various department at Japan Society, and in building relationships with institutional partners, funders, and supporters of the Gallery.
Posted by Sydney Sparrow. Click here to join the JETwit Jobs Google Group and receive job listings even sooner by email
---
Job Title: Assistant to the Director of Programs
Posted by: Kimochi, Inc.
Location: San Francisco, CA
Contract: Full-Time
Here's a job passed along to us:
GENERAL JOB SUMMARY:
Responsible for assisting the Director of Programs in supporting all agency programs with administrative, contract, and reporting functions.
ESSENTIAL FUNCTIONS:
This position provides administrative support to the Director of Programs.
Assist with submission of grant proposals, coordinates grant and contract reporting in accordance with contract deadlines.
Creates standard and customized reports utilizing several different applications/databases.
Prepares and does minor editing of reports, grant proposals, and meeting minutes.
Establishes, maintains and revises record-keeping procedures and files as directed.
Provides back-up support to program staff colleagues as appropriate.
Assist in developing and scheduling trainings for program staff.
Assist with fundraising events.
MARGINAL / NON-ESSENTIAL FUNCTIONS:
Provides administrative support and coordination of specific tasks as assigned by the Director of Programs.
Posted by Sydney Sparrow. Click here to join the JETwit Jobs Google Group and receive job listings even sooner by email
---
Job Title: Care Manager
Posted by: Kimochi, Inc.
Location: San Francisco, CA
Contract: Full-Time
Here's a job passed along to us:
GENERAL JOB SUMMARY:
Assists the Kimochi Home Administrator in the administration and daily operation of assigned Kimochi, Inc. licensed residential care facility for the elderly.
CLASSIFICATION:
This is a regular, full-time, exempt position. Evening and weekend hours may be required to meet the needs of the staffing schedule for a 24-hour, seven day/week operating facility
SUPERVISION GIVEN AND RECEIVED:
This position reports directly to the Kimochi Home Administrator. This position provides direct supervision of direct care staff.
ESSENTIAL FUNCTIONS:
Manage day-to-day operations of assigned Kimochi, Inc. licensed RCFE.
Train, supervise, and evaluate facility direct care staff.
Prepare monthly work shift schedules to ensure adequate staffing in accordance with agency policies and procedures and state law.
Ensure compliance with California Department of Licensing regulations. Participate with
Director of Residential Services in CADL compliance audits.
Coordinate resident services including activity schedules, pre-admission interviews, conducts initial and annual assessments, and individual service plans.
Collects residential fees, maintains resident's files and records in compliance with regulatory agencies.
Coordinate and order medications, food, and non-food supplies for the facility.
Monitors and coordinates building and equipment maintenance needs.
Reports incidents to the Kimochi Home Administrator, appropriate government departments, including the Ombudsman, as needed.