Posted by Sydney Sparrow. Click here to join the JETwit Jobs Google Group and receive job listings even sooner by email
---
Job Title: Group Leader
Posted by: Experiment in International Living
Location: Brattleboro, VT, USA and Japan
Contract: Full-Time
Here's a job received directly from the organization:
Now hiring Group Leaders for summer abroad programs to Japan!
The Experiment in International Living is currently hiring experienced and inclusive educators to guide our summer 2019 programs in Japan. To learn more about our programs in Japan, please visit: https://www.experiment.org/program-landing/destinations/?location=Japan&country=&theme
Group leaders travel alongside their group and serve as their students' primary support throughout the program. Two co-leaders work together to guide a group of up to 15 high school students on a 4-week journey.  Leaders' responsibilities' include helping their students integrate into local cultures and host families, conducting group excursions, and guiding students through discussions of and reflections on their experiences. Leaders work with the Experiment's US-based staff and in-country partners to maximize students' health and safety and to ensure the program is meaningful, challenging, and experientially rich.
Minimum Required Qualifications
Fluent in Japanese and English
Experience working with high school students in a leadership capacity
At least 21 years of age (Applicants must be 21 or older by June 1, 2019.)
A bachelor's degree (Current undergraduates may apply if they are on track to obtain their bachelor's degree by June 15, 2019.)
Ability to pass a criminal background check
Eligibility to work in the United States
A current passport (valid through January 2020)
Complete availability for the duration of the program (including Staff Training in Brattleboro, Vermont from June 24-29, and the entirety of the program in Japan from June 30 – July 29).
Benefits
Intensive weeklong professional development training
Experience a familiar culture from a new perspective
Use your language skills and expand your professional network
Stipend based on program length; program-related travel expenses covered
Application Process: Learn More and apply online at https://www.experiment.org/apply/become-a-group-leader/
Final application deadline: January 20, 2019.
Questions? Contact us at groupleaders@experiment.org
Commitment to Diversity The Experiment is committed to recruiting and supporting students of diverse backgrounds, and thus The Experiment is equally committed to hiring Group Leaders who represent diverse geographic, ethnic, religious, and economic backgrounds.
Posted by Sydney Sparrow. Click here to join the JETwit Jobs Google Group and receive job listings even sooner by email
---
Job Title: Sales
Posted by: Nippon Travel Agency America Inc. (NTA America Inc.)
Location: New York. New Jersey area and/or Dallas, Texas area
Contract: Full-Time
Here's a job passed along to us from USJETAA:
NTA America Inc (Nippon Travel Agency America Inc) is a 100% subsidiary of Nippon Travel Agency, Ltd. Co. in Japan. We are the oldest Travel Agency in Japan (founded in 1906) to organize the Buddhist Pilgrimage group travel. NTA America was established in 1966. New Jersey office has been serving for New York clients in the beginning, and now we cover from Massachusetts to Texas. We are specializing to help travel management in several shapes such as Corporate Travel Management, Group Travel Coordination, Meetings and Event Coordination. Since we are Japanese company, Japan is the strongest destination, however, our clients travel across the world from Africa to Latin America to Europe and Asia. Our clients are Major Japanese corporations, Governments (from local to federal to Japanese), Non-profit organizations and schools.
Job Description
Location: New York. New Jersey area and/or Dallas, Texas area
Position: Sales
Language: English (Japanese knowledge is a plus)
Our strength: Deep knowledge and accessibility to Japan
Products: Travel Management include: Corporate Travel Management, Group Travel Management and MICE Coordination
Special destination: Japan
Basic PC skills required (Microsoft Office)
Time: Flexible
Salary: Commission base (Fixed salary and benefits are negotiable)
Application Process: Please send your resume to NTA America Administration: sdo@ntaamerica.com. We will get back to you with more details.
Posted by Sydney Sparrow. Click here to join the JETwit Jobs Google Group and receive job listings even sooner by email
---
Job Title: Assistant Director of Student Services
Posted by: CET Academic Program
Location: Washington, DC
Contract: Full-Time
Thanks to JET alum Kate Maruyama (Osaka-ken) for passing these along:
Description of the Organization
CET Academic Programs is a study abroad organization that has been developing and delivering innovative educational programs abroad since 1982. Originally "China Educational Tours," CET began operations in Beijing, later expanding to other locations around the world. Today, CET offers a varied portfolio of semester, summer, and short-term customized programs around the world for college, high school, pre-college and gap year students. CET is known for high program standards, strong academics, a nimble and collaborative approach to partnerships, and supportive student services. Through elements such as field-based course components, internships, community-based learning, and housing with local roommates, CET strives to integrate students into the local community and facilitate lasting relationships with hosts. As an environmentally conscientious organization, CET aims to adopt sustainable measures across its operations. And through its commitment to inclusion, CET seeks and encourages the participation of students from diverse backgrounds, ensuring a welcoming, hospitable program environment that promotes student learning.
Description of the Position
The Assistant Director of Student Services will manage the Student Services team. This team actively supports CET's mission by providing comprehensive support services that prepare students academically, culturally and personally for their programs abroad. The team's broad range of support services seek to enhance the quality of CET programming, facilitate student retention initiatives and optimize the student experience. The Assistant Director will supervise six Student Services Coordinators (SSCs). Each SSC has a portfolio of semester, summer and short-term customized programs in designated countries, and works with students via telephone and email, advising them on program information and providing guidance during the application and pre-departure processes. The SSC plays a key role in the admissions process, reviewing applications and engaging in student outreach efforts to ensure the enrollment of programs. The Assistant Director will provide daily oversight of the SSCs, supervising their front line interaction with student applicants, overseeing admissions and advising, and monitoring enrollment numbers. The Assistant Director will provide mentorship, feedback, and ongoing training to the SSCs, as well as facilitate collaboration between the SSCs and their respective Programming team colleagues.
The Assistant Director will collaborate with the Director of Student Services on admissions and communication outreach strategies, and will work with the SSCs to implement the strategies when interfacing with students, parents, and partners. The Assistant Director will ensure consistent and accurate messaging across all facets of the student applicant experience—from initial interest, to acceptance, to departure.
For More Information and To Apply: https://cetacademicprograms.com/wp-content/uploads/2018/12/Assistant-Director-of-Student-Services.pdf
Posted by Sydney Sparrow. Click here to join the JETwit Jobs Google Group and receive job listings even sooner by email
---
Job Title: Assistant Director, Richard U. Light Fellowship Program
Posted by: Yale
Location: New Haven, CT
Contract: Full-Time
Thanks to JET alum Kate Maruyama (Osaka-ken) for passing these along:
Reporting to the Light Fellowship Director, the assistant director will help shape the Light Fellow / Greenberg Scholar experience from the moment of a student's initial interest in studying language in East Asia through to life-long engagement with a network of peers.  Assist in all aspects of running the program, from student information sessions to program evaluation and donor relations.
Essential Duties
Conduct all initial advising to potential applicants with questions related to applying for the Light Fellowship, choosing a Light Approved Program, deciding how long to study abroad, applying for study abroad credit, planning for travel and study abroad, exploring alternatives to the Light Fellowship, and connecting with former Fellows.
Develop and present information and pre-departure sessions and related material for students participating in these programs. Maintain and review all award agreements.
Conduct program evaluations and draft the annual report to the foundation.  Manage the Light Fellowship Program's student reporting protocol, which includes an active blogging system.  Survey student reports with the aim of building any emerging themes into the next year's information and pre-departure sessions.
Supervise the Light Fellowship Administrative Assistant position and occasional student worker staff.
Plan and arrange for up to nine faculty and administrators selected each year by the Light Fellowship Executive Committee to conduct site visits at program-approved sites throughout East Asia.
Serve as study abroad adviser for students interested in studying abroad at Light approved sites and advise on credit policies and credit application processes, review credit applications and process credit transfers.  Collaborate with Study Abroad team to develop resources for students and other members of Yale community related to health & safety and study abroad credit.
Represent Yale University and the Light Fellowship Program at numerous on-campus events.
Formulate and prepare award budget parameters for each of two fellowship competitions held during the year by calculating ever-changing program costs and monetary exchange rates for each fellow going abroad to more than 20 programs in East Asia across a mix of study terms and durations.  Reconcile all expenditures.
Design, produce, and disseminate public relations materials, such as brochures and posters for Academic Fairs, Bulldog Days, and other events when appropriate.  Use social media and other technologies to promote programs.  Work on website and other technologies supporting the program.
Develop a knowledge base about the quality and nature of language study programs and student-life resources at approved Light Fellowship Program sites in East Asia.  Establish and maintain relationships with program administrators at those sites.
Serve as primary administrator in the absence of the Director.
Collaborate with the Director on all other activities directly related to the administration of the Richard U. Light Fellowship Program, including, but not limited to, special projects as assigned by the Light Fellowship Director or the Director of Fellowship Programs.
Other duties as assigned.
To Apply and for More Information: https://funding.yale.edu/contact/assistant-director-light
Posted by Sydney Sparrow. Click here to join the JETwit Jobs Google Group and receive job listings even sooner by email
---
Job Title: MSO Outreach Coordinator
Posted by: North East Medical Services
Location: Los Angeles, CA, USA
Contract: Full-Time
Here's a job passed along to us:
Emily Frank (Hokkaido, 1993-1996) is a professional career counselor and coach who has worked with and helped JET alumni all over the world. Her website is www.DenverCareerCatalyst.com. Today, she has provided some information regarding Hospitality Jobs!

Worked Overseas? Don't Forget about Hospitality Jobs!
Parle that français.
If you worked overseas in any capacity, chances are good that you speak at least a little of that language—maybe even a lot! Hospitality jobs will allow you to put those excellent and exciting language skills to good use.  You don't have to be fluent, just welcoming.  (And, of course, those who are fluent will find even more opportunities!)
Make friends & influence people.
Hotel and restaurant staff are in the business of making people happy. It's called hospitality for a reason, right?  They also get to rub elbows with all kinds of fascinating people.  And with your background in cultural sensitivity, you can become a rock star!
Kick 9-5 to the curb.
Does the idea of a standard workweek make you itchy or downright miserable? Hospitality is your gig!  Conference centers, hotels, and restaurants all need people to work a wide variety of shifts and in a range of positions.
Let your freak flag fly!
As a hospitality professional, your job is to create an experience, a meal, a fancy drink, a vacation. That means this is a fabulous field for the highly creative individual.  And people who pick up and move to another country are, in my experience, among the most creative people out there!
What the pros say:
Using my experience that I learned through the JET Program, I was fortunate to find a career in the vacation ownership industry.  I've been with the same company for the past 18 years and it amazes me the number of lives that we are able to affect in a positive way.  It's always wonderful to see generations of families on vacation together creating memories and knowing that we played a part in that is very rewarding. – Reid Yoshikawa, Regional Director of Marketing at Hilton Grand Vacations (Honolulu, HI)
Emily is passionate about helping creative professionals stop feeling stuck and start kicking ass.  She provides counseling to quirky, creative people so they can get jobs they love and flourish, both financially and personally.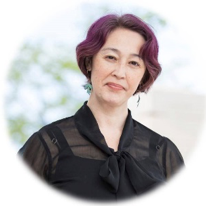 Emily Frank
www.DenverCareerCatalyst.com
Emily@DenverCareerCatalyst.com
720-839-9769
This sheet may be reproduced if the contents of the individual tips are unedited and the contact and biography information are left intact.
After a successful Kickstarter campaign, Lillian Rowlatt (Niigata-ken, 2003-2005) is continuing to promote Kokoro Care Packages. Please learn more about them below!
Ask any JET what they miss most about Japan and many will say the food. However, after returning from Japan, I realized the quality and taste of the Japanese food outside of Japan just wasn't the same. That's why I decided to launch my own subscription box business called Kokoro Care Packages, that delivers authentic and healthy Japanese food straight from Japan to your door.

Each of our Care Packages come with a variety of delicious Japanese foods and flavors that have been carefully selected for its quality, purity and incredible taste. We work directly with suppliers in Japan to ensure that each item is free from additives/chemicals and contains only the highest quality ingredients. We also provide English translations of the products and ingredients as well as some fun recipes to try. We offer two difference Care Packages to choose from: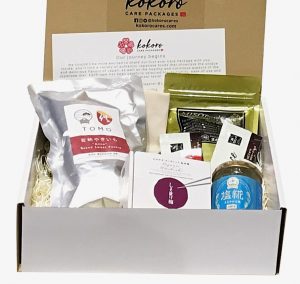 Our Nourishing Delights Care Package comes with 5+ high-quality and delicious Japanese foods while our Seasonal Delights Care Package comes with 7+ high-quality and delicious Japanese foods PLUS a locally made artisanal gift.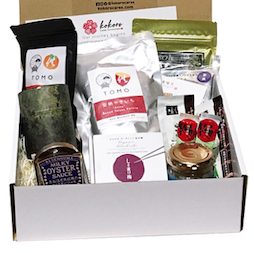 We hope our Care Packages bring back your fond memories of Japan. Learn more at www.kokorocares.com or follow us at @kokorocares
Written by professional Writer/Interpreter/Translator Stacy Smith (Kumamoto-ken CIR, 2000-03), WIT Life is a periodic series about aspects of Japanese culture such as film, food and language. Stacy starts her day by watching Fujisankei's newscast in Japanese, and here she shares some interesting tidbits and trends along with her own observations.
As my last post mentioned we are in the midst of the "best of" season, and the latest is the anno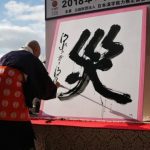 uncement of the kanji of the year. The pick for 2018 is 災 (sai, or disaster), as in 自然災害 (shizen saigai or natural disaster) and 災い (wazawai or trouble/misfortune). As Japan is no stranger to natural disasters, this kanji had been chosen once before in 2004. That was the year of the Niigata Chuetsu Earthquake, the deadliest earthquake to strike Japan since 1995's Great Hanshin earthquake (incidentally, the kanji of the year tradition began that year with the selection of 震 (shin or earthquake)). This year a big earthquake causing landslides hit Hokkaido, heavy rains caused floods and mudflows in Kyushu, and there were also major heat waves and typhoons throughout the country.
But it wasn't only natural disasters that led to 災. There was also an abundance of man-made disasters such as power harassment in the sports world, Finance Ministry bureaucrats tampering with official documents in a political scandal, and the rigging of entrance exam scores that discriminated against female applicants at medical universities.
In person-on-the-street interviews on this morning's news, interviewees reacted to the selection of 災. One young woman thought it made sense in light of all the horrible landslides and floods, but an older woman said she found it dark and would have preferred something brighter. Others offered alternatives such as Read More
By JQ magazine editor Justin Tedaldi (CIR Kobe-shi, 2001-02). Justin has written about Japanese arts and entertainment for JETAA since 2005, and is eagerly awaiting the 30th anniversary edition of All Purpose Cultural Cat Girl Nuku Nuku. For more of his articles, click here.
In the summer of 1988, the "World News" page in the debut issue of Nintendo Power magazine reported: "Ninjas and Kung-Fu Masters are no longer heros [sic] to Japanese players since they are now being replaced by warriors and sorcerers who bravely confront dragons with their swords and shields."
With this mind-blowing description, my eight-year-old self was introduced to the world of Dragon Quest.
With over 71 million copies sold, this landmark video game series published by Enix (now Square Enix) is still going strong, with eleven main titles and thirty overall, securing a legacy that spans at least three generations. While role-playing games like Dungeons & Dragons and Ultima existed long before game consoles invaded our homes, DQ was the one that rewrote the book and kept adding chapters that everyone from Final Fantasy to Pokémon copied from, long after its initial release in Japan in 1986 (and in the U.S. as Dragon Warrior in 1989).
Ironically, those other series are probably better known in the West, likely because for years Dragon Warrior lacked the "star power" associated with one man whose fame in Japan easily rivaled any game: Akira Toriyama. As the creator/illustrator/genius behind the back-to-back manga smashes Dr. Slump and Dragon Ball, Toriyama was coaxed by his trend-savvy editor to lend his talents to a new sword-and-sorcery title, marking a profound transformation (and future synergy) between the manga and gaming worlds. After DQ, nothing would ever be the same.
Posted by Sydney Sparrow. Click here to join the JETwit Jobs Google Group and receive job listings even sooner by email
---
Job Title: Associate Producer
Posted by: NHK Los Angeles Bureau
Location: Los Angeles, CA, USA
Contract: Full-Time
Here's a job if you're in or looking to move to the Los Angeles Area received directly from NHK Japan Broadcasting Corporation.
NHK Los Angeles Bureau is seeking a full-time Associate Producer who covers news in the US. The Associate Producer will be working with correspondents from Japan with duties including but not limited to:
Conducting research, reporting, and fact-gathering
Pitching story ideas
Arranging interviews and travel logistics
Business trips nationwide for interview including driving car
Make TV reports for "NHK World" (NHK's international TV service in English)
This position will start in January or February 2019. You must be able to come for an in-person interview.
Please find the job description and how to apply here: 2018 December NHK Los Angeles seeking associate producer 12062018 
Posted by Sydney Sparrow. Click here to join the JETwit Jobs Google Group and receive job listings even sooner by email
---
Job Title: Administrative Assistant, Assistant Director of International High School Competition and Admissions, and Assistant Director of International Recruitment
Posted by: Bellevue College
Location: Bellevue, WA, USA
Contract: Full-Time
Here are three job openings at Bellevue College via the Pacific Northwest JETAA  group:
Administrative Assistant to the Office of International Education & Global Initiatives – Job Description (#R18342)
Under the general direction of the Dean of International Education and Global Initiatives (OIEGI), the Administrative Assistant 4 (AA4) provides higher-level administrative support to the dean to maximize his effectiveness in administrative and financial management of OIEGI. Higher level administrative duties include, but not limited to, budget monitoring, expenditure control, office space management, equipment purchases, public relations, personnel administration, records management, and report preparation.
The position provides administrative and fiscal management skills to ensure all OIGEI business transactions and contractual agreements with partners around the world are carried out by meeting the state and college's policies and procedures.  The incumbent must be able to project a welcoming and professional image of the OIEGI to international visitors, business and educational partners, and government official and serve them with keen sense of cultural sensitivities.
Assistant Director of International High School Completion and Admissions – Job Description (#R18324)
Under the general direction of the Director of International Education, the Assistant Director of International High School Completion and Admissions is responsible for daily operations of the International High School Completion program, international admissions, pre-arrival advisement, and front desk intake services in the Office of International Education (OIE). This position supervises five fulltime employees and several student workers.  This position reviews current student lifecycle process from inquiries to admissions to enrollment, identifies critical touch points, designs and delivers compelling and timely admission support services to applicants to ultimately convert the inquiries to actual enrollment in degree and non-degree programs.
The International High School Completion (IHSC) program is a brand-new program launched in Fall 2018. The position builds a solid foundation for an accessible, sustainable, and high-impact dual-enrollment pathway program for academically motivated international students ages 16 and 17. The incumbent evaluates international high school transcripts and external exam results to develop individualized academic plans that satisfy requirements of the Washington State high school and associate credentials while preparing students to apply for admission to universities all around the USA. The incumbent is responsible for the maintenance and growth of the IHSC students by designing and delivering comprehensive academic and culturally responsive support services with end goals to increase the students' retention, overall satisfaction, and completion rates.
This position serves as a Designated School Official (DSO) and Alternate Responsible Officer (ARO) and may travel domestically and internationally as directed.
Assistant Director of International Recruitment – Job Description (#R18344)
The Assistant Director of International Recruitment (ADIR) reports to the Director of International Education and supervises two to three full-time International Recruitment Managers (IRMs).  Working closely with the dean of international education and global initiatives, director, and IRMs, this position develops and evaluates annual recruitment and communication plans with end goal to increase and diversify the new first-time international student enrollment in degree and non-degree programs. The ADIR strengthens existing partnerships and identifies new opportunities. The ADIR advises the director and other stakeholders to adjust tactics, services, and programs using data and trend analysis. The ADIR assists the director with the annual budget preparation by forecasting new student enrollment, estimating costs for all marketing and recruitment activities, and providing rationales. The position travels domestically and internationally two to four times a year.
Application Process: To find more information about the various positions and to apply please click here — https://www.governmentjobs.com/careers/bellevuecollege
Posted by Sydney Sparrow. Click here to join the JETwit Jobs Google Group and receive job listings even sooner by email
---
Job Title: Administrative Assistant
Posted by: Gakken
Location: New York, NY, USA
Contract: Full-Time (Immediate hire)
Job Description:
Gakken is Japan's largest educational publisher. We have just opened a New York office and are seeking a motivated, qualified individual to join our team in the position of Administrative Assistant. You will perform clerical and administrative functions in order to drive company success.
Responsibilities:
Translation and Interpretation between English & Japanese (emails, phone calls, documents, in-person meetings)
Draft correspondences and other formal documents
Plan and schedule appointments and events
Data entry to online systems
Develop and implement organized filing systems
Light customer service
Perform all other office tasks
Qualifications:
Fluency in Japanese and English (spoken and written)
Previous experience in office administration or other related fields
Ability to prioritize and multitask
Excellent written and verbal communication skills
Strong attention to detail
Strong organizational skills
Experience with internet/web, Microsoft Office products a plus
Posted by Sydney Sparrow. Click here to join the JETwit Jobs Google Group and receive job listings even sooner by email
---
Job Title: Community Engagement / Advertising Sales / Marketing Coordinator
Posted by: Nichi Bei Foundation
Location: San Francisco, CA
Contract: Full-Time
The Nichi Bei Foundation is seeking a community engagement and development, advertising sales and marketing coordinator to work up to 40 hours weekly at a nonprofit educational organization that publishes a community newspaper and presents educational programs in San Francisco's Japantown.
About the Organization
With the impending closure of the historic Nichi Bei Times in September of 2009 — the oldest Japanese American community newspaper in Northern California — some Nichi Bei Times staff and contributing writers, media professionals and community leaders formed the Nichi Bei Foundation to launch the first nonprofit ethnic newspaper of its kind in the country, the Nichi Bei Weekly. This pioneering nonprofit organization has launched a Digital Edition, educational programs such as a Films of Remembrance series and a pilgrimage to the former Angel Island Immigration Station, as well as community events such as the Northern California Soy and Tofu Festival designed to help fulfill its mission of keeping the Japanese American and Asian American community connected, informed and empowered.
More info on the organization: www.nichibei.org/about/nichibeifoundation or www.nichibei.org
Job Description
This position entails a combination of advertising sales, development, some marketing and other administrative tasks. This position could also play a role in the coordination of major foundation educational and fundraising events. Applicant should be energetic and hard-working and provide positive solutions for customer needs in advertising, and maintain general oversight and ensure accuracy of internal accounting records including accounts receivable and invoicing requests. Applicant will also assist in various ad hoc projects.
This position reports directly to the organization's president and will work with its accounting staff, as well as other sales contractors.
Chapter Beats December, 2018
JETAA Chapter Beat is a periodic mosaic of events taking place in the JETAA sphere. Compiled by AJET's Director of Alumni Relations Megan Buhagiar (Ishikawa Prefecture, 2017- Present)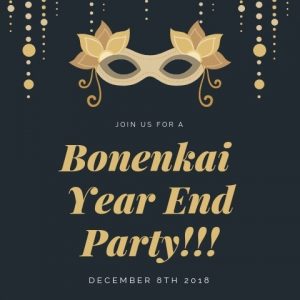 Pencil it in your calendars! An amazing evening is in the work and you won't wanna miss it. More details to come in future newsletters or on the JETAASC FB page.
JETAA DC

Life Goes On documentary screening

JETAADC Presents
"Life Goes On"
Monday, December 3rd 6-8pm
1307 New York Ave NW
Buy Tickets Here!
Life endures. Six years after the Great East Japan Earthquake and Tsunami, in the beautiful land of Tohoku, on Japan's North-Eastern coast, people stricken by immeasurable loss never give up on moving forward. Join us for a special screening of the documentary Life Goes On 一陽来復, and understand how resilience, fortitude, and benevolence prevail after an unimaginable disaster.
The JET Alumni Association of Washington DC [JETAADC] is proud to host an exclusive screening of this moving documentary here in DC. All collected proceeds from the subsidized tickets will be given to the film director, donations warmly welcomed. Dinner will be provided.
Doors open at 6 PM for check-in and dinner; screening begins at 6:30 PM.

JETAA Pub Social
Get in the festive feels on the first Thursday of December and join JETAA UK for a pub social and end-of-year お疲れ様 at the Somers Town Coffee House!
Committee members will be there from 18:30 so drop in anytime and look for JETAA signs and friendly faces. Tickets are free and registration is optional but it helps us know who to look for if you sign up with Eventbrite – just follow the link :)
Look forward to seeing you there!
https://www.eventbrite.co.uk/e/jetaa-london-pub-social-tickets-52476493605
JETAA South Island (New Zealand)

Bonenkai
DATE:            Friday, December 7th
TIME:             18:30 – 20:30 UTC+13
VENUE:         Cookai Sushi Chain Train & Bar at the Crossing
Level 1 The Crossing 166 Cashel St.
Christchurch, New Zealand
JETAA Ottowa

Annual General Meeting
DATE:            Friday, December 7th
TIME:             18:00 – 21:00 EST
VENUE:         C'est Japon à Suisha
                        208 Slater Street, Ottawa,
Ontario K1P 5H8
The 2018 General Annual Meeting of JETAA Ottawa will be held at C'est Japon à Suisha on Friday, December 7th at 6:00 pm, in the lower level of the restaurant.
All members are welcome. Bylaw revisions (stay tuned for a link to the final draft) will be voted upon, as well as BoD positions. Anyone wishing to join the Board of Directors may come and submit their candidacy for the elections. You're also encouraged to bring up anything you'd like your BoD to know about, or wish to propose, or just mention officially!
Hope to see you there!
JETAA Toronto

Kurisumasu Karaoke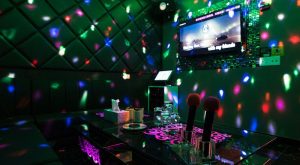 Join us 7-10pm on Friday, December 14th at Bar+ Karaoke to sing your heart out. Whether you're just an occasional caroller or a year round singing sensation, this event is for you!   It's Japanese-style, so everyone will be able to get some song choices in, and who better to rock out with than JET friends?
Date: Friday, December 14th, 7-10pm
Location: Bar+ Karaoke (360 Yonge St, Toronto)
Cost: $10
For any questions, contact membership@jetaatoronto.ca. Hope to see you there!
JETAA Praries

Ramen + Christmas Cake
Date:  Thursday, December 13th
Time: 18:30 UTC-06
Venue:           Cho Ichi Ramen
1151 Pembina Highway,
Winnipeg, Manitoba R3T 2A3
Do you miss having a bowl of hot ramen to warm you up? Do you miss having Christmas cake as well? Do you miss mingling with likeminded people who understand what Japan is all about? Behold! We will have Ramen + Christmas Cake Night! at Cho Ichi Ramen, 1151 Pembina Highway. Cake will be held at a yet to-be-determined location. For JETAA Prairie members. Please rsvp by December 5th, 2018 by either this Facebook event (set yourself to "Going") or rsvp@jetaaprairies.ca.
JETAA Canberra

Save the Date – Bounenkai Dinner and Karaoke
Date:              Thursday, December 13th
Time:             18:30 – 22:30 UTC+11
Venue:           To Be Confirmed
Save the date for our annual bounenkai.
We will start with dinner somewhere in Dickson followed by karaoke.
Details to be confirmed soon so keep an eye out for updates.
Updates can be found here.
JETAA Wellington

Rakugo Performance at Tatsushi
Date:              Sunday, December 2nd
Time:             18:00 – 22:00
Venue:           Tatsushi Japanese Restaurant
19 Edward Street
Wellington, 6011 New Zealand
This unique event comes to us courtesy of the Japan Information & Cultural Centre:
Have you heard of the Japanese art of Rakugo? Rakugo is a traditional form of storytelling, told by a solo Rakugo performer who entertains the audience by telling mainly comedic, but sometimes scary, moving or even erotic stories. Tatsushi restaurant, right in the middle of Wellington's CBD, is hosting the first New Zealand performance of Tachikawa Koshira, an accomplished Rakugo performer who has entertained not only in Japan, but also in Australia and Spain! This performance will be solely in Japanese.
Spaces are limited, so get in quick and reserve by emailing Tatsushi! Prices are $30 for entry, or $40 for entry and a delicious Japanese Bento meal packed by Tatsushi.
WHEN: 6pm meal, 7pm performance, Sunday 2 December
WHERE: Tatsushi, 19 Edward Street, Wellington

Website 
Email: tatsushi@live.com
JETAA Minnesota

Talk: The Tale of Genji in Japanese Art
DATE:            Saturday, December 8th
TIME:             10:00 – 12:15 CST
VENUE:         Minneapolis Institute of Art
2400 S 3rd Avenue,
Minneapolis, Minnesota 55404 JETAAMN is offering discounted tickets ($8) per person for this event.
Hurry- deadline to register is Dec. 1st!
Join us for an in-depth talk to learn about the "Tale of Genji" as presented in Japanese art. The "Tale of Genji" is celebrated as Japan's greatest literary work. Written in the early 1000s by Murasaki Shikibu, a lady-in-waiting at the imperial court, the tale traces the life and romantic pursuits of an imperial prince called "Shining Genji." Rich in poetry and offering an intimate look at the court, it has inspired countless Japanese artists over the centuries, and illustrations of or allusions to the tale appear on everything from paintings, prints, and decorative artworks to clothing and manga (comic books). These three presentations are offered in conjunction with Mia's exhibition "Love Affairs: The Tale of Genji in Japanese Art" (bit.ly/2PmGIr0) and offer different perspectives on Genji-related art created over the past 500 years. On view through March 10, 2019.
To sign up, complete online form here.
By JQ magazine editor Justin Tedaldi (CIR Kobe-shi, 2001-02). Justin has written about Japanese arts and entertainment for JETAA since 2005. For more of his articles, click here.
With Thanksgiving (and the hopes of sensible eating) now just a memory, we turn to colder weather, falling snow, and the new year to come. Fortunately for Japanese culture fans, December is just as busy as the holiday season itself. Whether you're hosting guests from out of town or looking to squeeze in an event or two in between parties, we've got you covered.
This month's highlights include:
Now through Jan. 1
Radio City Christmas Spectacular
Radio City Music Hall, 1260 Sixth Avenue
From $41
Featuring an all-new finale number (with costumes to match), the seasonal tradition of this legendary New York show, now in its 86th edition, features the Rockettes, ensemble dancers, and Santa himself, for a show guaranteed to delight all ages! Among the more than 50 dancers for this year's performance is Tokyo native Arisa Odaka, who performed with Ken Watanabe in the Lincoln Center Theater production of The King and I in 2015.
Now through Feb. 10
Mickey: The True Original Exhibition
$38
Featuring exclusive works from Keichi Tanaami (SPIRAL) and Tetsuya Nomura (Kingdom Hearts), Mickey: The True Original Exhibition celebrates 90 years of Mickey Mouse's influence on art and pop culture. This immersive, one-of-a-kind experience is inspired by Mickey's status as a "true original" and his consistent impact on the arts and creativity in all its forms. Guests will have the chance to explore the 16,000 square-foot exhibition featuring both historic and contemporary work from renowned artists.
Friday, Dec. 7, 7:00 p.m.
Japan Society, 333 East 47th Street
$14, $11 seniors/students, $5 members
While rummaging through trash heaps on Christmas Eve, three homeless companions—a middle-aged alcoholic, a transgender ex-drag queen and a hot-tempered teen runaway—stumble upon an abandoned newborn. Determined to find the child's mother, the trio search Tokyo's sprawling streets, buildings and back alleys, helped along by a series of coincidental encounters that gradually reveal the truth of their traumatic pasts. Imbued with deep empathy for its down-and-out yet lively characters, this atypical holiday comedy by celebrated animation director Satoshi Kon (Perfect Blue, Paprika) highlights the redemptive power of love and family (chosen or otherwise) amidst life on the fringes of society. Presented in Japanese with English subtitles.