Oct
19

Jobs

Comments Off

on Job: Foreign Affairs Specialist – Office of International Science and Engineering (Alexandria, VA, USA)
Posted by Sydney Sparrow. Click here to join the JETwit Jobs Google Group and receive job listings even sooner by email.
---
Job Title: Foreign Affairs Specialist
Posted by: Office of International Science and Engineering
Location: Alexandria, VA, USA
Contract: Full-Time
Here's a JET-relevant job passed along to us:
This position is located in the Office of International Science and Engineering (OISE), within the Office of the Director (OD).  This incumbent will serve as the Foreign Affairs Specialist on the Country and Regions team and will manage the East Asia Pacific region.  The specialist is a recognized expert within NSF on issues related to the intersection of U.S. science and foreign policy as they pertain to China and the East Asia and Pacific region.
More Information and Application Process: https://www.usajobs.gov/GetJob/ViewDetails/512259300
Posted by Sydney Sparrow. Click here to join the JETwit Jobs Google Group and receive job listings even sooner by email.
---
Job Title: Program Manager, Center on Japanese Economy and Business
Posted by: Columbia Business School
Location: New York, NY
Contract: Full-Time
Thanks to JET alum, Amber Liang (Kochi-ken) for passing along the following job opening:
Reporting to the Director for Administration, the Program Manager is responsible for managing events for the Center on Japanese Economy and Business (CJEB), particularly in providing executive level assistance to the Director for Administration. The incumbent implements policies and procedures to reach operational goals; and works closely with all levels of the University Faculty, administrators and external constituents, as appropriate.
Responsibilities:
Manages projects for the CJEB Visiting Fellows Program and works closely with ISSO regarding  the processing of visa applications, reviewing supporting documentation with ISSO and ensures compliance with all University policies and procedures. In conjunction with the Financial Planning Office and the Administrative Director, responsible for processing invoices and follows up on payment.  Manage fellows' monthly seminar and presentation coaching sessions as well as oversees the overall processes related to the fellows' first day arrival.
Collaborates with the Assistant Director for Programs on event management which includes event website management; registration page, budget tracking, vendor relations, and preparing event and other promotional materials.
Works with the Director for Administration in a number of capacities, including: preparing written documents, reports, and correspondence; liaising with other Columbia offices to promote CJEB events and maintains electronic and paper files.
Manages and maintains the Center website by writing and editing content, photo and videos by using basic HTML.  Creates and manages the Center's newsletters.
Manages the Center's scholarship program by promoting the scholarships, receiving applications and managing the selection process.
Working with the Director, Co-edits the Center's Annual Report and other reports as needed. Performs independent research and maintains confidential files.
Manages the overall daily operations of the Center, including office equipment, and addresses faculty, researchers and officer needs with ITG and Operations.
Liaison with prospective students and external constituents on behalf of Program, ensuring positive and proactive communications with all levels of the organization and the larger community.
Contributes as a pro-active team member to special projects with other staff as needed.
Posted by Sydney Sparrow. Click here to join the JETwit Jobs Google Group and receive job listings even sooner by email.
---
Job Title: Program Officer
Posted by: Open Society Foundation
Location: Seoul, South Korea
Contract: Full-Time
Here's a JET-relevant job passed along to us:
The Open Society Foundation (OSF) East Asia Program seeks a Program Officer with expertise on East Asia, with a focus on Japan. This position is based in Seoul, South Korea, and is intended for a mid-career professional with substantial work experience. The Program Officer will be a part of the Asia-Pacific Regional Office (APRO) team and will report to the East Asia Office representative with a focus on grant-making, strategy development, policy analysis, and advocacy efforts to promote the Program's vision. Applications for this position are due by FRIDAY, October 19, 2018.
Oversee the grant-making, operational & advocacy strategies for East Asia with considerable autonomy.
Negotiate and manage grants, projects, project budgets, and contracts with diverse organizations.
Assess the organizational capacity of partners, including an understanding of financial and administrative strength, and provide mentoring & technical assistance through long-distance support.
Travel to relevant meetings or site visits as necessary.
Provide critical assessment & reflection of what is working and what is not working in order to adjust programming and advocacy accordingly. 
Evaluate progress and document impact and best practices.
Monitor and analyze political and social developments in East Asia, with a focus on Japan, and advise OSF colleagues on important developments.
Prepare and deliver concise, targeted written reports and presentations for diverse groups, including peers, internal boards and external audiences.
Build collaborative relationships across OSF's geographic and thematic entities more widely as well as externally to further programmatic goals.
Posted by Sydney Sparrow. Click here to join the JETwit Jobs Google Group and receive job listings even sooner by email.
---
Job Title: Customer Briefing Center Program Manager
Posted by: Amazon
Location: Tokyo, Japan
Contract: Full-Time
Thanks to JET alum, Zac Whitney (Ishikawa-ken) for the following job opening:
https://www.amazon.jobs/en/jobs/674092/customer-briefing-center-program-manager
The job description doesn't specify in detail, but the posting is for someone with a fair amount of experience, so it might not be the best fit for someone who's coming out of JET immediately after college.  It could potentially be a good fit for someone who went into JET with a bit more experience under their belt or who's been in the workforce for a while post-JET, though.
Kansas City, Missour-based JET alum Warren McAllen (Fukuoka-ken, 1988-92), who served for over 10 years as the JETAA Heartland chapter president, has set up a GoFundMe page to try to raise funds to save his home following his mother's passing. Those of us who have known Warren over the years know what an amazing contributor he has been to JETAA and what a good guy he is as well as what he's been through over the past few years. Here's a chance to help someone who has given so much of his time and energy to the JET alumni community over the years.
https://www.gofundme.com/57c9n-save-my-home
On Thursday, August 23rd, JETAANY took part in a special fundraiser for flood relief efforts in Japan, featuring tastings of Japanese food and spirits. One hundred percent of net proceeds from this event went towards aid for those in western Japan who have been suffering from historic rainfalls and landslides this past summer.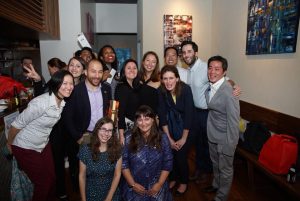 Japanese-inspired hors d'oeuvres as well as premium sake, wine, and beer provided by Chef John McCarthy of OKA were available, as well as special prizes. This was a collaborative effort of many Japanese/Japanese American and Japan-related organizations in NYC with the support of the Consulate General of Japan in New York. 

This was the first collaborative effort amongst the Japanese American Community Coalition's (JACC) member organizations:
Net proceeds went to JAA's Japan Flood Relief Fund to be distributed to the appropriate NPOs/NGOs on the ground and we will provide updates about the organizations selected. JAA, the Japanese American Association of New York, is a 501(c)(3) not-for-profit organization. This event raised over $7,000 in net proceeds, which will help Japanese survivors recover and rebuild after the July floods that took 169 lives and resulted in the evacuation of over a million people (especially in the hardest hit areas of Hiroshima, Okayama, and Ehime Prefectures).
Additional support included endorsement from the Consulate General of Japan in New York, the hospitality and cooking skills of Chef John McCarthy, donations from ITO EN Tea, World Sake Imports, Skurnik Wines, and the wonderful contributors to our raffle: Japan Society, Asia Society, The Yagi family for the Sakagura restaurant gift certificate, Hiro Sake, Sanrio, Sake Man, Simon Chiew and Yasushi Sasaki, among other generous donors.
Also, a special thank you to our amazing volunteers and Kim Hyacinthe of JETAANY for her beautiful poster design.      

JETAANY was very grateful to be a key organizer of this joint fundraising effort and many thanks again for coming together as a community of New Yorkers to help communities in need in Japan and for your compassionate support! Until next time!
Posted by Sydney Sparrow. Click here to join the JETwit Jobs Google Group and receive job listings even sooner by email.
---
Job Title:b(Japanese/English) Translator/Interpreter
Posted by: Sanoh America Inc.
Location: Findlay, OH, USA
Contract: Full-Time
Here's a job sent directly from the company:
My company, an international Japanese Tier 1 automotive supplier headquartered in Findlay, OH, is currently looking to add one more translator/interpreter to our team. This would be a good opportunity for someone with advanced Japanese (N2 or thereabouts) and English skills to enter into the translation/automotive fields. A great company with great coworkers and benefits, and a great support structure to get your feet wet while learning the terminology and developing your skills. (Of course, experienced translators/interpreters are more than welcome to apply as well!)
Inquiries or resumes may be sent to michael.holmes@sanoh-america.com.
Responsibilities:
Translate technical documents both in Japanese and English
Interpret in small to large company meetings
Support any administrative tasks
Perform other duties as assigned
Requirements:
Must be able to read/write/speak Japanese at a business level (JLPT N2 level or equivalent)
Able to communicate fluently in both written and verbal English
Experience working in a Japanese office environment is a plus
By Greg Beck (Hiroshima-ken, 2006-11) for JQ magazine. Greg is a writer, producer, home brewer, and Social Coordinator for JETAA Southern California and Arizona. A former news producer for Tokyo Broadcasting System in New York, he currently works freelance in Los Angeles. For more cinema reviews, follow him on Twitter at @CIRBECK #MovieReview.
If you were to ask me prior to writing this, I vaguely recalled Perfume as some heavily autotuned "girl group" from Hiroshima. Now that I have read Perfume's GAME, all of that has changed.
Written by JET alum Patrick St. Michel (Mie-ken, 2009-11) and released earlier this year, this insightful work of nonfiction is part of a series called 33 1/3 Japan, also related to a larger, global series of short, music-based books sharing the 33 1/3 title. This book specifically goes beyond simple fandom, providing a master class on the early-to-sophomore career of the pop group Perfume, and how their album GAME would become an important influence in popular music on the international level.
To call Perfume's GAME a "deep dive" is both understatement and compliment. From its first chapter, St. Michel's decade of experience writing about music shines. That's an extremely difficult task for the written word, given we perceive music using a different sense entirely. Descriptive prose does an excellent job identifying and elucidating songs and their smaller components. St. Michel starts with a modest introduction of his personal discovery of Perfume and how it helped him connect to his Japanese community, which for any JET alum should feel familiar, if not nostalgic. Next, he tells the story of the members of Perfume and their humble beginnings. Had the rest of the book been solely focused on their music, it would only be worth reading if you were already a diehard fan, but the author does much more.
By Alexis Agliano Sanborn (Shimane-ken, 2009-11) for JQ magazine. Alexis is a graduate of Harvard University's Regional Studies-East Asia (RSEA) program, and currently works as a program coordinator at the U.S.-Asia Law Institute of NYU School of Law. Additionally, she is an artist and independent filmmaker, currently working on a documentary about food education in Japan entitled Nourishing Japan.
Tuttle's latest cookbook, Japanese Cooking with Manga, captures the ethos of creating food which suits the place you live. This quirky read was written by the Gourmand Gohan team comprised of Spaniards Alexis Aldeguer and Ilaria Mauro and Japanese-living-in-Barcelona "Maiko-san," highlighting the universal love of Japanese food and its adaptations around the globe.
Created to be part comic book and part recipe book, this is a cookbook that you "read," filled with colorful and humorous visual explorations of preparing Japanese food. Drawn in an artistic style more reminiscent of Tintin than Totoro, the trio guides us through visuals of chopped ingredients and simmering pots culminating in the completed meal. In truth, it would be difficult to consult the book while cooking (there's something to be said for a more traditional layout); it's more coffee table or bedside reading. Nevertheless, readers, especially those with an appreciation for comics, will likely enjoy this book.
In addition to recipes and narrative, the writers take care to provide background information, context and history to the world of Japanese cuisine—such as the importance of seasonal ingredients, the history of sushi, or how to identify fresh fish.  For anyone embarking and revisiting the world of washoku, these principles are good reminders of the foundation to the cuisine and culture.
Posted by Sydney Sparrow. Click here to join the JETwit Jobs Google Group and receive job listings even sooner by email.
---
Job Title: Japan Communications Coordinator
Posted by: 350.org
Location: Tokyo, Japan
Contract: Full-Time
Here's a JET-relevant job passed along to us if you're looking to live and work in Tokyo:
The position will be for a comms lead for the 350 Japan office. A good candidate would be someone who has experience working at a Japanese media outlet.
350.org is building a global grassroots movement to solve the climate crisis. Our online campaigns, grassroots organizing, and mass public actions are led from the bottom up by thousands of volunteer organizers in over 188 countries. 350.org works hard to organize in a new way—everywhere at once, using online tools to facilitate strategic offline action. We want to be a laboratory for the best ways to strengthen the climate movement and catalyze transformation around the world.
Application Process: You can find the job posting here – https://350.org/jobs/?gh_jid=1386860
By JQ magazine editor Justin Tedaldi (CIR Kobe-shi, 2001-02) for Shukan NY Seikatsu. Justin has written about Japanese arts and entertainment for JETAA since 2005. For more of his articles, click here.
In recent years, New York has hosted concerts ranging from Japanese rock to symphonic game music at world-renowned venues like Madison Square Garden and Carnegie Hall. Still, the chances of a full-blown anime concert featuring a variety of the original theme song vocalists seemed remote at best.
Until now. Coming to the historic Hammerstein Ballroom on November 16-17 and running concurrently with the second annual Anime NYC convention at the Jacob Javits Center, the Anisong World Matsuri concert event will make its New York debut after acclaimed performances in Los Angeles, Washington, D.C., and Shanghai.
The show will be open to anime fans and music lovers worldwide, with no Anime NYC admission required to attend. Special VIP ticket options allow fans to meet the performers at Anime NYC where multiple on-stage Q&As and autograph sessions will be held with the concert's artists.
According to a press release, Anisong World Matsuri brings together the most popular Japanese singers whose songs span the most popular contemporary anime. High-profile acts include Hironobu Kageyama, the voice behind "Dragon Ball Z"'s "Cha-La Head-Cha-La"; Hiroshi Kitadani ("We Are!" from "One Piece"); TRUE ("Mobile Suit Gundam: Iron-Blooded Orphans"); and Luna Haruna ("Sword Art Online," "Fate/Zero," "Monogatari").
Closing the event is Morning Musume, one of the biggest Japanese girl groups of all time. Celebrating their 20th anniversary this year, they will appear with their current 12-member lineup to mark the final overseas performance of Haruna Iikubo, who will graduate from the group in December at Tokyo's Nippon Budokan.
"It's our second time performing in New York. This time we will perform at Anisong World Matsuri with the legendary artist Hironobu Kageyama," the group announced in a special message video posted online. "We are looking forward to it so much!"
For more information and tickets, visit www.anisongmatsuri.com and www.animenyc.com.
Posted by Sydney Sparrow. Click here to join the JETwit Jobs Google Group and receive job listings even sooner by email.
---
Job Title: Managing Director, Inter-University Center (IUC)
Posted by: Stanford University
Location: Palo Alto, CA, USA
Contract: Full-Time
Thanks to JET alum, Jennifer Butler (Shizuoka-ken) for the following job opening at her institution:
We're hiring! The IUC Stanford office is currently seeking to hire a Managing Director to play a key leadership role in our programs, including strategic planning, financial analysis, development, external relations, and overseeing program administration.
For more information about the position, and to apply, please visit the Stanford Careers website here: http://m.rfer.us/STANFORDcYF2yg
JETAA Chapter Beat is a periodic mosaic of events taking place in the JETAA sphere. Compiled by AJET's Director of Alumni Relations Megan Buhagiar (Ishikawa Prefecture, 2017- Present)
JETAA UK
Tsurugu Shamisen and Japanese Folk Song Performance and Shamisen Workshop
DATE:                  October 13th
TIME:                    14:00 – 16:00
VENUE: St Peter's Chaplaincy, Oxford Road, Manchester
COST:    Free
DETAILS:
JETAA North West and Japan Society North West present a unique opportunity to experience Japanese traditional music. At this free event, Hibiki Ichikawa, a Tsurugu Shamisen player, will be accompanied by singer Akari Mochitsuki in performing traditional Japanese folk songs. Originating in Aomori, in North-Eastern Japan, Tsugaru Shamisen is played on the largest size shamisen, which has a deep, rich and percussive sound. In addition to a fascinating performance, there will be a workshop where members of the audience get a chance to try their hand at playing instruments, join in with the songs, and interact with the performers.
Hibiki Ichikawa has been playing Shamisen since he was 20. He came to the UK in 2012 and has been increasing his profile ever since. He teaches Shamisen to more than 20 students and has performed across the UK and regularly in Berlin. Additionally, he played shamisen for the soundtrack of the popular animated film Kubo and the Two Strings.
Araki Mochizuki is the only Japanese Blues (enka) singer in the UK. After moving to the UK, she studied drama in Cambridge and contemporary music in London. She started her career as a professional singer in 2009 and since then has performed at many events such as WOMAD 2010, HYPER JAPAN, and Japan Matsuri 2009, 2010 and 2012.
RSVP:    nwvicechair@jetaa.org.uk by October 6th.
JETAA NY
Fall Harvest and Apple Picking *Save the Date*
Please *SAVE THE DATE*, set your calendars, and plan to join JETAANY on our annual day trip up to Dutchess County for the day on Saturday, October 6 to visit apple orchards and other fun sites. This year we will be renting vans, so there will be several convenient pick-up sites, and we plan to visit apple orchards and perhaps a dairy farm and an ice cream shop.
More information coming soon. Both JET Alumni and Friends-of-JET are welcome!
JETAASC
LA Job Fair
WHEN:   5th – 6th October
WHERE:              Pasadena Convention Center
300 East Green Street, Pasadena, CA 91101
Job Fair Center Website: here
Convention Center Website: here
Looking for a new job this Fall that utilizes your Japanese skils? Then sign up for the Los Angeles career forum! There will be opportunities to meet the representatives from big name industries and some companies may even offer a job on the spot. Please check out the website for more details and how to apply. What are you waiting for?!
JETAA WJ & JALT Resume writing and life after JET workshop, October 29th
JETAA WJ & JALT Resume writing and life after JET workshop
On October 29th JETAA WJ will co-host with the Kobe JALT chapter an event for those who are interested in learning about how to polish their resumes (specifically in the language education field) to prepare for job hunting. JALT is the Japan Association for Language Teaching (https://sites.google.com/site/kobejalt/home).
In addition, we will have three current JET alumni (of both ALT and CIR background) to talk about their life post JET. The event will be followed by a networking dinner at The Sky Buffet, a short walk from the venue (Map: https://goo.gl/maps/AnsdPoo4S472).
Dinner is 1990 yen (+tax) per adult and all-you-can-drink alcohol is 990 (+tax) for women and 1290 (+tax) for men. Please indicate in the comments if you'll be attending the dinner afterward. We look forward to seeing everyone there!
Event fee:
Free for current JETs and JALT members,
1000 yen for non-JALT members
Location:
Kobe International House 神戸国際会館
(Map: https://goo.gl/maps/H8Y2A8FHsNG2)
ROOM 804
Event details:
15:00 – 16:00 Resume writing workshop
Speakers:
Michael Parrish and Richard Miller
Michael Parrish and Richard Miller are long term residents of Japan. Richard is an associate professor at Kobe Gakuin University, and Michael is an assistant professor at Kwansei Gakuin University. They have been the JALT Job Information Center (JIC) coordinators for a number of years writing, giving presentations and running the booth at the annual JALT conference. They have given presentations, talks and workshops on professional development throughout Japan, Dubai and Kenya. Their regular columns appear in the JALT CUE publications as well as other publications and have an upcoming book chapter "Transforming your Academic Curriculum Vitae (CV) into a Career Strategy Tool" in Advancing the ELT Practices which will be published by Zayed University
16:00 – 17:00 JET Alumni panel (Q&A included)
Speakers:
Shari Yamamoto
Cory Ballantyne
Shari Yamamoto is a fourth generation Japanese-American born and raised in Hawaii. She first came to Japan as an exchange student on a year-long program and later returned to work as a Coordinator for International Relations for the JET Program after graduating from the University of Hawaii at Manoa. After raising three children, Shari rejoined the workforce as the only foreign administrative staff at an international exchange center at a private university where she gained experience in inbound/outbound student exchange and on-campus international exchange. She was fortunate to spearhead the implementation of a large scale Self-Access Learning Center and discovered a passion for student development, educational program development, and the internationalization of higher education in Japan. Starting another chapter in her life, Shari is currently pursuing a graduate degree in International Cooperation Studies at Kobe University.
17:00 ~ Dinner at The Sky Buffet
Please indicate in the comments if you'll be attending the dinner afterward. We look forward to seeing everyone there!
JETAA DC
JET Talks Ramen Night
DATE:                  Saturday, October 6th
TIME:                    17:30 – 22:00
VENUE: Tastemakers, 2800 10th St NE, Washington, DC 20017
Buy your tickets here!
JETAA DC's annual JET Talks event, Ramen Night, is back and bigger than ever! Come for the unlimited noodles, stay for the talk from our host and ramen expert, Josh, and learn about the history and techniques behind the bowls.
Due to the overwhelming popularity of this event, we will be offering two separate 2-hour time slots this year.
Choose between 17:30 – 19:30 or 20:00 – 22:00 and bring an empty stomach to slurp your way through the two full-sized bowls of ramen that come with your ticket and one free drink redeemable at the cash bar.
So when you're full on ramen, why not try our signature chuhai-inspired cocktail, specially created by JETAA DC and Tastemakers for the event. Non-alcoholic drinks are, of course, available.
Ramen menu will include three of Joshua's traditional tonkotsu ramen styles (Kurume, Tokotsu Shoyu, and Northern Nami), a vegetarian Miso (egg optional) and of course the spicy garlicky bowl called, "I'll sleep on the couch".
Stick around for Josh's JET Talk at 19:30, and at the end of the night take home a bottle of Josh's homemade ramen chili oil as a souvenir!
We've also moved locations: Ramen Night is now being held at Tastemakers, a hop community kitchen for food entrepreneurs & startups. Each ticket will include one free drink redeemable at the cash bar, so when you're full on ramen, why not try our signature, chuhai-inspired cocktail, specially created by JETAA DC and Tastemakers for the event? And at the end of the night take home a bottle of Josh's homemade ramen chili oil as a souvenir.
Tickets will be going fast, so make sure you buy yours soon! Former JETs and Friends of JET are welcome!
Calling for volunteers! We're looking for about 10 volunteers to come and give us a hand. All volunteers will be assigned to 1-hour slots and given complimentary entry tickets to the event. Please send us an e-mail at jettalks@jetaadc.org with "Ramen Night Volunteer Sign-up" in the title if you're interested.
JETAA NC, Hosted by US JETAA
Webinar: You've Finished the JET Program. Now What?
DATE:                  Thursday October 18th
TIME:                   20:00 – 21:00 EDT
VENUE: Zoom Meetings
It can be difficult to make the transition to your life after JET. This webinar is here to help. Featuring JET alumni with expertise in careers and recruiting, this webinar will help you figure out how JET fits into your career path, help you describe your JET experience in a way that employers will understand, teach how to utilize LinkedIn, and much more!

Speakers:
Emily Frank (Hokkaido, 1993-1996) graduated from Smith College and was an AET in southern Hokkaido from 1993-1996. After spending a lot of time afterwards feeling lost, she eventually got a master's degree in counseling and now helps others who are similarly lost regarding careers. She spent over 12 years working at a large public university, and has been in private practice since January, 2018. Emily is based in Denver but does distance work with clients from all over the globe. Through generous grants from organizations like Sasakawa Peace Foundation, she has also been able to offer free career counseling to JET alumni in the past, and has enjoyed reconnecting with fellow JETs that way.
Kamara Toffolo (Gunma, 2007-2008) is a resume writer, LinkedIn consultant, and job search strategist who helps her clients DARE to do work DIFFERENTLY! Whether a bold and brazen professional ready to shake things up and make a BIG career change, a go-getting manager primed to score a well-deserved promotion, or a high-impact executive strategizing their next career transition, Kamara helps her clients from around the globe land great-fitting gigs! Kamara has been a featured writer and expert in many publications including Forbes, Business Insider, Inc., Mashable, and The Muse to name a few. She is an Erickson Certified Professional Coach, and holds a Bachelor of Commerce degree in Entrepreneurial Management.

Rob Uy (Fukuoka, 1989-1991) is Principal of RSU Consulting and is a sought-after career coach who quickly and effectively establishes productive relationships built on mutual trust and respect. Rob draws on nearly 20 years of human resources leadership for Fortune 500 global technology and services firms and as a coach, trainer and consultant for individuals and companies across all vertical industries. Rob has developed a highly personalized method for working with professionals at all levels. He inspires them to "find their voice," tell their story effectively, and experience a genuine and revitalized perspective on who they are and where they want to go.
Please click the link below to join the webinar:
https://zoom.us/j/621315342
Or iPhone one-tap :
US: +16699006833,,621315342# or +19294362866,,621315342#
Or Telephone:
Dial(for higher quality, dial a number based on your current location):
US: +1 669 900 6833 or +1 929 436 2866
Webinar ID: 621 315 342
International numbers available: https://zoom.us/u/Bktgc2QF
JETAA Singapore
JETAA Homecoming Gala
DATE:                  Friday, October 5th
TIME:                    19:00 – 21:00 UTC+08
VENUE: The Japanese Association
120 Adam Road, Singapore 289899
Dear JETAA Singapore Members
Come join us in welcoming back the new returnees of 2018 from the JET programme at the JET Homecoming Gala on 5 Oct!
Date: 5 Oct 2018 (Friday)
Time: 7pm to 9pm (registration starts at 6.30pm)
Venue: Japanese Association Singapore
Address: 120 Adam Road, Singapore 289899
Please sign up using this link https://goo.gl/forms/cfA76Ot5azyDch7k2
Hope to see you at the reception!
JETAA ABC
DATE:                  October 5th
TIME:                    19:30 – 21:30 PDT
VENUE: JETAA ABC
495 West Georgia Street PO BOX 2462,
Vancouver, British Columbia
(To register, please enter your information in the following Google Sheet.
https://drive.google.com/open?id=141yCh0f6eixUdDoIdbzepPgxsszVXSRjbMZwrvX5Atg)
Welcome Back, JET Alumni of 2018!
お疲れ様でした!  バンクーバーにようこそ!
そして、バンクーバー人の皆様、ただいま!
Come out and meet fellow JET alumni on October 5th, 2018. Come share all your amazing stories from your time on JET and about Japan in general.
To all the recent alumni as returnees to Vancouver or as someone who had just moved here post-JET: I'm sure most of you would have questions about things like reverse culture-shock, getting back into the groove of things in Canada, or maybe just about what to do in Vancouver, this would be the perfect event to get it all out of your systems!
To all the current alumni: Come greet your new fellow alumni! Revive your memories and excitement about your time in Japan and JET again. Share your stories and experiences over food and drinks.
Appetizers will be provided at the Welcome Back Reception. Please RSVP by following the link below by October 3rd, 2018 Hope to see you all there!
Our social will be divided into 2 segments. The details of our event are as follows:
Event 1: Welcome Back Reception
Location: Earls Test Kitchen
905 Hornby Street , Vancouver BC
Time: 7:30pm – 9:30pm
Event 2: Karaoke Nijikai (カラオケ二次会)
Location: Fantacity
1133 Robson St, Vancouver, BC V6E 1V9
Time: 9:30pm – whenever!
Feel free to register for either segment, or both!
To register, please enter your information in the following Google Sheet.
https://drive.google.com/open?id=141yCh0f6eixUdDoIdbzepPgxsszVXSRjbMZwrvX5Atg
If you have any questions or concerns please contact Ian at membership@jetaabc.ca
JETAA Toronto
JETAA Interchapter Adventure in Prince Edward County
Hosted by:          JET Alumni Association Toronto and JETAA Ottawa
DATE:                  Sunday, 27th October
TIME:                    11:00 – 19:00 EDT
PLACE:  Prince Edward County
Our third annual JETAA Ottawa x JETAA Toronto interchapter event is coming soon, with this year's adventure taking place in Prince Edward County. More details to come!
We will be checking out local breweries and wineries, having a meal (or two), and possibly making a trek over to Sandbanks Provincial Park for a hike. Other optional side tours include stops at a lavender and alpaca farms.
We will try our best to arrange carpooling to the event, so if you are looking for a ride or are willing to be a driver, please let your local chapter know.
Have you been to PEC? Do you have any suggestions of fun things to do, or have something unique you'd like to try? Send them along to Clarissa at chair@jetaatoronto.ca
JETAA Music City
Nashville Area Monthly Tomodachi-Kai
DATE:          Wednesday, October 10th
TIME:            From 18:00
VENUE:       Nashville East Beer Works
320 E Trinity Ln,
Nashville, Tennessee 37207
oin former and future JETs and others in the Nashville area who have a connection with Japan for a relaxed hangout where networking is encouraged. East Nashville Beer Works extends their happy hour special for our group, so come get delicious pizza and beer while you meet
JETAAMC hosts a Tomodachi-Kai every second Wednesday at East Nashville Beer Works.
Lillian Rowlatt (Niigata-ken, 2003-2005) is starting a Kickstarter campaign that many JET alums might be interested in!
Miss the incredible foods and flavors from Japan? Looking for a way to stay connected to Japan and share the food and culture with others? As a former JET ALT, I know I do and my passion for Japanese food lead me to launch a business which will be delivering those amazing foods we miss and love from Japan.
Kokoro Care Packages creates specially curated boxes of high-quality and delicious Japanese foods and will be delivering straight from Japan to your door. Each item in our Care Package is carefully selected for its purity, ease of use and incredible taste. Many of these foods can't be found outside of Japan and all of them represent the amazing foods we miss from Japan.
By JQ magazine editor Justin Tedaldi (CIR Kobe-shi, 2001-02). Justin has written about Japanese arts and entertainment for JETAA since 2005. For more of his articles, click here.
The Japan-centric events of the month ahead promise to be as rich and full as autumn itself—brisk and colorful, with a dash of unpredictability.
This month's highlights include:
Oct. 4-7
Jacob K. Javits Convention Center, 655 West 34th Street
$50 (for Thursday, Oct. 4)
Breaking attendance records each year, the East Coast's biggest gathering for fans of comics, film, anime and manga returns with its biggest roster of Hollywood talent to date, featuring exclusive screenings, gaming, cosplay photo ops, and more! Enjoy interactive panels on Oct. 4-6 from publishers Vertical Comics and Kodansha Comics, and check them out at booth #2109 to pick up con-exclusive merch and pre-release titles like APOSIMZ, Battle Angel Alita and The Ghost in the Shell: Global Neural Network. Special guests this year include Masako Nozawa (discussing the upcoming film Dragon Ball Super: Broly at the Hulu Theater at Madison Square Garden Oct. 5), Toshihiro Kawamoto (Cowboy Bebop) and Akira Himekawa (The Legend of Zelda)!
Friday, Oct. 5, 7:30 p.m.
Hidejiro Honjoh x ICE: Shamisen Evolution
Japan Society, 333 East 47th Street
$38, $30 members
Listen to Hidejiro Honjoh, young shamisen prodigy and disciple of Hidetaro Honjoh, create this traditional instrument's 21st-century voice in an evening featuring living composers from the U.S. and Japan. Joined by members of the most sought-after contemporary music group International Contemporary Ensemble (ICE), Hidejiro delivers three world premieres composed by Grammy-nominee Vijay Iyer, Nathan Davis and Yu Kuwabara. The program also includes pieces by Yuji Takahashi and Dai Fujikura, along with the U.S. premiere of the full score of Scott Johnson's Up and Back for shamisen, electric guitar, cello and piano. Followed by a MetLife Meet-the-Artists Reception.
Oct. 24-28
Locations and prices vary
Taste what you see on the screen! The Food Film Festival specializes in creating multisensory food and film experiences. At their events, guests watch films about food and simultaneously taste the exact dishes they see on the screen…right in their seats! This year's events include the world premiere of Anthony Bourdain Parts Unknown / Lower East Side (Oct. 24), and Chikarashi: Sustainable, Chef-Driven Poke Bowl (Oct. 26), about the Manhattan-based contemporary sea-to-table eatery inspired by Japanese and Hawaiian cuisine. For a complete listing, click here.