USJETAA Responds to the Western Japan Flooding
Dear Steven,

Our thoughts and prayers are with all those affected by the flooding disaster in western Japan. Many JET alumni have deep-rooted connections in these regions and with the members of the affected communities. Current JETs are still in these areas dealing with the aftermath of the disaster, while those of us here in the U.S. are closely following the news and recovery efforts.

The Japan Times reports that more than 200 people have died due to the record rainfall and resulting flooding, with the death toll climbing higher every day. Rescue crews are now searching for dozens of people still missing. While the flood waters have receded in most areas, there are still advisories in many parts of Japan. Thousands of people have evacuated from the affected areas, with Okayama, Ehime, Kyoto, Hyogo, and Kochi prefectures being hit hardest. Transportation in affected areas is still disrupted due to landslides, mudslides, extreme flooding, and infrastructure damage.

In response to the damage caused by the heavy rain, USJETAA is mobilizing JET alumni and friends of JET to raise funds for those in the affected areas. Once tax deductible funds are collected, USJETAA will allocate half the funds to the Japan Platform, which is a central association for humanitarian response NGOs. Japan Platform is a cooperative initiative between 43 key NGOs involved in humanitarian responses, the Japanese government, and the business community. They are able to very quickly get the funds to the NGOs on the ground in the disaster zone.

The remaining half of the funds will be reserved while we monitor the situation and determine the areas of long-term need and evaluate the best way to allocate funding to those areas.

Please click here to donate. If you prefer to donate by check, you can also send a check by mail to:

USJETAA
1201 15th ST NW STE 330
Washington, DC 20005

Please make checks out to USJETAA and write in the memo line that the funds are designated for "western Japan flood relief." USJETAA will not retain any funds for administrative costs, except those that cover the associated direct fees related to collecting and remitting the payment.

Sincerely,

Bahia Simons-Lane
Executive Director of USJETAA
Chapter Beats July, 2018
JETAA Chapter Beat is a periodic mosaic of events taking place in the JETAA sphere. Compiled by AJET's Director of Alumni Relations Megan Buhagiar (Ishikawa Prefecture, 2017- Present)
JETAA SC
The 60th Zenshuji Obon Carnival – July 7 & 8, 2018, 11:00AM – 8:00PM
Obon Service, July 7, 8 at 1:30PM
Zenshuji Soto Mission
123 South Hewitt Street, Los Angeles, CA 90012
(213) 624-8658    www.zenshuji.org
Zenshuji Obon Carnival is coming soon. This is the temple's biggest fundraiser of the year. Programs will include:
Bon Odori, Tea Ceremony, Flower Arrangement
Farmer's Market, Produce/Flowers, Food & Drinks, White Elephant, Raffle & Prizes
Children's Games, Taiko Drumming, Folk Dance & Music, Shorinji Kempo
Metro Gold Line: Little Tokyo/Arts District Station
Check www.zenshuji.org for updated parking information in Little Tokyo
Zenshuji Schedule
June 24 – Chochin Hanging/Garden Cleaning/Omigaki  – 9 am
July 1   –  Container Cleanup   – 9 am
July 5   –  Booth Construction   – 5 pm
July 6   –  Preparation   – all day
July 7 & 8 Zenshuji Obon Carnival   – all day
July 10  – Carnival Clean up   – 5 pm
No Zazen on June 24, July 1, July 7 & 8 due to the Obon and the preparation.123 South Hewitt Street, Los Angeles, CA
JETAA NSW
JETAA NSW Mascot Design Contest
Win tickets to any 2 JETAA NSW events!
JETAA are looking to adopt a cute and versatile mascot to join our team, and we're looking to you to help us find one.
If you have an idea for a character that represents us as a link between Australia and Japan we would love to see it!
Submission guidelines:
Email a .jpeg or .png of your design to JETAA NSW by August 1st.
Image must be at least 500 pixels squared.
(adding a watermark that still allows us to see your mascot is ok)
Mascot must be a character that encapsulates the spirit of JETAA.
The winner will be announced on August 8th and receive free admission to any 2 JETAA NSW events as well as credit on JETAA publications.*
So get those creative juices flowing and have fun!
US JETAA
Becoming a Japanese Teacher after JET: Free Webinar
This newly launched FREE webinar series is intended to provide guidance and instruction to JET alumni across the country on a variety of careers, professional development topics, and unique challenges and how to navigate them. This webinar is on how to become a Japanese teacher after JET. Current JETs and JET alumni are both welcome to join.
Although it has already passed, you can now view the recording. https://youtu.be/as4qIEq9Roo
JETAA NC
Carnival of Cultures
Main St Cupertino is having a festival  with music, dances, food and merchandise from all the cultures represented in the Bay Area. Come check it out!  Also, if you're interested in presenting a variety of Japanese music and dance forms at the festival, you can contact Lalita from Eventscoop!
WHEN: Saturday, July 21, 2018
TIME:  11:00 AM – 6:00 PM
WHERE: Main St Cupertino: 19419 Stevens Creek Blvd, Cupertino, CA 95014
(Free entry and parking)
JETAA UK
Hyper Japan Festival
Hyper Japan is the UK's biggest annual J-culture event, celebrating all aspects of contemporary Japanese culture, from fashion to food, crafts to cosplay.
Get tickets here: https://hyperjapan.co.uk/tickets/
Date:  13th – 15th July
Time: 12:00 – 20:00
Price: From £17
JETAA Ottawa
14th Annual Natsu Matsuri
Come join us for the 14th annual Natsu-Matsuri: Celebrating Japanese Culture! It will be a great day filled with martial arts demonstrations, traditional Japanese music, dancing and drumming, and booths from local Japanese businesses and cultural groups. Also, returning from last year by popular demand is a forging demonstration by a blacksmith from Japan (thanks to KnifeWear Ottawa)!
Date: Sunday, July 22nd
Time: 11am-4pm
Location: Marion Dewar Plaza (Ottawa City Hall), 110 Laurier Ave., West, ON K1P 1J1
Come meet some of Ottawa's Japanese community and explore local groups specializing in different aspects of Japanese culture.
For a full list of current participants, please keep an eye on our website: http://jetaaottawa.ca/announcing-the-14th-annual-natsu-matsuri-japanese-summer-culture-day-2018/
We will be updating it with the schedule of events and links to participants websites over the coming weeks.
JETAA Aukland
NZIFF – Shoplifters / Manbiki Kazoku
Saturday 21 July at 6:30pm
NZ International Film Festival – Shoplifters / Manbiki kazoku
Come and join JETAA at the NZIFF to watch the winner of the Cannes Palme d'Or from Kore-eda Hirokazu.
Somewhere in Tokyo, Osamu Shibata and his wife Nobuyo live in poverty. While Osamu receives occasional employment and Nobuyo has a low-paying job, the family relies in large part on the grandmother's pension. As he is shoplifting for groceries with his son, Shota, they discover Yuri, a homeless girl. Osamu takes her home, where the family observes evidence of abuse. Despite their strained finances, they informally adopt her.
JETAA will be subsidising tickets for attendees who RSVP and make payment to us by Friday 13 July. So our ticket price for JETAA members is $12 (tickets usually $18.50). After the film we will probably go for a bite to eat and/or a drink somewhere close by (at your own cost).
To reserve your seat, transfer $12 to the JETAA Auckland bank account 06-0287-0494588-00, with your name as a reference on the transfer. Please also click 'going' on the event when you have transferred the money, so we know who to expect payments from (in case someone forgets to put their name in the reference).
Please note that tickets are subject to availability; we do expect this screening to sell out so if you want to be assured of a seat, make your payment sooner rather than later.
If you miss our deadline but still want to attend, you can buy tickets to the movie yourself through Ticketmaster.
Read more about the film here: https://www.nziff.co.nz/2018/auckland/shoplifters/
Date:  July 21st
Time: 18:30
Place:            The Civic Theatre, Queen Street
Tickets:         $12.00 (Subsidised by JETAA AUCKLAND, IF you register)
JETAA Toronto
Tanabata Trails
When was the last time you celebrated Tanabata? For many of us it may have been years ago, but the memory is still fresh in our minds. While it is tough to find a bamboo tree to tie a tag onto, we can still find our own ways to celebrate Tanabata here in Canada.
While our little hike might not be a true Tanabata tradition, maybe it will become our Toronto Tanabata tradition?
Our hike is has two points to it. You can come along for a 10 km hike or join us midway at lunch for a wak around Crawford Lake and the shorter Escarpment Trail from Crawford Lake.
Those of us doing the full hike, will meet up at 10:00 am at the Rattlesnake Point parking lot. We will hike the 4.7 km Nassagaweya Canyon Trail to Crawford Lake, where we will have lunch (please pack and bring your own) and meet up with anyone looking to join us at 12:00 pm.
After lunch, and once everyone has met up, the group has a few options and we will play things a bit by ear. Either we can all stick together on an agreed upon course or we can split into a few groups as we see fit.
For those feeling a shorter hike, the Escarpment Trail is a fairly easy 2.4 km. Hikers who departed at 10:00 am can arrange a carpool back to the Rattlesnake Point parking lot with those who meet up with us at 12:00 pm. Otherwise, those who wish to head back on foot can take the Nassagaweya Canyon Trail back to Starting Point A. Furthermore, those who are super genki can combine the Escarpment Trail with the return hike along the Nassagaweya Canyon Trail.
For trail maps and HOW TO GET THERE see Halton's Hiking website here (http://www.conservationhalton.ca/hiking)
Event Details:
When: Saturday, July 7th, 2018
Starting Point A: 10:00 am start time from Rattlesnake Point parking lot
Starting Point B: 12:00 pm starting time from Crawford Lake Visitor Centre
Finish Time and Place: Variable, depending on your start location and the route you choose to take following lunch.
Please keep in mind, we are going to take a flexible approach to this one in an attempt to cater to hikers of all levels.
Who can attend: Anyone, JETAA members, friends, family and friendly strangers.
Halton Park Admission Fee:
Adults (15 – 64) $7.75
Senior (65+) $6.75
Child (5 – 14) $5.50
4 & under *FREE
What to Bring:

Comfortable Hiking Boots or Running Shoes
Water Bottle (Between 1 and 2 litres recommended)
Packed lunch
Backpack
Sunscreen/Raincoat (weather dependant)
RSVP: email JETAA Events at events@jetaatoronto.ca
**Please RSVP – otherwise we might depart from Point A or B without you!**
JETAA Singapore
[Calling out to all JETAA Singapore Members]
Farewell Reception for JETs of 2018
This year's Farewell Reception for 2018 JETs will be on 12 July. Come join us as we send off over 30 JETs from SG embarking their journey to Japan.
Date: 12th July 2017 (Thursday)
Time: 7:00pm to 8:45pm
Venue: The Japanese Association (Ballroom 1), 120 Adam Road, Singapore 289899
Dress code: Smart Casual
Sign up here: https://goo.gl/forms/ZL0haR49GanxHll12
JETAA Florida
Tanabata Party
Celebrate the Star Festival with Florida JETAA at Ushio Sushi in Davie! Wear your Yukata or Japan-inspired summer clothes, and come ready to reminisce and write wishes – Lauren will tie them to her bamboo at home for you!
Ushio is a restaurant with KAITEN ZUSHI (conveyer belt sushi!) that is sure to make us feel なつかしい~ (Natsukashii!)
RSVP to President@floridajetaa.org
Date:    July 7th
Time:   12:00 – 14:00 EDT
Place:  Ushio Sushi
2211 University Drive
Davie, Florida 33324
Posted by Sydney Sparrow. Click here to join the JETwit Jobs Google Group and receive job listings even sooner by email.
---
Job Title: Mike Mansfield Fellow
Posted by: Maureen and Mike Mansfield Foundation
Location: Japan
Contract: Full-Time
Thanks to Stephanie Sanders (Akita-ken) for the following fellowship program that is open to all U.S. federal government employees, which she manages:
Announcement:
The Maureen and Mike Mansfield Foundation is now recruiting for the 24th Class of the Mike Mansfield Fellowship Program
Applications due October 31, 2018
This program provides up to ten federal employees with one year of professional development and networking opportunities in Japan. It was established by the U.S. Congress in 1994 to build a corps of U.S. federal government employees with proficiency in the Japanese language and practical, firsthand knowledge about Japan and its government.
The Mansfield Fellowship Program includes seven weeks of language training in Ishikawa Prefecture and ten months of professional assignments in the Government of Japan. During the one-year program, Fellows will develop an in-depth understanding of Japan's government and its policy-making process and create networks of contacts with their counterparts in the Japanese government, business, professional, and academic communities.
These placements give Fellows unparalleled access and opportunities to learn about Japan and its government from the inside through working side-by-side with their Japanese counterparts, participating in office activities, meetings, and business travel.
Posted by Sydney Sparrow. Click here to join the JETwit Jobs Google Group and receive job listings even sooner by email.
---
Job Title: Director, Corporate Relations
Posted by: Japan Society
Location: New York, NY, USA
Contract: Full-Time
Here's another job sent to us directly from the organization:
The Director of Corporate Relations will oversee and advance all aspects of corporate giving, including maintenance of existing accounts, identifying prospects, and recruiting new corporate members and sponsors. The Director will collaborate with senior management to design and implement effective strategies to increase corporate giving by Japanese corporations in the US, as well as American corporations conducting business in Japan and with Japanese corporations. The Director, Corporate Relations will be an integral part of the Development team, working hands-on with program areas and Special Events on cultivation events, as well as fundraising campaigns and the annual dinner.
Essential Duties and Responsibilities:
Develop the strategy and execute a plan to increase overall corporate support for Japan Society;
Serve as the front-line for corporate membership, overseeing monthly renewals, upgrade and solicitation materials, telephone and email inquiries, and providing customer service/troubleshooting;
Research and identify corporate member prospects; create and implement cultivation strategies to increase overall corporate membership revenues through upgrades, new memberships and cross- selling opportunities such as rentals, Webcast services, and program sponsorships;
In coordination with program areas, research and identify potential corporate sponsors for gallery exhibitions, film, performing arts, education, corporate, policy and other program areas as appropriate;
Work with the Media & Marketing Department on corporate membership-related collateral materials, including membership-related aspects of Japan Society's website and online presence;
Collaborate with program areas and Special Events on cultivation events, fundraising campaigns and the annual dinner;
Conduct cultivation visits with existing and potential donors, and cultivate members at Japan Society programs on a regular basis throughout the year; Read More
Kevin Stein (Ishikawa-ken, 2000-03) has been an English teacher in Japan for 18 years.  He has taught at the university, high school, junior high school, and elementary school levels. He has trained public junior high school teachers, served as a mentor through International Teacher Development Institute, and occasionally blogs at The Other Things Matter.
Kevin is currently seeking new work opportunities at the university level as well as outside of education. Please feel free to contact him directly at kevindsteinELT@gmail.com. His CV is available online at: https://theotherthingsmatter.wordpress.com/curriculum-vitae/.
---
This year, I am training the teachers in my school system on how to use the standardized test prep curriculum developed for the International Course at my high school in Osaka, Japan.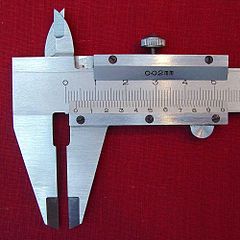 While I am not a huge fan of standardized tests as the primary measure of students language ability or for evaluating the effectiveness of a language program, I do think that they have a role to play within English language learning. Perhaps most importantly, students are often highly motivated to take and pass (or attain a high score) on standardized tests. So these tests can be an excellent vehicle for helping develop students' autonomous study skills or for rapid vocabulary acquisition.
In the program at my school, standardized test prep classes focus on: how to make effective vocabulary lists and word/phrase cards with Quizlet; micro-listening activities to develop decoding abilities around connected speech; and metacognitive skills to help students develop a higher awareness of how they read and correct any habits which inhibit comprehension. A thoughtful test prep program—in conjunction with an extensive reading program and a fluency focused speaking class—has led to an average 3rd year students' final TOEIC score average of 640 points and has helped over 40% of our 3rd year students to pass the EIKEN pre-1 test.  
While I do believe there are real benefits to including a formal system—whether in the form of specific classes or mandatory language lab time—for helping students prepare for standardized tests, I also think that it is important to remember that just because you have a system, doesn't mean that students will be able to make use of it effectively.  Pressure around standardized testing goals can also result in high levels of student anxiety, anxiety which can inhibit students ability to concentrate on test materials…or occasionally even process basic instructions. Read More
Posted by Sydney Sparrow. Click here to join the JETwit Jobs Google Group and receive job listings even sooner by email.
---
Job Title: Director, Education & Community Partnerships
Posted by: Japan Society
Location: New York, NY, USA
Contract: Full-Time
Here's a job received directly from the organization:
Japan Society seeks an innovative educator and/or non-profit leader to spearhead new initiatives in global education, and raise the profile and impact of Japan Society's education programs locally, nationally and internationally. The Director will be responsible to:
Lead strategic planning efforts to evaluate Japan Society's current education programs, and identify opportunities for new program initiatives;
Implement new education programs aimed at K-12 schools, colleges and universities, and adult life-long learners;
Promote the study of Japan as a focus of global education curriculums in K-12 schools as well as on the college and graduate school level in New York City and nationally;
Initiate partnership arrangements with K-12 schools, colleges, universities, other education institutions, and relevant organizations;
Promote global education through study-travel tours to Japan for American students and teachers, and to the US for Japanese students and teachers;
Develop dynamic experiential programs for families with young children to participate in cross-cultural experiences highlighting major Japanese holidays;
Capitalize on the interest of teenagers, young adults and others in Japanese popular culture to engage these groups with Japan Society's broader programming, and to expand their interest in Japan's traditional and modern history, art and culture;
Identify ways to utilize digital technologies to provide curriculum materials and other educational information on Japan to a wider audience;
Actively participate in fundraising efforts, and partner with the development staff on raising funds for new and existing education initiatives;
Recruit, hire and supervise staff;
Manage departmental budget.
JETAA Chapter Beats June 2018
JETAA Chapter Beat is a periodic mosaic of events taking place in the JETAA sphere. Compiled by AJET's Director of Alumni Relations Megan Buhagiar (Ishikawa Prefecture, 2017- Present).
1. JETAA NY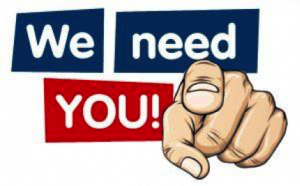 Pre-Departure Seminar – Volunteers Needed!
It's that time of year when we prepare a new batch of JETs to start their journey in Japan! We are calling upon our recent alumni to teach and share their experiences to hopefully prevent some surprises or embarrassing moment
s and make their time in Japan something they will never forget.
We are looking for presenters on the following topics.
JET Job Skills- Elementary, Junior High, High School
Being a Minority-Asian, African American, Latinx, LGBT
Gender Issues
What to Expect Your First Few Weeks
Money Management
Studying Japanese
Being Vegetarian or Dietary Restrictions
Community Involvement
Japanese Social and Business Etiquette
How to Prepare for Your Departure
When: Saturday, June 23 from 10am–3:30pm (seminar), followed by a nearby happy hour open to all!
Where: Nippon Club [145 W. 57th St., 2nd Floor (between 6th Ave. and 7th Ave.)]
RSVP: Sign up here to volunteer by Wednesday, May 23 at 5pm
Questions? Feel free to contact Ryan Hata at membership-at-jetaany-dot-org.
JETAA Chapter Beat is a periodic mosaic of events taking place in the JETAA sphere. Compiled by AJET's Director of Alumni Relations Megan Buhagiar (Ishikawa Prefecture, 2017- Present)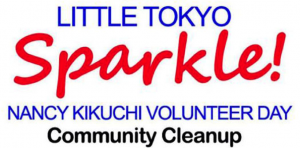 JETAA SC
Little Tokyo Sparkle
When: Saturday, May 12th
Time: 9am-12pm
Where: Japanese American Cultural & Community Center-JACCC
244 S San Pedro St, Los Angeles, California 90012
Come on out Saturday May 12th to help little Tokyo sparkle by cleaning up streets and store fronts!!
Volunteers meet at the JACCC plaza at 9am on May 12th. Bring a hat, sunscreen, gloves, and clothes that you don't mind getting a little dirty. If you have a green bandana from last year, bring that too! Light lunch will be provided.
For more information email snagano@aol.com
 2. JETAA UK
London Chapter PUB QUIZ
Description
The JETAA London PUB QUIZ IS BACK!
Sharpen up on your trivia and clear out those cranial cobwebs – JETAA London is hosting a pub quiz on Thursday 10 May 2017!
Teams: up to 6 people
Cost: £2 per person
Venue: The Somers Town Coffee House Basement Bar (The Cosy Kettle), NW1 1HS (between Euston and King's Cross stations)
Quiz starts at 7:30pm so ARRIVE EARLY to register your team and bag yourself some seats as the pub quiz is always popular! The Committee will be there from 6:30pm.
Feel free to turn up alone or with a couple of friends even if you don't have a full team! We're happy to introduce you to some more team members. This event is open to anyone who would like to demonstrate their quiz prowess with new and old friends, and please feel free to invite non-JET friends along!
Prize = Winning team gets the pot!
Date:         Thursday, 10th May
Time:                  19:00 – 21:00
Place:       Somerstown Coffee House
60 Charlton Street
LONDON
NW1 1HS
United Kingdom

3. JETAA NY
Japan Day at Central Park
On Sunday, May 13th (Mothers' Day), JETAANY and the Japan Society will be hosting the Yo-Yo Balloon Tent at Japan Day in Central Park and we are looking for volunteers!
We'll be helping hundreds of visitors "fish" for Yo-Yo Balloons and need JET Alumni volunteers to assist in many areas of the booth – including greeting the guests, explaining the game, prepping water balloons, and assisting children with the game. All volunteers will get a delicious bento lunch, a drink and a free Japan Day t-shirt, plus meet tons of fun people and teach the NYC community a fun Japanese festival game.
This year we are having THREE shifts.  If you are available for more than one shift that is great! Please don't be late because it affects when other volunteers can finish their shift.
#1 Morning shift: 8am-11am
#2 Mid-day shift: 10:30am – 2pm FULL
#3 Afternoon shift: 1:30pm – 5pm
 It's a super fun day, so we'll hope you'll be able to join us! Check out photos from last year!
Questions? Contact Monica.Yuki@jetaausa.com
Location: Naumburg Bandshell, Central Park
Date:         Sunday, 13th May
Time:                  08:00 – 17:00
Place:       Naumburg Bandshell, Central Park
4. JETAA NC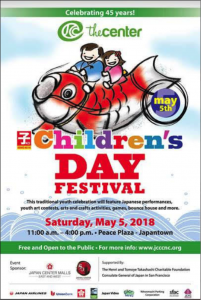 Children's Day Festival – Volunteer Opportunity
It's almost time for Golden Week!  And that means, Children's Day!  JCCCNC is organizing the Children's Day Festival in SF Japantown and are looking for volunteers. Come sign up to volunteer and enjoy Japanese performances, youth art contests, arts and crafts activities, games, bounce house, and more!!
When: Saturday, May 5, 2018
Volunteer Shift Times:  9 AM -1:30 PM and 1 PM – 5:30 PM
Where: Peace Plaza, Japantown, San Francisco
Sign-up Sheet: http://bit.ly/2018childrensdayvolunteers
Lunch will be provided.
Want to volunteer beforehand?  From April 30 to May 9, kindergarten through 2nd graders will be taking a field trip to JCCCNC to learn about Japanese Children's Day and Girl's Day holidays, learn Japanese folk tale, and do crafts activity. You will have the opportunity to assist in these activities.
When:        April 30 – May 3 and May 7 – May 9
Volunteer Shift Times:  9:45 AM -11 AM and 11:15 AM – 12:30 PM
Where:      JCCCNC 1840 Sutter Street, SF, CA 94115
Sign-up Sheet: http://bit.ly/2018jcccncschoolvisitsvolunteers
More information here.
5. JETAA WJ
Job Hunting and Business Manners Seminar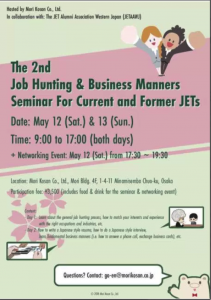 The JET Alumni Association Western Japan (JETAAWJ) will be hosting a two-day job hunting and business manners seminar in Osaka with Mori Kosan Co., Ltd., a firm that supports foreigners seeking employment in Japan. The seminar will be from 9:00 to 17:00 on May 12 (Sat.) and 13 (Sun.). Attendees will learn things like: how to write a Japanese-style resume, prepare for an interview, exchange business cards, answer phone calls in Japanese, etc.
The seminar participation fee is 3500 yen (includes fee for networking event). There will also be a networking event on the night of May 12 (Sat.) from 17:30 to 19:30, with special guests from organizations around the Kansai area.
For those who would like to attend, please RSVP here. Priority will be given to JET alumni, but current JETs can still apply.  A schedule with more detailed information on the seminar will be sent to applicants at the end of April.
*The seminar will be conducted in Japanese, so it is recommended for participants to have at least a JLPT N3 level of Japanese or higher.
Date:         Saturday, May 12th – Sunday, May 13th
Time:                  09:00 – 17:00
Place:       Mori Kosan Co., Ltd.,
Mori Bldg. 1-4-11, Minamisemba Chuo-ku,
Osaka
Price:         ¥3, 500.00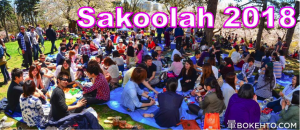 6. JETAA Toronto
Sakoolah 2018
Details
Hanami in High Park 2018!
トロントのハイパークで日本の花見を!
A free picnic in support of friendship, cultural exchange, nature, and beauty, brought to you by:
JETAA Toronto & JCSA @ the University of Toronto
++++
At this point, we don't know when the cherry blossoms will bloom, but we are aiming for Sunday, May 6th at 12 noon. We may need to change the date again, so please continue to check www.facebook.com/Sakoolah for updates.
We will provide some seating, frisbees, and fun, but please BringYourOwnFood, BYOGames, BYOSportsEquipment, etc.
Date:         6th May
Time:                  12:00 – 15:00 EDT
Place:       High Park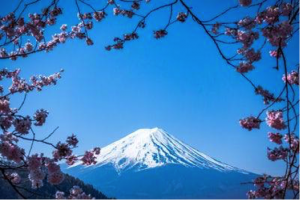 7. JETAA Florida
Japanese Children's Day Celebration
Details
Children's Day Celebration will be held on Saturday, May 26 from 11 a.m. to 2 p.m. at Saint Sylvester Catholic Church, 6464 Gulf Breeze Parkway in Gulf Breeze. This is free community event. This event provides children a variety of Japanese cultural activities including yo-yo catching game, origami, face paint, calligraphy contest, mochi (sticky rice) sampling, Okinawa taiko and Karate performance, etc. There will be food vendors offering various Japanese dishes.
Date:         May 26th
Time:                  11:00 – 14:00 CTD
Place:       St Sylvester Catholic Church
6464 Gulf Breeze Pkwy, Gulf Breeze
FLORIDA, 32563
8. JETAA Rocky Mountain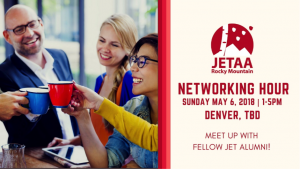 Networking Hour
Details
Come meet up with other JET Alum! For the first 2 hours (1-3pm), we will be having our monthly meeting to plan upcoming events for the year. All is welcome to join and contribute in the discussion :) we're always interested in your opinions to make our events a success, so we hope you come!
The Meeting will be at the Sakura Square Mezzanine. A big thank you to Sakura Square LLC and the Sakura Foundation for their wonderful support of JETAA.
After, starting at 3, we will be doing our Networking Hour where we will socialize and catch up :) If you can't make it to the meeting, we hope you make it to this half of the event.
We'll be heading to Jagged Mountain Brewery
Looking forward to seeing you!
Date:         May 6th
Time:                  13:00 – 17:00 MDT
Place:       Sakura Square,
1215 19th Street
Denver, Colorado 80202
9. JETAA Portland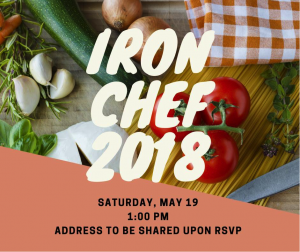 JETAA Iron Chef
Details
SAVE THE DATE!
Iron Chef 2018 is coming your way.
It's time to sharpen those knives and dig up your best recipes as contestants, judges, and other hungry mouths gather for one of our most popular (and delicious) events of the year!
This year's secret ingredient is miso, courtesy of our friends at Jorinji Miso!
Stay tuned for more information, including how to RSVP and get directions.
Bring your family & friends!
Date:         May 19th
Time:                  13:00 – 16:00 PTD
Place:       SE Portland
10. JETAA Minnesota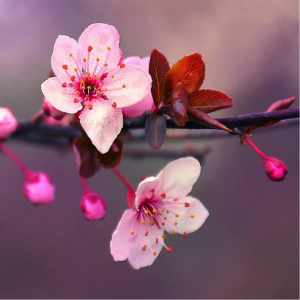 Hanami in Minnesota
Details
This is just tentative and bloom-based!
We'll keep you posted on the time and location weather depending!!! 🌸🌸🌸
It's time for our annual Hanami Picnic! The crab apple tree blossoms are nearly in full bloom. Hopefully the weather will be perfect as well!
Bring your family and friends for games, food, and conversation at Lyndale Park on the NE side of Lake Harriet (location is near the Rose Garden).
JETAAMN will provide sandwiches for all who come. All that you need to bring are your own beverages as well as a dish to share with the group.
In addition, feel free to bring some outdoor games/activities to play with others! We will try to bring some too!
How the potluck dishes will be organized:
**Last names that begin with the letters A-L bring a side dish, salad, or chips.**
**Last names that begin with the letters M-Z bring fruit or a dessert.**
Please RSVP by emailing us or through out Facebook event page!!
Date:         May 12th
Time:                  12:00 – 15:00 CDT
Place:       Lyndale Park
4124 Roseway Road,
Minneapolis,
Minnesota 55409
Written by professional Writer/Interpreter/Translator Stacy Smith (Kumamoto-ken CIR, 2000-03), WIT Life is a periodic series about aspects of Japanese culture such as film, food and language.  Stacy starts her day by watching Fujisankei's newscast in Japanese, and here she shares some interesting tidbits and trends along with her own observations.
This weekend I caught Kazuhiro Soda's Inland Sea (港町) at the Film Society of Lincoln Center's Art of the Real.  The festival's opening film about John McEnroe whet my appetite for more documentaries, and I was looking forward to seeing the latest from Soda after enjoying his film Campaign at Japan Society several years back.  Inland Sea is set near the hometown of his wife Kiyoko Kashiwagi, who is also the film's producer.  They were both on hand to introduce the film and take part in a post- screening Q&A.  In his introduction Soda shared that the film adheres to their Ten Commandments, which include tenets such as no research before shooting, not setting any themes or goals before editing, and paying for the production on their own (to the dismay of producer Kashiwagi).
Inland Sea takes place in the port city of Ushimado in Okayama Prefecture, population 7000.  Many of the younger residents have already left, and the documentary's main subjects are the octagenarians Wai-chan and
Kumiko, respectively a fisherman and the town crier.  They are both captivating subjects, but as a cat lover I was most entranced by the stray felines who congregate at the home of transplants to the area who have been feeding them.  I was engaged throughout the film's two hour plus duration, but it definitely could have been cut in places, especially the long takes on the fishing boat.
During the Q&A Soda explained that the reason he chose to make a black and white film (except for the last color scene) was that he wanted to portray Read More
JETAA Chapter Beat is a periodic mosaic of events taking place in the JETAA sphere. Compiled by A
JET's Director of Alumni Relations Megan Buhagiar (Ishikawa Prefecture, 2017- Present)
JETAA SC
Tokyo City Cup and Family Fun Day
When: Sunday, April 8th
Time: 10:30 – 17:00
Where: Santa Anita Park, 285 Huntington Dr, Arcadia, California 91007
Tickets: http://www.tokyocitycup.com
The Tokyo City Cup, won last year by HARD ACES, is the sole graded stakes race named for a major city outside the United States. Free Tokyo City Cup T-shirt and Japanese Towel for the first 1, 000 patrons and more gifts for fans who complete a survey at your drawing tables are available. The Tokyo City Cup Game will be held and splendid prize will be given to the winner. The website also provides more information about the specific event schedule. Gates open at Santa Anita at 10:30 a.m., with the first post at 12:30 p.m.
The Japan Family Day features Japanese cultural exhibitions, booths such as Karate (Japanese martial arts), Sado (tea ceremony), Shodo (calligraphy), Kendo (Japanese swordsmanship), Origami (paper folding), Anime and stage shows like Min-yo (Japanese fold song), Sumo (Japanese-style wrestling), Ryuku Buyo (Okinawa Traditional Dance), Tsugaru Shamisen (Three stringed Japanese guitar) and Taiko (a special Japanese Drum Performance).
You can enjoy various Japanese food booths such as sushi, curry, okonomiyaki (Japanese-style pizza), Japanese Tea, Japanese BBQ, Onigiri (rice ball) and Japanese bakery. At the beer garden, Japanese beer will be served.
For more information, please visit at www.tokyocitycup.com .
2. JETAA NC

Furusato Vision Project
Calling all JET Alumni who were in EASTERN JAPAN during their JET time! The Furusato Vision Project is back! This is an opportunity for you to go back to your JET Placement, visit places you have strong connections with and reconnect with your community!
CLAIR and local governments that employ JET Participants are implementing the 'JET Furusato Vision Project'. By exploring opportunities to use JET alumni in globalisation and local revitalisation activities, CLAIR and the local governments of Japan hope to further expand the potential of the JET Programme widely both in Japan and abroad.
JET alumni who participate in this project will return to their former places of employment on the JET Programme, visiting places and people they had strong connections with and reconnecting with the community. More importantly, participants will develop and implement their own 'Vision Plan' that utilises the skills and connections they acquired after JET to make new contributions to their former community in areas such as Tourism Promotion, Economic Exchange, Educational Exchange, Culture and Arts Exchange, Grassroots Exchange, Current JET Participant Career Support, or some other project to deepen the community's ties to the world.
Applications close April 9th. For more information, visit http://www.jetprogramme.org/en/furusatovisionproject/
3. JETAA UK

Jr Managers Program (JMP)/Bosch Japan / Presentation and interview
Date: 20th – 22nd April
Time: 09:00 – 18:00
Price: ₤0
Location: London or online
Company: BOSCH Japan
Requirement: Work experience: 0 – 5 years
Language: Japanese (business) and English (business)
The Junior Managers Program prepares highly qualified young professionals in a practically orientated way to assume management responsibility. It is based on an individual program design, diverse further training opportunities, and an established mentoring system with experienced top managers.
https:www.business-paradigm.com/bpc/consul_event_bosch.html
4. JETAA NE (New England USA)

Japan Festival
When: April 29th
Where: Boston Common
Time: 10:00 – 18:00
Happy Spring, NEJETAA Members!
This year's Japan Festival will be held on Sunday, April 29th from 10:00 – 18:00 at Boston Common. Like years prior, we are looking for JET Alumni to help staff our table and help spread the word and answer questions about JET. This is a great chance to give back, have some fun, and help ensure JET's success in the future!
Please follow this link if you wish to sign up as a volunteer: https://goo.gl/forms/piGDOGeGa6cswDoY2
For more information about the event itself, visit the official Japan Festival Boston Website: http://www.japanfestivalboston.org/
We hope to see you there!!
5. JETAA Portland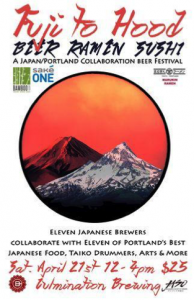 Fuji to Hood
Date: Saturday, April 21st
Time: 12pm – 4pm
Place: The Bindery Annex and
Culmination Brewing
2117 NE Oregon St, Portland, OR 97232
Portland and Japan collaboration festival "Fuji to Hood" is a beer festival featuring ten Japanese breweries (and one cidery) collaborating with eleven of Portland's finest brewers/cidermakers on original recipes using select Japanese ingredients. Presented by Culmination Brewing and supported by the Japan-America Society of Oregon, the Fuji to Hood beer festival also features Sake from SakeOne, ramen from Marukin Ramen and sushi from Bamboo Sushi, plus Japanese Taiko drumming groups and arts with partial proceeds going to benefit JASO. Beer, Ramen, Sushi and Sake come together in Portland on April 21st, 2018.
For more information go to https://fujitohood.com
6. JETAA Music City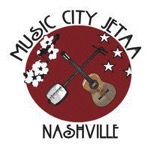 Nashville Cherry Blossom Festival
Date: April 14th
Time:
Cherry Blossom Walk: 09:45
Nashville Cherry Blossom Festival: 10:00 – 17:00
Place: 1 Public Square, Nashville, TN 37201
JETAA MC participates every spring in the Nashville Cherry Blossom Festival by staffing a JET Program booth and giving a lecture about "My Life in Japan." Potential JET applicants and newly selected JETs are encouraged to stop by the booth to get direct information about JET from someone who has been there. There's also plenty of great stories in the "My Life in Japan" lecture.
For further information about the festival, visit:
http://www.nashvillecherryblossomfestival.org/
7. JETAA Auckland
Beginners Taiko Workshop
Date: Saturdays from April 28th for 5 weeks
Time: 12:00 – 14:00 UTC
(except the first Saturday (11:30 – 14:00))
Place: 7 Westech Place, Kelston, Auckland
Age: 14 +
Cost: $100
What to bring: Earplugs and water
To book: Email us at haeremai@nzjapan.net
Whether you're looking for an introduction to Japanese drumming or are interested in joining our team*, we invite you to come along for this one of a kind experience!
Bookings are essential. Please ask us any question by fb message or by email.
*Because spaces in Haere Mai Taiko are limited, unfortunately taking a course does not guarantee you a spot in the group. Please discuss with our senior members if you wish to join.
8. JETAA Singapore
Hanami by the Bay
Date: April 7th
Time: 17:00 – 22:00 UTC+8
Place: Under the Supertree Grove (Gardens by the Bay)
[Calling Out to JETAA Members]
We are starting the year with two events: Ramen Teh Movie Night and Hanami by the Bay!

Details for Hanami by the Bay: Join us for a picnic!
Date: 7th April, Saturday
Time: 5:00pm – 8:00pm
Location: Under the Supertree Grove
(Directions to Gardens by the Bay: http://www.gardensbythebay.com.sg/…/getting-here-and-parkin…)
JETAA will be providing food and some drinks. Members are welcome to bring your own drinks too.

Apart from the usual picnic on the grass patch, we will also be offering subsidised tickets to the Flower Dome on 7th April to view the Sakura Matsuri for our JETAA Members! Check out the google form for details!

Please RSVP for both events using the Google form link: https://goo.gl/forms/unE6vXXHU6f1FiWq1

RSVP deadline for movie: 2nd April (Mon)
RSVP deadline for Hanami: 4th April (Wed)
For further information go to their facebook page.
9. JETAA Pittsburg
Pretty Guardian Sailor Moon Musical: PJFF Centerpiece
Date: April 13th
Time: 18:30 – 21:15 EDT
Place: 4115 Butler St, Pittsburgh, Pennsylvania 15201
Tickets: rowhousecinema.com
Price: $15.00
In the name of the moon, attend the Pittsburgh Premiere of the filmed version of the musical "Pretty Guardian Sailor Moon: The Musical – Le Mouvement Final", the Centerpiece feature of the 2018 Pittsburgh Japanese Film Festival (4/6-4/19). This is a one night only screening.

Friday, 4/13 – 6:30pm
Tickets ($15) – http://bit.ly/SailorMusicalFri


About the Musical
——————–
Usagi Tsukino says farewell to Mamoru Chiba as he is set to leave for school in America. As Usagi says goodbye, she faints, and a super idol group called the Three Lights appear to catch her fall. Meanwhile, new enemies – the "Shadow Galactica," are calling themselves Sailor Guardians and are aiming to steal Sailor Crystals! A mysterious young girl named Chibi-Chibi and a new group of Sailor Guardians, called the Sailor Starlights, also appear, but are they friend or foe? Can Sailor Moon and the Sailor Guardians stop the Shadow Galactica before it's too late?

About the Festival
——————–
The Pittsburgh Japanese Film Festival showcases new, recent, and classic Japanese films across genres, highlighting the richness and diversity of Japanese cinema.
– Feature Films: Yojimbo, Sanjuro, Your Name, Antiporno, Godzilla, Stray Cat Rock: Sex Hunter
– One Night Only: Neko Atsume House, Pretty Guardian Sailor Moon-The Musical, Wild Zero, Urotsukidoji: Legend of the Overfiend
– Schedule/Tickets/Special Events: http://jffpgh.org/
Please Note: No refunds of exchanges for special event tickets.
10. JETAA Philadelphia (Philly)
Bethlehem Sakura Matsuri
Date: 14th April
Time: 12:00 – 17:00 EDT
Place: 10 W Church St, Bethlehem, PA 18018-5827, United States
Come on up for the Bethlehem Cherry Blossom Festival! An afternoon of culture and entertainment put on by my colleagues at the Bethlehem Sister City Commission.
Attractions to include: Origami Yukata-wearing
Shodo (calligraphy) Sado (tea ceremony)
Mochi-pounding Festival foods
and more TBD!
Save the date and invite your friends. Come find us at the Garden of Serenity (an honest-to-goodness Japanese garden designed by some famous Japanese guy!) adjacent to the Bethlehem Public Library.
Posted by Tom Baker
---
Job Title: Translator
Posted by: Singapore Embassy
Location: Tokyo
The following announcement appears on the Embassy's website:
The SINGAPORE EMBASSY has a vacancy for translator. Candidates must possess a good command of English and Japanese, preferably with certified qualification in translation/interpretation. Candidate will be required to undertake interpretation/translation duties in addition to research and administrative work. Send CV (both English and Japanese with photo) to 5-12-3 Roppongi, Minato-ku, Tokyo 106-0032. Only shortlisted candidates will be notified for an interview.
Closing date: Friday, 27 April 2018.
Written by professional Writer/Interpreter/Translator Stacy Smith (Kumamoto-ken CIR, 2000-03), WIT Life is a periodic series about aspects of Japanese culture such as film, food and language.  Stacy starts her day by watching Fujisankei's newscast in Japanese, and here she shares some interesting tidbits and trends along with her own observations.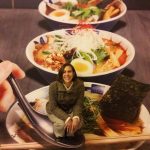 Japan Week 2018 is taking place through the weekend at Grand Central's Vanderbilt Hall, and this year's theme is 3D Trick Art.  Sponsored by the Japan National Tourism Organization (JNTO), the event strives to create an Instagrammable, interactive experience for visitors.  In addition to the regular array of booths from travel agencies, various regions in Japan and Japanese food and drink purveyors, there are several large backdrops into which you can insert yourself for the ultimate selfie.  My favorite was the bowl of ramen into which you can become one of the ingredients, and others include becoming a topping for sushi, helping to carry the mikoshi at a matsuri and shuttling around a sumo wrestler in a rickshaw (Fujifilm is even on hand to help you print out these funny shots after you take them!). Read More
JETAA Chapter Beat is a periodic mosaic of events taking place in the JETAA sphere. Compiled by A
JET's Director of Alumni Relations Megan Buhagiar (Ishikawa Prefecture, 2017- Present).
1. JETAA San Diego
13th Annual Cherry Blossom Festival
Time: 10am-6pm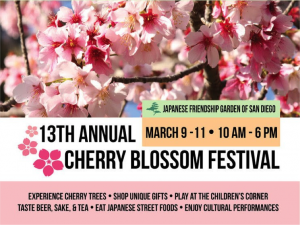 When: March 9th- March 11th 
Where: Japanese Friendship Garden of San Diego 
2215 Pan American Rd E, San Diego, CA 92101

Get ready for the Japanese Friendship Garden's 13th annual Cherry Blossom Festival on March 9th, 10th, and 11th! Aside from basking under beautiful cherry blossoms there will be plenty of other activities and fun for all ages! Some such examples include, beer tasting, cultural performances, and a children's corner! You won't want to miss it. 


2. JETAA New York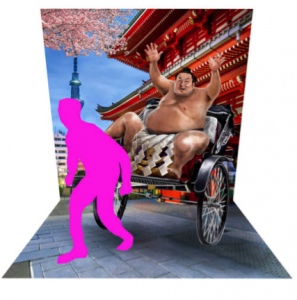 Japan Week at Grand Central Terminal
Date: March 14-17, 2018
Place: Grand Central Terminal, Vanderbilt Hall
Japan Week returns to Vanderbilt Hall in Grand Central Station! From March 14-17, the hall transforms into a wonderland that showcases many splendours of Japan – and this year includes a 3D Trick Art installation.
https://www.japanweek.org/
3. JETAA Toronto
Aquarium Adventure!
Join JETAA Toronto this March as we escape the winter cold with a jaunt through North America's longest underwater viewing tunnel. Let's learn about our aquatic friends from all over the world together!
Date: Sunday, March 4th
Time: 1:30pm
Location: Ripley's Aquarium
Price: JETAA members $10; JETAA members' children (up to age 13): free; non-members: $33. 
Please note, we have limited space; tickets are available on a first come first served basis at https://jetaaaquarium.bpt.me/
Please contact Alena at senpai@jetaatoronto.ca if you have any questions.
Check out our facebook event here
Posted in JETAA Events, JETAA Senpai
4. JETAA Chicago
March Member Meeting
Our March Member Meeting will be a special meeting. It will be part meeting, part workshop. Dinner will still be provided. As always, any questions can be emailed to info@jetaachicago.com
Call in option will be available.
Join us for an interactive workshop to build your skills in project management and event planning led by JETAA alumna Shannon Copp. You'll learn concrete methods for successful event planning as well as best practices for managing projects as small as planning a dinner outing to as large as a nationwide campaign.
To get the most out of the workshop, come with an event or project that's on your mind, something you haven't done a lot of planning on yet. There will be time at the end for you to ask questions and share any best practices you may have as well. See you there.
When: Monday, March 5th
Time: 18:30 – 20"30 CST
Place: 177 N. State Street, 7th floor, Chicago IL 60601
5. JETAA Ottowa
Board Games Day At The Loft
Thank you everyone for coming out to make the JETAA's February potluck event a smashing success! For our second event of the year, we'd thought we'd mix things up with a dice roll or two at Ottawa's own THE LOFT Board Game lounge! Come join us Sunday afternoon for some fun and games with friends!
If this sounds like something you'd want in on, please click "going" on the Facebook events page and fill out this form below to let us know a little more about you.
Form for Board Games Day @ The Loft – fill out if attending the event
The Details:
Date: Sunday, March 18th 2018
Time: from 1:30pm to wherever the night takes us!
Where: The Loft Board Game Lounge (2nd Floor, 14 Waller St, Ottawa, ON K1N 9C4)
What to Bring: $6 for the Loft's Stay-and-Play charge. The Loft also offers drinks and food, so keep that in mind if you plan join in on the fun for a few hours!
Hope to see you all there!
6. JETAA Portland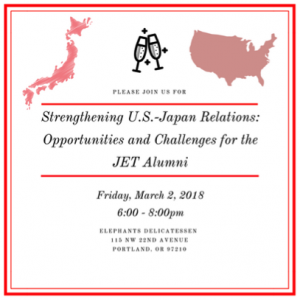 Sasakawa USA and JETAA Portland Dinner Reception
When: Friday, March 2nd
Time: 18:00 – 20:00
Place: Elephants Delicatessen, 115 NW 22nd Ave., Portland, OR 97210
As part of Sasakawa USA's 'The Alliance Working in America' series and in partnership with the JET Alumni Association of Portland, we invite you to join a special dinner discussion with Bill Clifford (Shizuoka ALT, 1987-89) President and CEO of World Affairs Councils of America, and Doug Smith (Okayama CIR, 1987-89), Business Development Manager, Port of Portland. The discussion will explore how the JET Programme experience has contributed to their career and their role in U.S. – Japan relations, and the challenges and opportunities ahead for JET alumni to contribute towards strengthening U.S. – Japan relations in their personal lives and networks.
7. JETAA WA
Our Perth's Sake Festival Sandra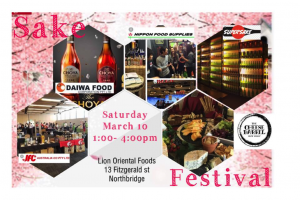 Lion Oriental Foods Especially Invites you to Our Perth's Sake Festival Sandra our Sake Specialists has invited all our suppliers to join us on this festive event. We will showcase a beautiful variation of different types of sake and plum wine .

If you have never tried Sake before this is your chance!!

Participants attending:
Nippon Foods Supplies
Showcasing: Sawahime premium sake and Orion Beer
Daiwa Foods
Showcasing: New Choya range
Supersake
Showcasing:
Namazake and Plum wine
JFC
Showcasing: Ippin sake ,Hakutsuru sake, Urakasumi Sake Brewery , Hakkaisan Sake Brewery..
The Cheese Barrel from Swan Valley together with Sandra Sake Specialist.
showcasing :7 types of different cheeses pairing with Sake.

Bring your friends and family😙to try delicious umeshu, found out why Japanese plum wines are now the biggest trend all around the world and Japanese sake where Rice is responsible for all those unique flavours!

Join us for this festive event feel free to dress up in Japan 🇯🇵 style . Come and see Perth's largest collection of Sake 🍶and Plum 🍹and Beer. 🍺🍺Kampai.🍻

Like or Follow Us on Facebook & Instagram. Please help spread the ❤ around for this free tasting event and follow us for more future event and news
8. JETAA Canberra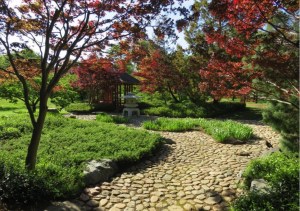 Memorial Service for Earthquake and Tsunami Victims in Japan
Date: 11th March
Time: 16:30 – 18:00 UTC +11
Place: Nara Canberra Park, Flynn Drive, Canberra, Australian Capital Territory 200
Details
Seven years have passed since Japan was devastated by a magnitude 9 earthquake and tsunami that struck the Tohoku and northern Kanto regions.

Each year, concerned Canberrans, friends of Japan and members of the Japanese community gather at the Canberra-Nara Peace Park to remember the victims and to show our on-going support for those who are recovering from the disaster.

Lighting a candle at the service will be an opportunity to send our prayers and thoughts to the victims and the displaced, and at this gathering we will renew our pledge to support the survivors into the future. The newly constructed Peace Bell located within the park will be rung during the service.
9. JETAA SA
Fringe Festival: Koto Music Concert – "10 Years in Adelaide"
When: Saturday, March 3
Time: 4:30pm – 5:30pm
Where: Garage international Adelaide Town Hall, 128 King William Street (Entry via Pirie Street), Adelaide SA 5000
Description:
TICKETED EVENT

2018 is Etsuko Kawaguchi's 10th year in the Adelaide Fringe. Her music has slowly gained a loyal audience. "Blissfully hypnotic climaxing with dissonance and musical momentum. Simply close your eyes and journey to the land and people of Japan." (Adelaide Review) This concert will express her gratitude to all who appreciate and enjoy her music.
Presented by: Sui no Kai & The Garage International
Etsuko Kawaguchi, founder and director of "Sui no Kai," was born in Tokyo. She graduated from Tokyo Arts University in the traditional Japanese Music department and then joined the NHK Traditional Japanese Music Academy and performed with them all over Japan and overseas. Etsuko is noted for her contemporary input into the traditional instrument, thus appealing to a wider and younger audience. Her virtuosity and flexibility in her playing communicates and reaches out to those who are yet not familiar with this instrument. 
The koto is a 13 stringed Japanese lute. It is a string instrument, yet also a percussion instrument, for the strings are plucked as well as beaten. 
Melodic yet rhythmic, the koto an appeal for all which has been proven for this will be her 10th year in Adelaide.

See pricing and full details here: https://adelaidefringe.com.au/fringetix/koto-music-concert-10-years-in-adelaide-af2018
10. JETAA UK (NW)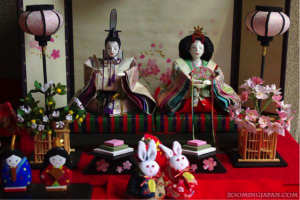 Hina Matsuri Liverpool
Date: 6th March
Time: 19:00 – 22:00 UTC
Place: Sugar and Dice Board Game Café, 33A Cornhill, L1 8DP Liverpool
Details:
Board games, matcha cheese cake and merriment await you at our next event, a celebration of Hinamatsuri (Girls Day). Non JETAA members, Go enthusiasts and even men are welcome!
A Japanese-themed evening to celebrate Hinamatsuri, Girls Day. Try your hand at making sushi, indulge in some matcha cake, and enjoy some Japanese board games with the local Go club.

Cost: £5 per person. (This excludes anything extra purchased at the cafe.)

RSVP: nwevents@jetaa.co.uk . Space in the cafe is limited so book with us in advance to secure your place.
As part of Sasakawa USA's The Alliance Working in America series and in partnership with the JET Alumni Association of Portland, we invite you to join a special dinner discussion with Bill Clifford (Shizuoka ALT, 1987-89) President and CEO of World Affairs Councils of America, and Doug Smith (Okayama CIR, 1987-89), Business Development Manager, Port of Portland. The discussion will explore how the JET Program experience has contributed to their career and their role in U.S.-Japan relations, and the challenges and opportunities ahead for JET alumni to contribute towards strengthening U.S.-Japan relations in their personal lives and networks.
Notes: Free event, RSVPs kindly required by Monday, February 26 at the following link: https://goo.gl/forms/SdDpmaYwHWrvCvQ42
Looking to step up your pin game? Why not collect these two pins from the Pacific Northwest JETAA chapter!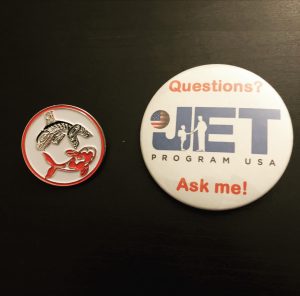 Feel free to contact the current President, Zung Do (president@pnwjetaa.org) or JETAA USA Country Rep, Cheryl Hou (cheryl.hou@jetaausa.com) for more information.