Posted by Sydney Sparrow. Click here to join the JETwit Jobs Google Group and receive job listings even sooner by email
---
Job Title: Research Staff
Posted by: Asmarq Corp.
Location: Shibuya, Tokyo, Japan
Contract: Full-Time
Here's a job received directly from the company:
Asmarq Corp. is a company specializing in Marketing Research, and is looking for a research staff whose main responsibilities include liaising with research monitors who are foreigners, as well as being able to conduct independent research.
Job Scope: 
Provide assistance and support in conducting research and questionnaires 
Liaise with both foreign monitors residing in Japan, as well as Japanese monitors. 
Co-ordinate with talk/research venues prior to conducting research 
Participant co-ordination and sourcing 
Creating surveys, checking data, selecting participants, contacting participants, finalization 
Work proactively in a team to ensure survey success 
Posted by Sydney Sparrow. Click here to join the JETwit Jobs Google Group and receive job listings even sooner by email
---
Job Title: Customer Services and Support Assistant
Posted by: Walk Japan  
Location: Shibuya-Ku, Tokyo
Contract: Full-Time
Here's a job received directly from the employer:
Full-time customer services based role which will mainly involve communicating with new and booked customers via Email and telephone in English. The pioneer of off-the-beaten-track walking tours in Japan, Walk Japan has been operating for 27 years. As we continue to grow, there is the potential for this role to diversify and you may be required to help out in other areas of the business if needed.
This particular role will be based in Tokyo but will include travel to our other offices as well as opportunities to join the tours from time to time to better understand the tours and the company. Regular working hours are between the hours of 10am ~ 6pm in the office, Saturdays and National Holidays on a rotation, with a day paid in lieu. There is also an evening and weekend phone rota which you will join following your probationary period. 
Probationary salary (3-months) between JPY20~230,000, depending on experience, with a salary increase after this period. Salary reviews after this, usually on a yearly basis, are dependent on performance. Commuting allowance up to JPY20,000 provided.
Computer skills are required (Mac) as well as strong spoken and written English skills.
We are a fast growing company requiring candidates with excellent communication skills in both English and Japanese. They must be enthusiastic, motivated, able to work in a team as well as independently and enjoy a challenge.
Application Process: Applicants must live in Japan. Holding a working visa is preferred. Please send resume along with cover letter to Naomi Addyman at naddyman@walkjapan.com  
Posted by Sydney Sparrow. Click here to join the JETwit Jobs Google Group and receive job listings even sooner by email
---
Job Title: Associate Program Officer, Grassroots Exchange & Education
Posted by: Japan Foundation Center for Global Partnership 
Location: New York City, NY, USA
Contract: Full-Time
Here's a job received directly from the organization:
Established by the Japanese government in 1972, The Japan Foundation's mission is to promote international cultural exchange and mutual understanding between Japan and other nations. The Japan Foundation's activities consist of three major programs: 1) Arts & Cultural Exchange; 2) Japanese-Language Education Overseas; and 3) Japanese Studies and Intellectual Exchange. The Center for Global Partnership (CGP) was founded within the Foundation in 1991 and seeks to promote exchange and collaboration between Japan and the United States with the goal of fulfilling shared global responsibilities and contributing to improvements in the world's welfare. For more information, please visit our websites at www.jfny.org and www.cgp.org.
Description: The Japan Foundation CGP, New York seeks an Associate Program Officer who will be responsible for the management of both institutional and other programs in Grassroots Exchange & Education. Through these programs, The Japan Foundation CGP aims to foster Japan-U.S. grassroots exchange in various ways. This position will report to the Program Director of Grassroots Exchange & Education.
By JQ magazine editor Justin Tedaldi (CIR Kobe–shi, 2001-02). Justin has written about Japanese arts and entertainment for JETAA since 2005. For more of his articles, click here.
From the silver screen to the theatrical stage to J-pop, November is just as colorful as the autumn leaves tumbling through the air. Add these live events to the mix and you've got an irresistibly epic rundown.
This month's highlights include: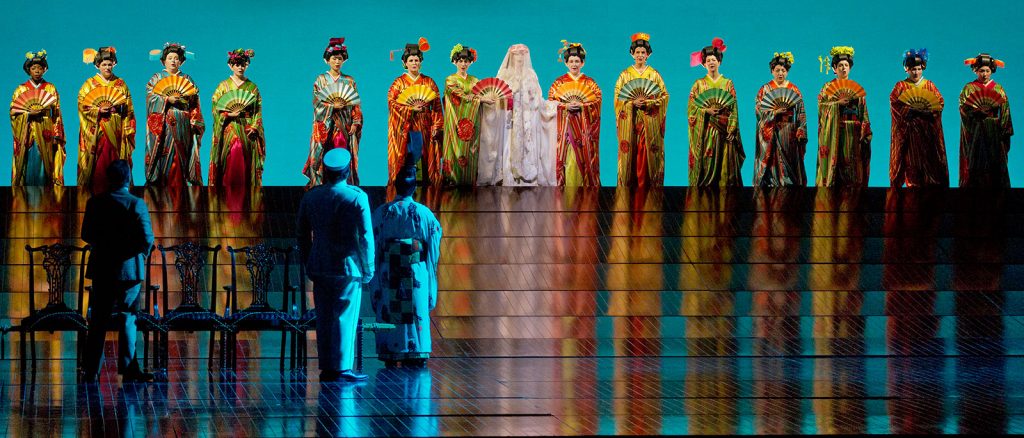 November 6, 9, 13, 16, 22, 25
Metropolitan Opera House, 30 Lincoln Center Plaza
$37-$460
Leading sopranos Hui He and Ana María Martínez share the heartbreaking title role of Puccini's doomed geisha, with tenors Piero Pretti and Andrea Carè as the American naval officer who abandons her. Paulo Szot and Markus Brück share the role of Sharpless, and Elizabeth DeShong is Suzuki, alternating with Maria Zifchak. Pier Giorgio Morandi is on the podium for Anthony Minghella (The English Patient)'s sweeping production, a perennial audience favorite. Presented in Met titles in English, German, Spanish, and Italian. Four additional performances will be held in April 2020.
November 9-Dec. 14
Yayoi Kusama: EVERY DAY I PRAY FOR LOVE
David Zwirner Gallery, 537 West 20th Street
Free
An exhibition of entirely new work by Yayoi Kusama—including paintings, sculptures, an immersive installation, and the debut of INFINITY MIRRORED ROOM – DANCING LIGHTS THAT FLEW UP TO THE UNIVERSE—comes to New York this fall. The exhibition introduces new paintings in the artist's iconic My Eternal Soul series. Created in a more intimate format on view for the first time in the United States, these works are singular explorations of line and form, climaxing with a large, new floor-based constellation composed of almost a hundred different stainless-steel elements. An opening reception will be held Saturday, November 9, from 6:00-8:00 p.m. For an FAQ with more information, click here.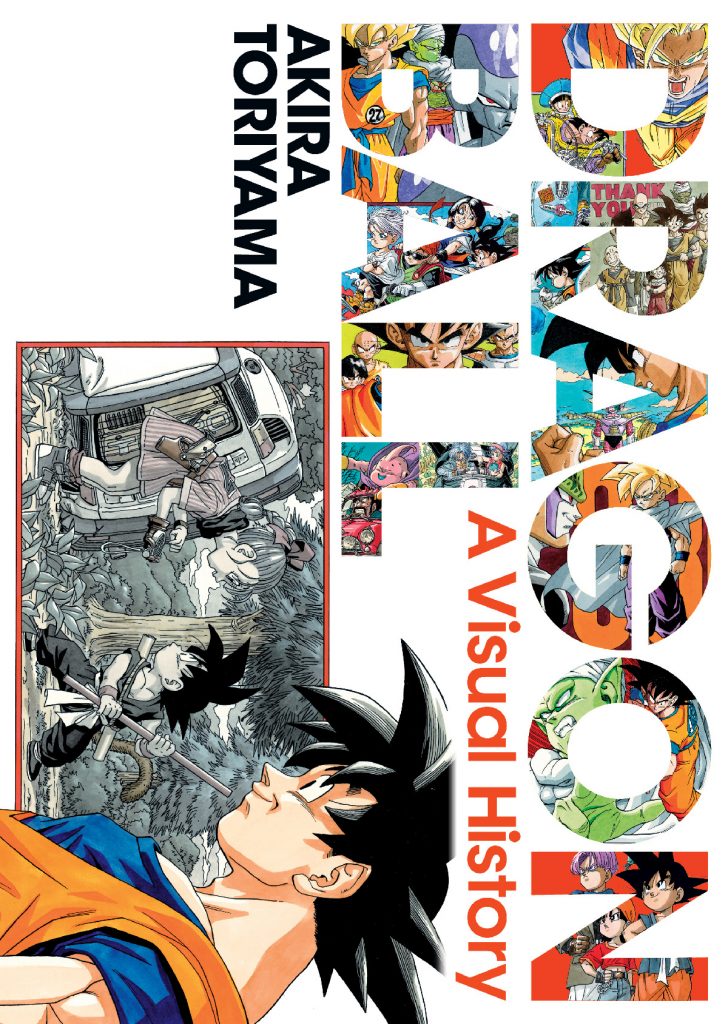 Available November 12
MSRP $34.99
For the first time in English, VIZ Media presents a definitive collection of art from Akira Toriyama's iconic manga series! This comprehensive art book showcases decades of manga art, additional promotional material, creator commentary and notes/sketches/posters—allthroughout the history of the original Dragon Ball manga series (1984-1995), all featured in a beautifully slipcased hardcover book with a dust jacket.
Read More
Posted by Sydney Sparrow. Click here to join the JETwit Jobs Google Group and receive job listings even sooner by email
---
Job Title: Director of Global Partnerships
Posted by: Japan Society 
Location: New York City, NY, USA
Contract: Full-Time
Here's a job received directly from the organization:
Posted by Sydney Sparrow. Click here to join the JETwit Jobs Google Group and receive job listings even sooner by email
---
Job Title: Business Development Representative
Posted by: Inside Travel Group Ltd.
Location: Remote Work – U.S. Northern East Coast
Contract: Full-Time
Here's a job received directly from the company:
Inside Travel Group is recruiting for a dynamic and motivated individual to sell and build awareness of our brands and services among the Travel Trade with a concentration in the US Northeast / East Coast.
This is a remote-based posting with exciting potential to play an integral part in the travel industry and make an impact in travel to Japan and other countries in Asia.
You will have the chance to show your passion for this area of the world through networking, training, product promotion, and excellent service delivery.
If you enjoy meeting new people, the challenge of smashing sales targets, and are looking for a position that affords you the opportunity to travel around the US, then this position could be a great fit for you!
Posted by Sydney Sparrow. Click here to join the JETwit Jobs Google Group and receive job listings even sooner by email
---
Job Title: Operations Associate
Posted by: Armoury Group
Location: New York City, NY
Contract: Full-Time
Here's a JET-relevant job passed along to us:
Job description
The Armoury Group is looking for a responsible, detail-oriented Operations Associate for its New York-based team. If you thrive working in a small, dynamic, and entrepreneurial environment we are interested to hear from you!
The Operations Associate will report directly to the Operations Manager and will be responsible for handling daily office operations and procedures. Compensation is commensurate with experience.
The ideal candidate will be experienced in handling a wide range of administrative and clerical tasks. S/he is also an independent self-starter, well-organized & detail-oriented, flexible, and enjoys the administrative challenges of supporting an office of diverse people.
Responsibilities include the following:
Assist the Office Manager to ensure daily office operations run smoothly with no interruption
Serve as the point person for shipments, supplies, equipment, bills, and errands
Accounting

processing & organizing supplier and service invoices
all bills are paid on time
Manage time cards and process payroll

Calendar Management – Organize and schedule meetings and appointments
Provide general support to visitors
Liaise with third-party service providers as needed
Undertake additional duties or sharing responsibilities during busy times and/or as requested by the Manager
Posted by Sydney Sparrow. Click here to join the JETwit Jobs Google Group and receive job listings even sooner by email
---
Job Title: Sales Support Administrator
Posted by: Inside Travel Group
Location: Boulder, CO, USA
Contract: Full-Time
Here's a job received directly from the company:
Inside Travel Group contains the award-winning travel brands InsideJapan and InsideAsia. They offer unique tailored itineraries, small group tours, and exclusive cultural experiences on travels in Japan and Southeast Asia. We are looking for a travel-minded individual with a strong attention to detail for a Sales Support Administrator position.
This is a full-time administrative position based in our US office in Boulder, CO. You will help facilitate the booking of our tailor-made holidays and create final travel documentation for our clients before departure. You will make bookings for a variety of services included in our trips over the phone, by email and using online booking systems. You may also be asked to do research on behalf of Travel Consultants and to check availability/pricing if required. As a key part of the customer experience we offer, you will play a vital role in ensuring the final documents for our clients are prepared in a timely fashion, accurately and using the most up-to-date information.
Our Boulder office is bright, vibrant and full individuals with a love for travel and a sincere desire to make our travelers' trips the best they absolutely can be. With a comprehensive benefits package, 20 days of PTO, and employer matched 401(k), we support our team both in and outside the office. Join us today!
Application Process: For full details of the Sales Support Administrator role, please visit https://www.insideasiatours.com/jobs/  
If this role is of interest, please apply now by sending an up-to-date CV and comprehensive cover letter showing how your skills and experience match the job description to: jobs@insideasiatours.com  
Posted by Sydney Sparrow. Click here to join the JETwit Jobs Google Group and receive job listings even sooner by email
---
Job Title: Library Specialist
Posted by: University of Pennsylvania Libraries
Location: Philadelphia, PA, USA
Contract: Full-Time
Here's a job passed along to us:
The Penn Libraries seeks a Library Specialist to handle acquisitions and cataloging functions for the Japanese and Korean collections. Reporting to the Area Studies Technical Services Coordinator, the Japanese/Korean Library Specialist, working at an advanced level and independently, will acquire and describe Japanese and Korean language materials for the Penn Libraries in accordance with established standards and institutional policy.
In both acquisitions and cataloging, the incumbent will perform complex problem-solving using advanced analytical skills. The incumbent will collaborate closely with the Japanese Studies Librarian to identify priorities for resource processing.
DUTIES
Primary responsibilities may include but are not limited to:
In accordance with cataloging standards/rules and local practice, perform routine and complex copy cataloging of Japanese and Korean language materials. Create original bibliographic records for Japanese and Korean language materials as needed.
Perform routine and complex ordering, receipt, and invoicing of Japanese and Korean language materials, including frequent direct communication with vendors.
Perform routine and advanced searches of Penn Libraries catalogs (Franklin & Alma), external bibliographic utilities (e.g. OCLC Connexion, CiNii), and online marketplaces (e.g. Amazon Japan, Nihon no Furuhon'ya/JADOB) for bibliographic and acquisitions information.
Process physical inventory, including unboxing materials (with occasional lifting of boxes), barcoding of library items, and transporting book trucks through Penn Libraries spaces.
Solve routine and highly complex bibliographic and acquisitions problems involving Japanese and Korean materials, including providing language expertise to other Penn Libraries staff as needed.
Train and supervise student assistants, and review their work as assigned.
Perform additional duties as assigned.
Posted by Sydney Sparrow. Click here to join the JETwit Jobs Google Group and receive job listings even sooner by email
---
Job Title: International Affairs Analyst
Posted by: Aflac
Location: Tokyo, Japan
Contract: Full-Time
Here's a job received directly from the company:
Aflac, a leading U.S. financial institution in Japan, is looking for an International Affairs Analyst to handle a wide range of duties as a member of a highly effective government relations team. Responsibilities include researching and writing advocacy materials and policy documents; close tracking of and frequent reporting on regulatory and legislative developments; providing staff support for senior executives; and project management, including event planning. Close attention to detail, the ability to handle multiple projects and work collaboratively with others under tight deadlines are key attributes for this position.
Compensation competitive and commensurate with experience and skills.
Qualifications
Bachelor's Degree (Master's preferred) in international studies, finance, or a related discipline
At least three years of related work experience (preferably five)
Strong Japanese, JLPT N1 or equivalent
Strong Work and PowerPoint skills
Excellent organizational, communication, and teamwork skills
Superior writing ability (translation experience preferred) and interest in public policy
A positive, constructive attitude and determination to follow through 
Application Process: For more information or to apply, please email Adam Richards: <arichards@aflac.com>  
By JQ magazine editor Justin Tedaldi (CIR Kobe–shi, 2001-02). Justin has written about Japanese arts and entertainment for JETAA since 2005. For more of his articles, click here.
The Japan-centric events of the month ahead promise to be as rich and full as autumn itself—brisk and colorful, with a dash of unpredictability.
This month's highlights include:
Thursday, Oct. 3, 8:00 p.m. and 10:00 p.m.
Zac Zinger Fulfillment Release Concert
Jazz at Kitano, 66 Park Avenue
$18 cover, call (212) 885-7119 for reservations
A four-time recipient of the ASCAP Young Jazz Composer Award, Zac Zinger is a composer and musician (whose credits includes Final Fantasy XV: Assassin's Festival and Street Fighter V) ready to unleash his debut album. Fulfillment is a compilation of Zinger's best compositions for small jazz ensemble over the last decade, performed on shakuhachi (Japanese bamboo flute) and saxophone with his progressive jazz quartet featuring Sharik Hasan on piano, Adam Neely on bass, and Luke Markham on drums.
Sunday, Oct. 6, 2:00 p.m.
Wind of Tsugaru in New York: Bunta Satoh, Tsugarubue
Carnegie Hall (Weill Recital Hall), 881 Seventh Avenue
$25-$45 (click here for 20% discount for orchestra seats)
Flautist Bunta Satoh introduces the history and culture of Tsugarubue, a Japanese bamboo flute from the Tsugaru region of Aomori Prefecture. In addition to performing this one-of-a-kind music, he composes for the instrument and organizes workshops to inspire a new generation to uphold its tradition. He released his third album, The Wind of Tsugaru, in January 2017. Joining him for this performance are Hiro Hayashida and Sota Asano (taiko drums), Chihiro Shibayama (percussion), Stephanie Matthews (violin), Reenat Pinchas (cello), and Hsin-Ni Liu (piano).
Oct. 11-17, various times
Tora-san, Our Lovable Tramp (It's Tough Being a Man)
Film Forum, 209 West Houston Street
$15, $9 members
New 50th anniversary 4K restoration! The longest-running film series starring the same actor (48 features over 27 years), with all but two directed by Yoji Yamada and every one starring Kiyoshi Atsumi as the itinerant, rough around the edges peddler Torajiro Kuruma (nicknamed Tora-san, literally "Mr. Tiger"), a comic figure as iconic in Japan as Chaplin while capable of cutting through pretentious piffle and providing serene counsel to the troubled and the lovelorn—if not always to himself. In his debut appearance, Tora-san hilariously botches the arranged marriage of his kid sister Sakura (Chieko Baisho), but later reverse-psychologizes two timid lovers into a real romance.
Read More
Posted by Sydney Sparrow. Click here to join the JETwit Jobs Google Group and receive job listings even sooner by email
---
Job Title: Director of Study Abroad
Posted by: George Washington University
Location: Washington, DC
Contract: Full-Time
Here's a job passed along to us:
The George Washington University Office for Study Abroad in Washington, D.C. is now searching for a full-time Supervisor, Study Abroad Advising.
Reporting to the Director of Study Abroad, the Supervisor of Study Abroad Advising oversees the administrative operations related to advising and assessment within OSA. Responsibilities include, but are not limited to:
Providing direction and feedback to the advising staff to ensure efficiency, consistency, and ongoing improvement of the student experience.
Coordinating advising across Global Bachelors and GW Programs Abroad with other team members.
Resolving complex advising issues requiring research or potential escalation to the director.
Designing and implementing pre-departure orientation for students.
Managing study abroad program provider relations.
Organizing study abroad week and the study abroad fair.
Administering the program petition process.
Overseeing use of the databases and platforms that capture data for OSA transactions.
Assisting the Applications Administrator in reporting data to national organizations such as IIE Open Doors.
Providing regular data updates to the OSA director and university leadership for management decisions and forecasting.
Collecting data on regulations, news, reports related to international/global education and higher education in the US and abroad.
Supporting OAS teams to collect and analyze study abroad data, trends, competitive data and developments as requested/needed.
Hiring, training, coaching, and supervising three professionals and multiple student employees. To include, goal setting and conducting performance reviews.
The position is based at GW's Foggy Bottom Campus in Washington, DC. The incumbent may perform other related duties as assigned. The omission of specific duties does not preclude the supervisor from assigning duties that are logically related to the position.
Application Process: For more information, please see the link on our Jobs at GW website: https://www.gwu.jobs/postings/71108
Read More
Posted by Sydney Sparrow. Click here to join the JETwit Jobs Google Group and receive job listings even sooner by email
---
Job Title: Finance Specialist
Posted by: North Pacific Fisheries Commission (NPFC)
Location: Tokyo, Japan
Contract: Temporary
Thanks to JET alum, Mervin Salazar (Nagano-ken) for the following job opening:
The North Pacific Fisheries Commission (NPFC) invites applications for a temporary consulting position of Finance Specialist. The appointment will be for an eleven (11)-month period, with a possibility of extension.
NPFC is an international organization established on 19 July 2015 in Tokyo, Japan with the objective of ensuring the sustainability of fisheries resources and the marine ecosystems of the North Pacific Ocean.
Under the overall supervision of the Executive Secretary of the NPFC, the Finance Specialist assists the Executive Secretary regarding finance matters of the Commission.
Finance Specialist's primary functions and duties:
Assist the Executive Secretary in implementing all finance matters of the Commission
Assist Executive Secretary in payment, disbursement procedures and travel arrangements of the Secretariat staff and invited experts
Liaise with service providers for all infrastructure, equipment, and making a contract
Annually arrange and support independent auditors for the Commission
Assists the Executive Secretary in the preparation of budgets for the regular functioning of the Secretariat and associated special projects
Others required by the Executive Secretary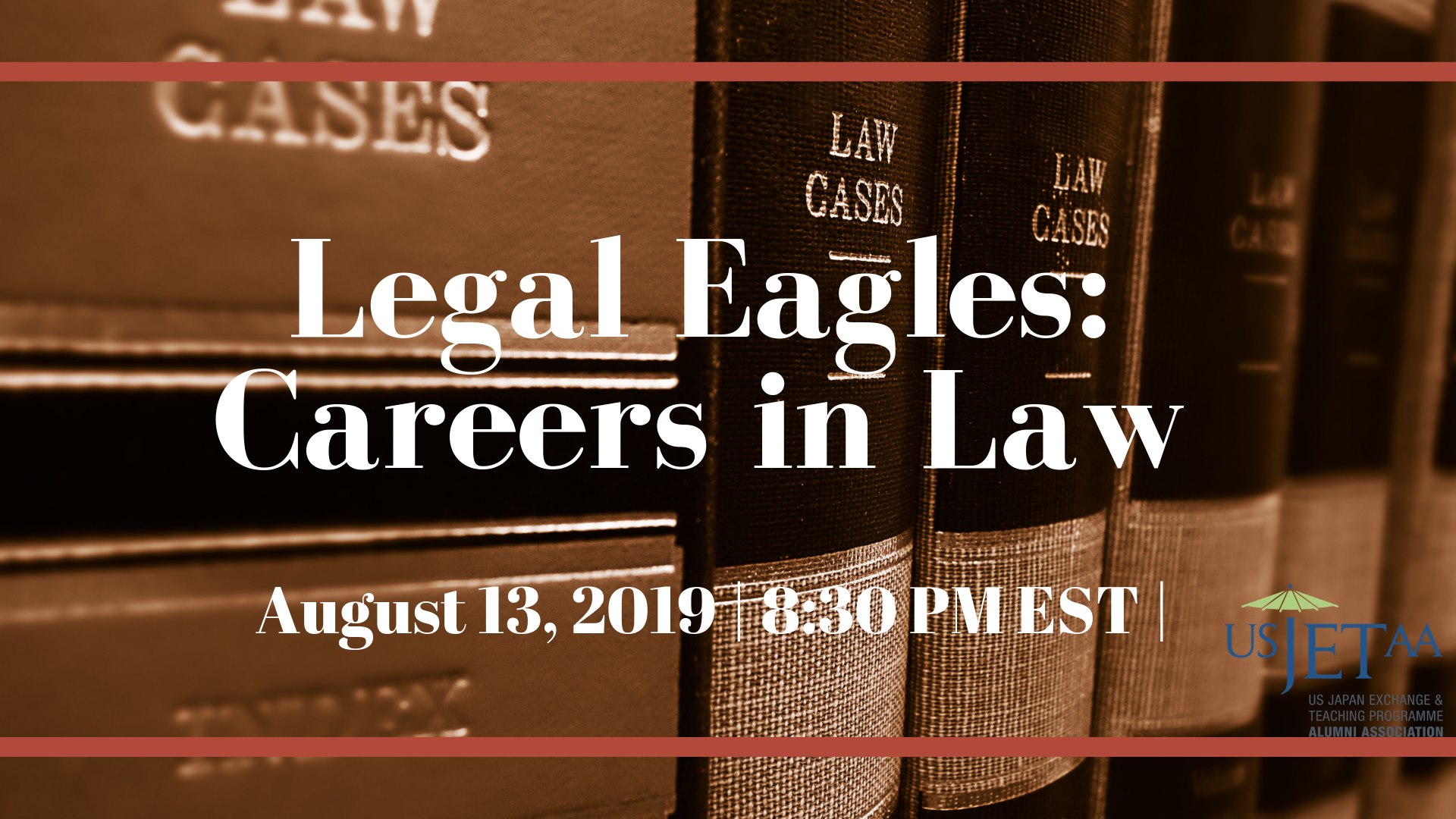 On August 13, 2019, US JETAA hosted a webinar for JET alumni interested in going to law school or pursuing a career in the legal field. Four JET alums: Steven Horowitz (Aichi-ken, 1992-1994), Andy McCarthy (Akita-ken, 2005-2008), Jonathan Carll (Niigata-shi, 2008-2011), and Sarah H. Lee (Kumamoto-ken, 2004-2006) shared their experiences in law school, what they've done after they finished, and gave some pointers for those considering a career in law. Feel free to check out the full webinar here.
More information about the speakers can be read below. Thanks to US JETAA for their biographies and hosting a wonderful webinar!
SPEAKERS
Steven Horowitz (Aichi, 1992-1994) is the Director of Legal English Programs at St. John's University School of Law where he has the good fortune to work with two other JET alumni! He has a JD from Duke Law School, an MA TESOL from CUNY-Hunter College, a CELTA Certificate, and a BA in History from the University of Pennsylvania. He has also studied law at Waseda University and interned for Japanese law firms.
Andy McCarthy (Akita, 2005-2008) works for a boutique law firm focusing specifically on oil and gas transactions in various oil and gas plays throughout the United States. After JET, Andy returned to the United States and studied at The Ohio State University Moritz College of Law, graduating in June, 2011. Shortly after graduation, Andy worked as a field landman in eastern Ohio for nine months, before joining a large oil and gas law firm in Houston, Texas in May, 2012. Andy is licensed to practice law in Texas, Ohio, and Nebraska.
Jonathan Carll, (Niigata City, 2008 – 2011) Graduated from law school in 2015. Licensed in Texas. He worked mostly as a Japanese document review attorney since that time. Prior to law school he worked for a year as a translator on similar Japanese document review projects.
Sarah H. Lee (Kumamoto, 2004-2006) is a legal aid attorney in Boston, MA with the Volunteer Lawyers Project of the Boston Bar Association. She currently practices housing and family law; her past practice also includes child welfare law, immigration, consumer law, and foreclosures. Sarah earned her B.A. from Wellesley College and her J.D. from The Ohio State University Moritz College of Law, where she was a member of The Ohio State Law Journal and a law clerk with the Legal Aid Society of Columbus.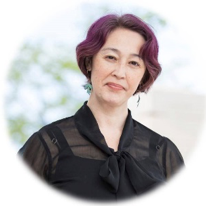 Emily Frank (Hokkaido, 1993-1996) is a professional career counselor and coach who has worked with and helped JET alumni all over the world. Her website is www.DenverCareerCatalyst.com.

Job Burnout Worksheet
Are you struggling with a decision about whether it's time to leave your job or not?  This worksheet will help you decide if you're really burning out or if you can make some changes at your current job that make it worth sticking out.  Write your answers in as much detail as possible.
Control

: Do you feel you lack autonomy at work? What causes you to think that?  For instance, is your work an always-on-call culture, with expectations that you will respond to emails and phone calls even at night or on weekends?  Do you have enough staff to accomplish what needs accomplishing? If not, are there any steps you can take so mitigate these?

Workload

: Can you feasibly accomplish your work and still do things like eat lunch and leave work on time?  Have you successfully prioritized your tasks and figured out ways to delegate things? Are you letting perfect be the enemy of good?  Would learning effective time management strategies make your workload manageable?

Reward:

Are you getting enough

from

your job?  Remember that rewards are both intrinsic (the intangible things that make the job itself satisfying, like being acknowledged by colleagues and clients, feeling like you're growing, etc.) and extrinsic (the things you get from the job like pay and benefits) and that we each need some of both in order to be happy.  What do you need to be getting from your job in order to feel happy with it? Would getting a raise or promotion be enough? (If so, absolutely seek one!)

Fairness:

Does praise get spread fairly evenly across all areas of your team, or are certain people given more for doing the same amount of praise-worthy work as others?  Are there racial, gender, age, or gender identity biases? If so, you may want to start by pointing these imbalances out—people are often unaware of their own biases, but tread carefully so as to avoid hurting feelings!  You may even enlist the help of a sympathetic colleague who can say something like, "I noticed that Janet contributed a lot to this program but wasn't one of the people who got a thank-you gift card for it. Can you please help me understand why that is?"




Culture:

Who do you work with?  Are there people who regularly ask how your day is going?  Are people supportive and trustworthy? Is water cooler talk discouraged?  Sometimes you can mitigate some of these relationship challenges by simply getting to know the others you work with a little better, but sometimes those behaviors are frowned on, or your colleagues are simply not people you can trust.  We humans need a sense of community, so the culture of your workplace can have a huge impact on the sustainability of your job.




Values:

If you've followed any of my social media, you'll know that this is one of my key talking points.  A mismatch in your values and those of your workplace will burn you out in a job faster than just about anything I know.  Did your workplace once have values that aligned with yours but those have shifted? If so, in what ways has that become apparent?  Are the decision-makers open to suggestions and willing to make small changes? What are the current underlying motivations for decisions, and how do those feel to you?
Deciding whether or not to leave a job can feel like a heavy burden, but be thoughtful and honest about these questions and you will have a better understanding of whether to stay or go.

© 2019
Research from https://www.ncbi.nlm.nih.gov/pmc/articles/PMC4911781/