Stephanie Boegeman (ALT, Akita-ken, 2006-09) gets her kicks from finding fun crazy ways to see the world and getting paid to do it. She is constantly in search of job, internship, and travel ideas to add to her site Playing With Hire, in the hopes that more JET alumni and like-minded souls join her in her quest to find creative, inspiring, and unique ways to make ends meet.
Still honing your Japanese skills and looking for someone to subsidize your studies? American students who fit this description may want to look into the Boren award. There's even a guaranteed government job waiting for you when you graduate. *Deadlines are in February*. More information on applicant criteria and other applicable languages is here.
Karl Rosvold (ALT/CIR in Hiroshima Prefecture, '93-'96) is conducting an online reading experiment targeted at foreigners who are learning or have learned Japanese. He's looking for as many participants as possible who are native or near-native English speakers and "upper-beginner" or above in Japanese (defined as having passed the old JLPT 3/new JLPT N4). There are a few other conditions which you can see on the experiment website.
Registration will start around September 25th. To participate in the experiment, simply fill out a short questionnaire on the website, then come back two more times, about a week apart to take two short Japanese reading comprehension tests, with or without hints about the kanji in the text. Each step should take about 30 minutes. Ideally, people will participate because they feel the experiment is interesting and beneficial, but for participants living in Japan, Karl is also offering a 2000 yen QUO gift card to the first 100 people who complete the whole experiment.
Please check out the temporary website for more information:  http://kanjijikken.web.fc2.com/
or feel free to e-mail Karl at kanji.experiment@gmail.com. Please let him know that you saw this message on Jetwit!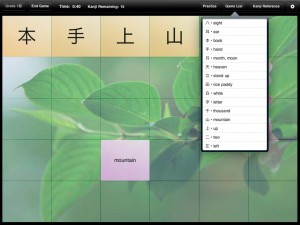 JET alum Blaine Leckett (Shimane-ken, 1990-92) has designed a new app for the iPad and available at the iTunes Store for Kanji learners everywhere. With Kanji for Fun! you'll be remembering your Kanji in no time… and have fun doing it!
Kanji for Fun! is a puzzle game where you match up the Kanji character with its English meaning. There is also a reference section that contains the entire joyo Kanji list. In the reference section you can see the Japanese and Chinese readings and have the ability to practice writing each character with the proper stroke order.
First is the game – A simple yet addictive matching game that will have you pairing Japanese characters to their English meanings in no time. Even if you know nothing about Japanese, just playing in practice mode or sneaking a peek at the game list will greatly increase your Kanji proficiency. And if you're an expert, try some of the more advanced grades and play with a larger grid.
Second is the reference list – With nearly 2,000 Kanji at your finger tips, take a few quiet moments with your iPad where you can learn new characters, study their readings, or practice writing stroke orders with your finger.
For a limited time, Blaine is offering promo codes so you can try Kanji for Fun! for free. Contact him through his site at http://kanjiforfun.com/support to request a code.
Via JETAA DC yahoogroup:
JET alum Jordan Heiber (Fukui-ken, 2000-02) is looking for info/recommendations for intensive Japanese Language Programs in Tokyo — similar to the one offered by Keio University.  Requirements would be:
1) year long course
2) qualifies the participant for a student visa for the year
3) ideally close in proximity to Minato Ku
Jordan notes:  "The Internet is overflowing with less-than-useful information on this, so I'm hoping some of you may have some insider's knowledge.  Thanks."
If anyone else in the JET-o-sphere has helpful information, please share in the comments section of this post.  Or e-mail jordansensei [/at/] hotmail [/dot/] com.
Nov
29

JETAA Chapters, Language Study, Translating/Interpreting

Comments Off

on Sign of the Times: JET alum works to save language programs in Fairfax, VA schools from budget cuts
The following request was posted to the JETAA DC yahoogroup by JET alum Tina Meek (Saitama-ken, 1990-92):
I'm co-leading an advocacy called Fairfax FLAGS (Foreign Language Advocacy for Grade Schools), which is working to save its elementary school foreign language programs, currently at risk of elimination due to Fairfax County schools' budget crisis.
All 13 language immersion & 32 FLES (foreign language in the elementary school) programs are on the chopping block. This includes the amazing Japanese immersion programs at Great Falls, Floris and Fox Mill Elementary (where my daughters easily learn the language I struggled with during my JET years!).
We are asking as many people as possible to write letters/emails or make phone calls on the importance of early foreign language programs to Fairfax County Supervisors, Chairman Sharon Bulova, Fairfax County Public School Board Members & Superintendent Jack Dale.
Contact information & talking points are on our website at www.fairfaxflags.org. We also have a Fairfax FLAGS Group on Facebook if you'd like to support or join our cause.
Feel free to contact me for information, especially if you went through any of Fairfax County's language immersion programs. We're seeking testimonials!
Loss of these programs would be a huge step backward for Fairfax County (currently a role model for early foreign language).
Thank you,
Tina Meek (Saitama-ken, Urawa-shi, 1990-92)
tina.meek [/at/] yahoo [/dot/] com