Jul
14

Advertising, Language Study

Comments Off

on Learn Kanji on the iPad with New "Kanji for Fun!" App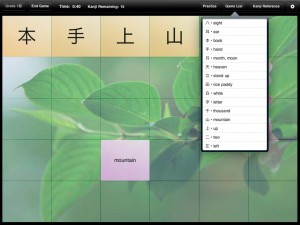 JET alum Blaine Leckett (Shimane-ken, 1990-92) has designed a new app for the iPad and available at the iTunes Store for Kanji learners everywhere. With Kanji for Fun! you'll be remembering your Kanji in no time… and have fun doing it!
Kanji for Fun! is a puzzle game where you match up the Kanji character with its English meaning. There is also a reference section that contains the entire joyo Kanji list. In the reference section you can see the Japanese and Chinese readings and have the ability to practice writing each character with the proper stroke order.
First is the game – A simple yet addictive matching game that will have you pairing Japanese characters to their English meanings in no time. Even if you know nothing about Japanese, just playing in practice mode or sneaking a peek at the game list will greatly increase your Kanji proficiency. And if you're an expert, try some of the more advanced grades and play with a larger grid.
Second is the reference list – With nearly 2,000 Kanji at your finger tips, take a few quiet moments with your iPad where you can learn new characters, study their readings, or practice writing stroke orders with your finger.
For a limited time, Blaine is offering promo codes so you can try Kanji for Fun! for free. Contact him through his site at http://kanjiforfun.com/support to request a code.