Sep
28

Translating/Interpreting, Uncategorized, WIT Life

Comments Off

on WIT Life #357: LDP Presidential election and royal family shakeup
Professional Writer/Interpreter/Translator Stacy Smith (Kumamoto-ken CIR, 2000-03) presents WIT Life, a periodic series about aspects of Japanese culture such as film, food and language. Stacy starts her day by watching Fujisankei's newscast in Japanese, and here she offers some interesting tidbits and trends along with her own observations.
The Japanese LDP Presidential election will take place today (September 29th). The winner is expected to become the next prime minister following current PM Yoshihide Suga, leading the party in November's general election. Here's a run-down of the candidates, notable for being a lineup that is 50% women.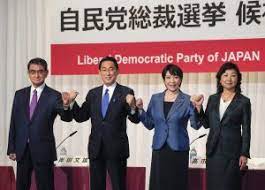 In other big news, Princess Mako of the royal family just welcomed home her fiancee, commoner Kei Komuro. When he was last in Japan over three years ago, he got engaged to Mako before coming to New York to attend Fordham Law School. They plan to marry and for Mako to return with him to New York, where he has been hired by a law firm. In renouncing her official title, she will be sacrificing almost $1.35 million in taxpayer money. Check out the Washington Post's coverage of the palace intrigue captivating Japan (and the vitriol towards Komuro's Covid ponytail)!