Sep
6

Books, Events, Japan Writers Conference, Notable JET Alums, Writers

Comments Off

on Charles Kowalski to dissect villains at Japan Writers Conference
Posted by Tom Baker

Many JETs are writers before coming to Japan, while others find that Japan give them something to write about. And many JET writers get involved in the Japan Writers Conference, which this year is being held online, Oct. 10-11.

One of this year's featured writers is novelist and JET alum Charles Kowalski, who will describe how to give your story a compelling villain.

Here's the official description of Charles' presentation: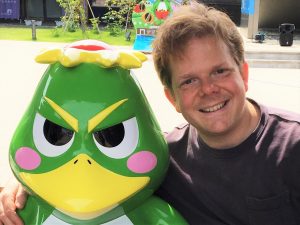 Masterminds, Minions, and Monsters: Creating 3D Villains
(Craft Workshop)

Create compelling villains that readers will love to hate! This workshop will introduce three main villain motivations (the "3 D's") and show how these form seven archetypes, plus six effective recruiting tools for henchmen (FLAMES), the top five justifications for villainy, and how to defeat the villain for a satisfying ending.

"A story is only as good as the villain." – Clive Barker

Bad guys make good stories, and this workshop will focus on creating compelling villains that readers will love to hate.

Here are the questions to be asked and answered in this workshop.

What makes a compelling villain? How can the BOOM technique help create a villain with a believable backstory?

How do the three main motivations of villains intersect to form seven villain archetypes? What are the common personality characteristics of each?

What are the six tools used by master villains to recruit followers? What are the top five justifications for villainy?

What are the five main patterns of villain defeat and their common variations?

Come find out!

Charles Kowalski is the award-winning author of contemporary thrillers MIND VIRUS and THE DEVIL'S SON, and the Japan-themed historical fantasy SIMON GREY AND THE MARCH OF A HUNDRED GHOSTS. When not writing, he teaches at Tokai University.