Jun
10

Career, LifeAfterJET

Comments Off

on 6/18/20 Free webinar about online opportunities
Minasan, I hope you are staying safe and healthy during these strange and uncertain times. My heart goes out to all the injustice that is happening in the world, and hope that the world can unite to stamp out hate.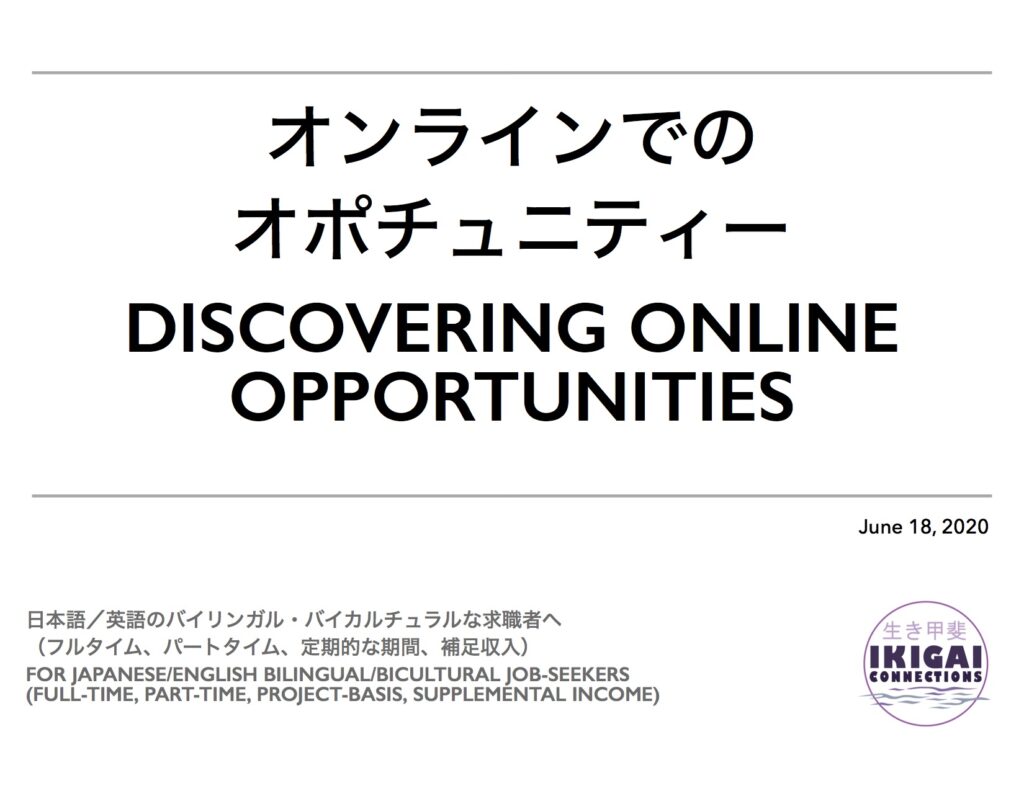 Today I wanted to invite you to a free webinar that I will be doing in Japanese about online opportunities on June 18 (Thur) 6 PM EST.
Many people ask me what they can do to find work during these uncertain times. These people had internships or jobs ready to go in Japan or their country, but the COVID-19 pandemic caused cancellations, layoffs and furloughs.
My answer: think outside the box. There are many opportunities that exist, you just have to FIND them. Although they may not appear perfect, it is *something* you can do to keep moving forward. Action = momentum!
Learn more about the various freelancing and online opportunities during my free webinar, whether it's part-time, full-time or project-based.
Please note, though, that I will be doing this in Japanese… To be honest, I'm a little nervous that I will sound like a child, but I am ready because this is a topic that I am comfortable discussing. If you want to see me present in my foreign language so that you can realize nobody is "fluent" – please join!! It might give you the confidence that your nihongo is actually quite good. If I can do it, ANYONE can do it!
Free webinar date/time: June 18 (Thurs) 6 PM EST
If you're interested, please contact me for the link!
Guest blog post by Kasia Lynch, Founder of Ikigai Connections, who supports job-seekers with her blog, job board and online training programs. Although not a former JET, she's a big supporter of the Great Lakes JETAA and previously lived in Shiga-ken, Kobe, Kyoto, Saitama-ken and Tokyo (total 8 years).