Oct
25

Article/Journalism, Film, Justin's Japan

Comments Off

on Justin's Japan: A Trip to Universal Studios Hollywood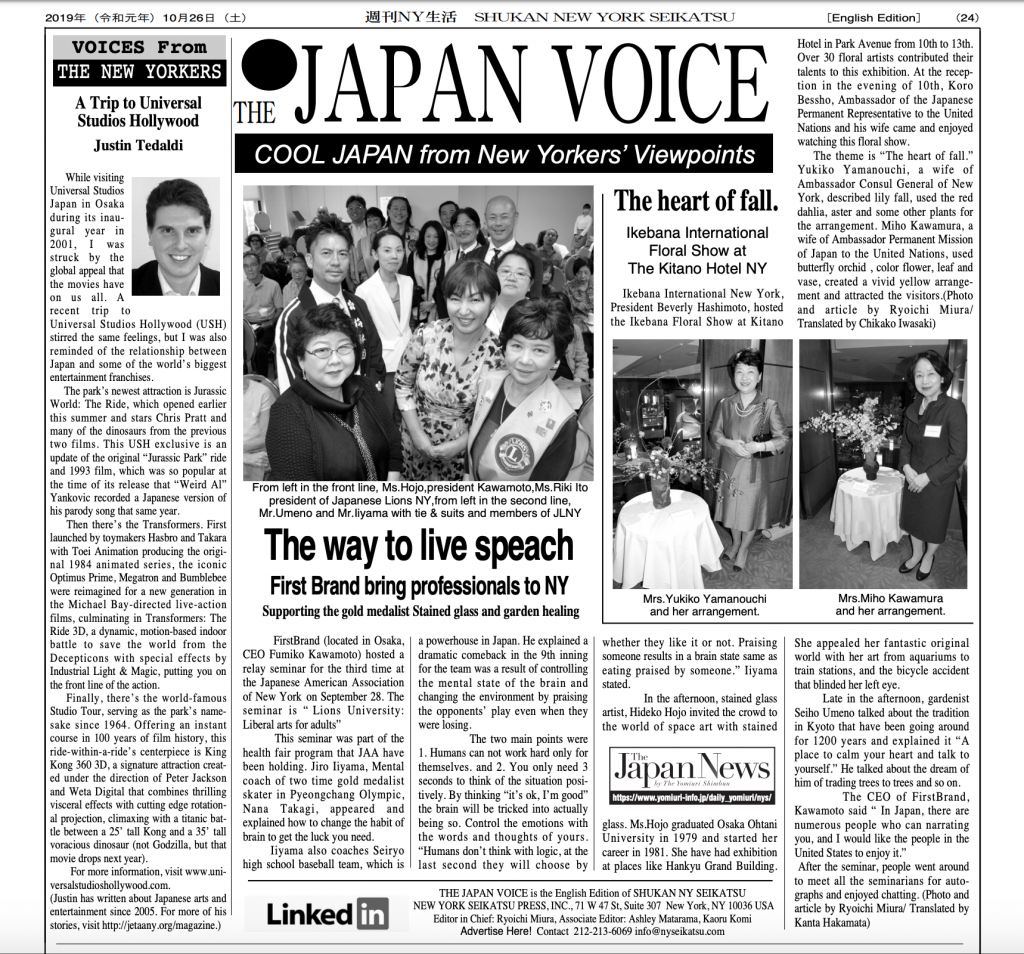 By JQ magazine editor Justin Tedaldi (CIR Kobe-shi, 2001-02) for Shukan NY Seikatsu. Justin has written about Japanese arts and entertainment for JETAA since 2005.For more of his articles, click here.
While visiting Universal Studios Japan in Osaka during its inaugural year in 2001, I was struck by the global appeal that the movies have on us all. A recent trip to Universal Studios Hollywood (USH) stirred the same feelings, but I was also reminded of the relationship between Japan and some of the world's biggest entertainment franchises.
The park's newest attraction is Jurassic World: The Ride, which opened earlier this summer and stars Chris Pratt and many of the dinosaurs from the previous two films. This USH exclusive is an update of the original "Jurassic Park" ride and 1993 film, which was so popular at the time of its release that "Weird Al" Yankovic recorded a Japanese version of his parody song that same year.
Then there's the Transformers. First launched by toymakers Hasbro and Takara with Toei Animation producing the original 1984 animated series, the iconic Optimus Prime, Megatron and Bumblebee were reimagined for a new generation in the Michael Bay-directed live-action films, culminating in Transformers: The Ride 3D, a dynamic, motion-based indoor battle to save the world from the Decepticons with special effects by Industrial Light & Magic, putting you on the front line of the action.
Finally, there's the world-famous Studio Tour, serving as the park's namesake since 1964. Offering an instant course in 100 years of film history, this ride-within-a-ride's centerpiece is King Kong 360 3D, a signature attraction created under the direction of Peter Jackson and Weta Digital that combines thrilling visceral effects with cutting edge rotational projection, climaxing with a titanic battle between a 25' tall Kong and a 35' tall voracious dinosaur (not Godzilla, but that movie drops next year).
For more information, visit www.universalstudioshollywood.com.
Justin has written about Japanese arts and entertainment since 2005. For more of his stories, visit http://jetaany.org/magazine.