Aug
21

Uncategorized

Comments Off

on Legal Eagles; Careers in Law hosted by US JETAA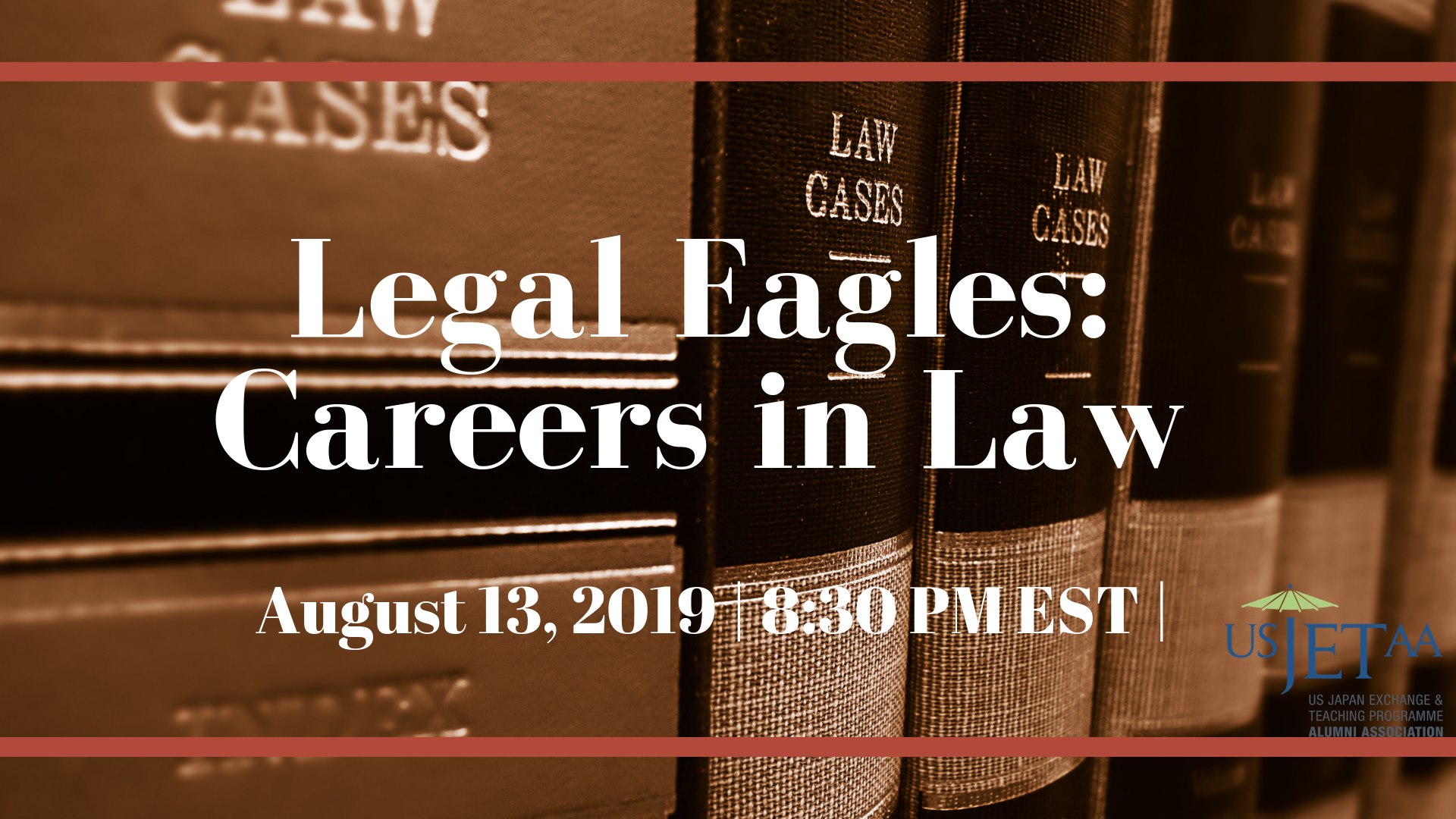 On August 13, 2019, US JETAA hosted a webinar for JET alumni interested in going to law school or pursuing a career in the legal field. Four JET alums: Steven Horowitz (Aichi-ken, 1992-1994), Andy McCarthy (Akita-ken, 2005-2008), Jonathan Carll (Niigata-shi, 2008-2011), and Sarah H. Lee (Kumamoto-ken, 2004-2006) shared their experiences in law school, what they've done after they finished, and gave some pointers for those considering a career in law. Feel free to check out the full webinar here.
More information about the speakers can be read below. Thanks to US JETAA for their biographies and hosting a wonderful webinar!
SPEAKERS
Steven Horowitz (Aichi, 1992-1994) is the Director of Legal English Programs at St. John's University School of Law where he has the good fortune to work with two other JET alumni! He has a JD from Duke Law School, an MA TESOL from CUNY-Hunter College, a CELTA Certificate, and a BA in History from the University of Pennsylvania. He has also studied law at Waseda University and interned for Japanese law firms.
Andy McCarthy (Akita, 2005-2008) works for a boutique law firm focusing specifically on oil and gas transactions in various oil and gas plays throughout the United States. After JET, Andy returned to the United States and studied at The Ohio State University Moritz College of Law, graduating in June, 2011. Shortly after graduation, Andy worked as a field landman in eastern Ohio for nine months, before joining a large oil and gas law firm in Houston, Texas in May, 2012. Andy is licensed to practice law in Texas, Ohio, and Nebraska.
Jonathan Carll, (Niigata City, 2008 – 2011) Graduated from law school in 2015. Licensed in Texas. He worked mostly as a Japanese document review attorney since that time. Prior to law school he worked for a year as a translator on similar Japanese document review projects.
Sarah H. Lee (Kumamoto, 2004-2006) is a legal aid attorney in Boston, MA with the Volunteer Lawyers Project of the Boston Bar Association. She currently practices housing and family law; her past practice also includes child welfare law, immigration, consumer law, and foreclosures. Sarah earned her B.A. from Wellesley College and her J.D. from The Ohio State University Moritz College of Law, where she was a member of The Ohio State Law Journal and a law clerk with the Legal Aid Society of Columbus.