Feb
28

Uncategorized

Comments Off

on Mothra "Leaps of Faith": A JETAANY Storytelling Event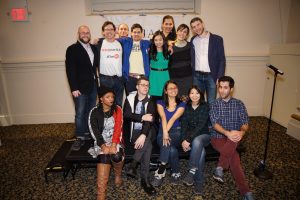 On Saturday, February 23rd, JETAANY hosted its first Mothra storytelling event (inspired by The Moth Storytelling Hour) at Hostelling International of New York City. The theme for the inaugural event was "Leaps of Faith." Hosted by Steven Horowitz (Aichi-ken, 1992-1994) and Kirsten Henning (Hyogo-ken, 1999-2002), they along with eight other JET alums gave a brief five-minute story of a time when they took a "Leap of Faith" in Japan.
Ann Chow (Hyogo-ken, 2007-2009) kicked off the storytelling by taking a Leap of Faith and going on a school trip. Even though she knew it was going to be expensive because most of the money she spent would be on seafood, which she couldn't eat, she decided to attend. Someone noticed Ann wasn't eating and the chef made a special meal for Ann with all kinds of chicken, beef, and pork. Michael Christian Younker (Ishikawa-ken, 2006-2008) reminded all of us of the glorious onsen experience. However, none of us probably had to experience onsen on the first day with their supervisor like Michael did. Next up was Catherine Khadabux (Ehime-ken, 2011-2015), who described one of her New Year's resolutions to use 100 different toilets. This was a challenging goal for her because her routine had become limited to work and home life during a personally difficult year in Japan. However, Catherine's new explorations led to an uplifting change in mindset. Steven (Aichi-ken, 1992-1994) followed Catherine and talked about a dojo, which he frequently passed by. He ended up taking a Leap of Faith and joined. Steven learned a bunch of different forms and techniques. Their dojo even won a tournament! To end the first half of the event, Alex Varney (Saga-ken, 2011-2013) told us an emotional story of Charles Keller who married Tomami Ayukawa, a Japanese national. However, Charles didn't know anything about his wife's family and took a Leap of Faith to reach out to various cities and prefectures in Japan in hopes of finding his wife's relatives after her passing. Luckily, Alex was able to connect Charles with his wife's sister, and the 85-year-old widower came to Japan to meet the family.
To start the second half of the Mothra Event, MariTi Blaise Lovell, (Hokkaido-ken, 2015-2018) spoke about her students. There were six girls and ten boys in her "best/worst" class. She likened the experience with her own neighborhood and learned she needed to earn the students' respect. After MartTi, Giuseppe "Joe" di Martino (Yamagata-ken, 2013-2018) described his Leap of Faith while traveling and having his final "hurrah" tour of Japan. He became very intrigued by a cat and the moral of his adventure was to "feed the cat!" Kirsten Henning (Hyogo-ken, 1999-2002) was a Kobe JET when it hosted England for the World Cup in 2002. She studied a plethora of David Beckham interviews, so she was able to understand everything he said. Following Kirsten was Zachary Piper (Kochi-ken, 2001-2004), who lived in a small village. He learned that many people were friendly and had lots of amazing parties, but learned to always knock before entering a house because some people liked to use "ropes and candles in their private time." Last, but not least was Rick Ambrosio (Ibaraki-ken, 2006-2008), who, like many of us, was adopted by a Japanese family. One day, Ai asked Rick if he wanted to go to the club on a Thursday night. Rick was excited about going to a club and took a Leap of Faith when he went with Ai and her mom. After driving around for hours and going deep into the rice fields, they approach a tacky building. Rick was perplexed that the club would be hidden in the building, but was still excited about going. However, Ai's mom found out the place was closed, so they decided to drive to the next club. At this point Rick was astonished that there was more than one club this far into the inaka. Some time later, they made it to another establishment, which was open and adorned with a massive neon crab sign. Rick was shocked to find out they had taken him to a "kani" or crab restaurant, not a club (many Japanese people have a hard time distinguishing their "r's" and "l's," so when Ai said clabu, Rick thought it was club and not crab).
Again, special thanks to our sponsors Hostelling International of New York City for providing the space, Ito En for providing the tea, and Lagunitas Brewing Company for donating the beer.