Dec
16

Uncategorized

Comments Off

on Hospitality Jobs
Emily Frank (Hokkaido, 1993-1996) is a professional career counselor and coach who has worked with and helped JET alumni all over the world. Her website is www.DenverCareerCatalyst.com. Today, she has provided some information regarding Hospitality Jobs!

Worked Overseas? Don't Forget about Hospitality Jobs!
Parle that français.
If you worked overseas in any capacity, chances are good that you speak at least a little of that language—maybe even a lot! Hospitality jobs will allow you to put those excellent and exciting language skills to good use.  You don't have to be fluent, just welcoming.  (And, of course, those who are fluent will find even more opportunities!)
Make friends & influence people.
Hotel and restaurant staff are in the business of making people happy. It's called hospitality for a reason, right?  They also get to rub elbows with all kinds of fascinating people.  And with your background in cultural sensitivity, you can become a rock star!
Kick 9-5 to the curb.
Does the idea of a standard workweek make you itchy or downright miserable? Hospitality is your gig!  Conference centers, hotels, and restaurants all need people to work a wide variety of shifts and in a range of positions.
Let your freak flag fly!
As a hospitality professional, your job is to create an experience, a meal, a fancy drink, a vacation. That means this is a fabulous field for the highly creative individual.  And people who pick up and move to another country are, in my experience, among the most creative people out there!
What the pros say:
Using my experience that I learned through the JET Program, I was fortunate to find a career in the vacation ownership industry.  I've been with the same company for the past 18 years and it amazes me the number of lives that we are able to affect in a positive way.  It's always wonderful to see generations of families on vacation together creating memories and knowing that we played a part in that is very rewarding. – Reid Yoshikawa, Regional Director of Marketing at Hilton Grand Vacations (Honolulu, HI)
Emily is passionate about helping creative professionals stop feeling stuck and start kicking ass.  She provides counseling to quirky, creative people so they can get jobs they love and flourish, both financially and personally.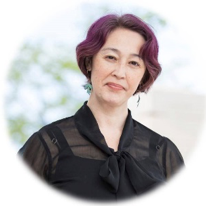 Emily Frank
www.DenverCareerCatalyst.com
Emily@DenverCareerCatalyst.com
720-839-9769
This sheet may be reproduced if the contents of the individual tips are unedited and the contact and biography information are left intact.