Oct
1

Uncategorized

Comments Off

on Kokoro Care Packages – Kickstarter Campaign
Lillian Rowlatt (Niigata-ken, 2003-2005) is starting a Kickstarter campaign that many JET alums might be interested in!

Kokoro Care Packages – Kickstarter campaign
Miss the incredible foods and flavors from Japan? Looking for a way to stay connected to Japan and share the food and culture with others? As a former JET ALT, I know I do and my passion for Japanese food lead me to launch a business which will be delivering those amazing foods we miss and love from Japan.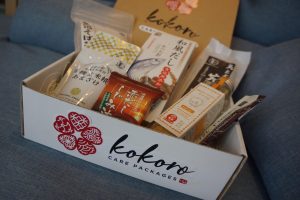 Kokoro Care Packages creates specially curated boxes of high-quality and delicious Japanese foods and will be delivering straight from Japan to your door. Each item in our Care Package is carefully selected for its purity, ease of use and incredible taste. Many of these foods can't be found outside of Japan and all of them represent the amazing foods we miss from Japan.
We can't wait to send you our first ever Care Packages and have launched a Kickstarter campaign to help get our business of the ground and running. We would greatly appreciate your support as we hope you'll love our idea and products as much as we do!