May
7

Uncategorized

Comments Off

on JETAA Chapter Beats May 2018
JETAA Chapter Beat is a periodic mosaic of events taking place in the JETAA sphere. Compiled by AJET's Director of Alumni Relations Megan Buhagiar (Ishikawa Prefecture, 2017- Present)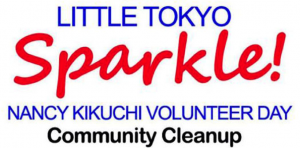 JETAA SC
Little Tokyo Sparkle
When: Saturday, May 12th
Time: 9am-12pm
Where: Japanese American Cultural & Community Center-JACCC
244 S San Pedro St, Los Angeles, California 90012
Come on out Saturday May 12th to help little Tokyo sparkle by cleaning up streets and store fronts!!
Volunteers meet at the JACCC plaza at 9am on May 12th. Bring a hat, sunscreen, gloves, and clothes that you don't mind getting a little dirty. If you have a green bandana from last year, bring that too! Light lunch will be provided.
For more information email snagano@aol.com
 2. JETAA UK
London Chapter PUB QUIZ
Description
The JETAA London PUB QUIZ IS BACK!
Sharpen up on your trivia and clear out those cranial cobwebs – JETAA London is hosting a pub quiz on Thursday 10 May 2017!
Teams: up to 6 people
Cost: £2 per person
Venue: The Somers Town Coffee House Basement Bar (The Cosy Kettle), NW1 1HS (between Euston and King's Cross stations)
Quiz starts at 7:30pm so ARRIVE EARLY to register your team and bag yourself some seats as the pub quiz is always popular! The Committee will be there from 6:30pm.
Feel free to turn up alone or with a couple of friends even if you don't have a full team! We're happy to introduce you to some more team members. This event is open to anyone who would like to demonstrate their quiz prowess with new and old friends, and please feel free to invite non-JET friends along!
Prize = Winning team gets the pot!
Date:         Thursday, 10th May
Time:                  19:00 – 21:00
Place:       Somerstown Coffee House
60 Charlton Street
LONDON
NW1 1HS
United Kingdom

3. JETAA NY
Japan Day at Central Park
On Sunday, May 13th (Mothers' Day), JETAANY and the Japan Society will be hosting the Yo-Yo Balloon Tent at Japan Day in Central Park and we are looking for volunteers!
We'll be helping hundreds of visitors "fish" for Yo-Yo Balloons and need JET Alumni volunteers to assist in many areas of the booth – including greeting the guests, explaining the game, prepping water balloons, and assisting children with the game. All volunteers will get a delicious bento lunch, a drink and a free Japan Day t-shirt, plus meet tons of fun people and teach the NYC community a fun Japanese festival game.
This year we are having THREE shifts.  If you are available for more than one shift that is great! Please don't be late because it affects when other volunteers can finish their shift.
#1 Morning shift: 8am-11am
#2 Mid-day shift: 10:30am – 2pm FULL
#3 Afternoon shift: 1:30pm – 5pm
 It's a super fun day, so we'll hope you'll be able to join us! Check out photos from last year!
Questions? Contact Monica.Yuki@jetaausa.com
Location: Naumburg Bandshell, Central Park
Date:         Sunday, 13th May
Time:                  08:00 – 17:00
Place:       Naumburg Bandshell, Central Park
4. JETAA NC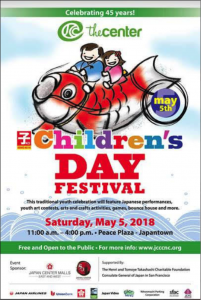 Children's Day Festival – Volunteer Opportunity
It's almost time for Golden Week!  And that means, Children's Day!  JCCCNC is organizing the Children's Day Festival in SF Japantown and are looking for volunteers. Come sign up to volunteer and enjoy Japanese performances, youth art contests, arts and crafts activities, games, bounce house, and more!!
When: Saturday, May 5, 2018
Volunteer Shift Times:  9 AM -1:30 PM and 1 PM – 5:30 PM
Where: Peace Plaza, Japantown, San Francisco
Sign-up Sheet: http://bit.ly/2018childrensdayvolunteers
Lunch will be provided.
Want to volunteer beforehand?  From April 30 to May 9, kindergarten through 2nd graders will be taking a field trip to JCCCNC to learn about Japanese Children's Day and Girl's Day holidays, learn Japanese folk tale, and do crafts activity. You will have the opportunity to assist in these activities.
When:        April 30 – May 3 and May 7 – May 9
Volunteer Shift Times:  9:45 AM -11 AM and 11:15 AM – 12:30 PM
Where:      JCCCNC 1840 Sutter Street, SF, CA 94115
Sign-up Sheet: http://bit.ly/2018jcccncschoolvisitsvolunteers
More information here.
5. JETAA WJ
Job Hunting and Business Manners Seminar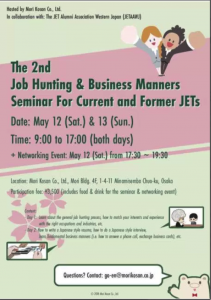 The JET Alumni Association Western Japan (JETAAWJ) will be hosting a two-day job hunting and business manners seminar in Osaka with Mori Kosan Co., Ltd., a firm that supports foreigners seeking employment in Japan. The seminar will be from 9:00 to 17:00 on May 12 (Sat.) and 13 (Sun.). Attendees will learn things like: how to write a Japanese-style resume, prepare for an interview, exchange business cards, answer phone calls in Japanese, etc.
The seminar participation fee is 3500 yen (includes fee for networking event). There will also be a networking event on the night of May 12 (Sat.) from 17:30 to 19:30, with special guests from organizations around the Kansai area.
For those who would like to attend, please RSVP here. Priority will be given to JET alumni, but current JETs can still apply.  A schedule with more detailed information on the seminar will be sent to applicants at the end of April.
*The seminar will be conducted in Japanese, so it is recommended for participants to have at least a JLPT N3 level of Japanese or higher.
Date:         Saturday, May 12th – Sunday, May 13th
Time:                  09:00 – 17:00
Place:       Mori Kosan Co., Ltd.,
Mori Bldg. 1-4-11, Minamisemba Chuo-ku,
Osaka
Price:         ¥3, 500.00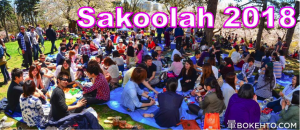 6. JETAA Toronto
Sakoolah 2018
Details
Hanami in High Park 2018!
トロントのハイパークで日本の花見を!
A free picnic in support of friendship, cultural exchange, nature, and beauty, brought to you by:
JETAA Toronto & JCSA @ the University of Toronto
++++
At this point, we don't know when the cherry blossoms will bloom, but we are aiming for Sunday, May 6th at 12 noon. We may need to change the date again, so please continue to check www.facebook.com/Sakoolah for updates.
We will provide some seating, frisbees, and fun, but please BringYourOwnFood, BYOGames, BYOSportsEquipment, etc.
Date:         6th May
Time:                  12:00 – 15:00 EDT
Place:       High Park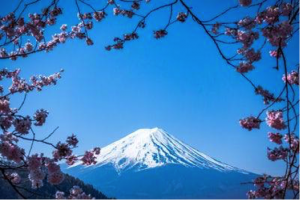 7. JETAA Florida
Japanese Children's Day Celebration
Details
Children's Day Celebration will be held on Saturday, May 26 from 11 a.m. to 2 p.m. at Saint Sylvester Catholic Church, 6464 Gulf Breeze Parkway in Gulf Breeze. This is free community event. This event provides children a variety of Japanese cultural activities including yo-yo catching game, origami, face paint, calligraphy contest, mochi (sticky rice) sampling, Okinawa taiko and Karate performance, etc. There will be food vendors offering various Japanese dishes.
Date:         May 26th
Time:                  11:00 – 14:00 CTD
Place:       St Sylvester Catholic Church
6464 Gulf Breeze Pkwy, Gulf Breeze
FLORIDA, 32563
8. JETAA Rocky Mountain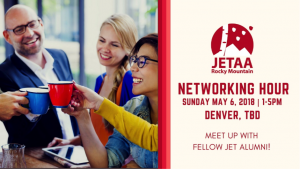 Networking Hour
Details
Come meet up with other JET Alum! For the first 2 hours (1-3pm), we will be having our monthly meeting to plan upcoming events for the year. All is welcome to join and contribute in the discussion :) we're always interested in your opinions to make our events a success, so we hope you come!
The Meeting will be at the Sakura Square Mezzanine. A big thank you to Sakura Square LLC and the Sakura Foundation for their wonderful support of JETAA.
After, starting at 3, we will be doing our Networking Hour where we will socialize and catch up :) If you can't make it to the meeting, we hope you make it to this half of the event.
We'll be heading to Jagged Mountain Brewery
Looking forward to seeing you!
Date:         May 6th
Time:                  13:00 – 17:00 MDT
Place:       Sakura Square,
1215 19th Street
Denver, Colorado 80202
9. JETAA Portland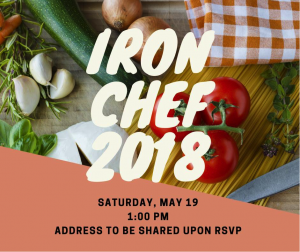 JETAA Iron Chef
Details
SAVE THE DATE!
Iron Chef 2018 is coming your way.
It's time to sharpen those knives and dig up your best recipes as contestants, judges, and other hungry mouths gather for one of our most popular (and delicious) events of the year!
This year's secret ingredient is miso, courtesy of our friends at Jorinji Miso!
Stay tuned for more information, including how to RSVP and get directions.
Bring your family & friends!
Date:         May 19th
Time:                  13:00 – 16:00 PTD
Place:       SE Portland
10. JETAA Minnesota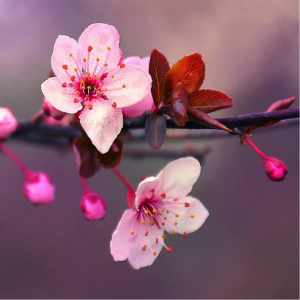 Hanami in Minnesota
Details
This is just tentative and bloom-based!
We'll keep you posted on the time and location weather depending!!! 🌸🌸🌸
It's time for our annual Hanami Picnic! The crab apple tree blossoms are nearly in full bloom. Hopefully the weather will be perfect as well!
Bring your family and friends for games, food, and conversation at Lyndale Park on the NE side of Lake Harriet (location is near the Rose Garden).
JETAAMN will provide sandwiches for all who come. All that you need to bring are your own beverages as well as a dish to share with the group.
In addition, feel free to bring some outdoor games/activities to play with others! We will try to bring some too!
How the potluck dishes will be organized:
**Last names that begin with the letters A-L bring a side dish, salad, or chips.**
**Last names that begin with the letters M-Z bring fruit or a dessert.**
Please RSVP by emailing us or through out Facebook event page!!
Date:         May 12th
Time:                  12:00 – 15:00 CDT
Place:       Lyndale Park
4124 Roseway Road,
Minneapolis,
Minnesota 55409