Mar
2

Uncategorized

Comments Off

on JETAA Chapter Beats March 2018
JETAA Chapter Beat is a periodic mosaic of events taking place in the JETAA sphere. Compiled by A
JET's Director of Alumni Relations Megan Buhagiar (Ishikawa Prefecture, 2017- Present).
1. JETAA San Diego
13th Annual Cherry Blossom Festival
Time: 10am-6pm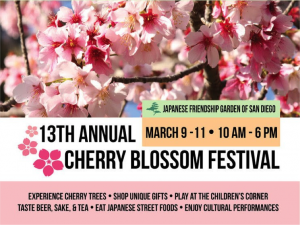 When: March 9th- March 11th 
Where: Japanese Friendship Garden of San Diego 
2215 Pan American Rd E, San Diego, CA 92101

Get ready for the Japanese Friendship Garden's 13th annual Cherry Blossom Festival on March 9th, 10th, and 11th! Aside from basking under beautiful cherry blossoms there will be plenty of other activities and fun for all ages! Some such examples include, beer tasting, cultural performances, and a children's corner! You won't want to miss it. 


2. JETAA New York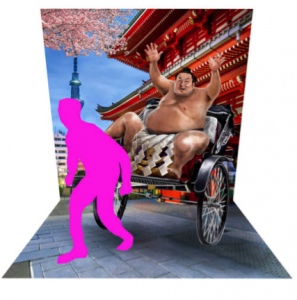 Japan Week at Grand Central Terminal
Date: March 14-17, 2018
Place: Grand Central Terminal, Vanderbilt Hall
Japan Week returns to Vanderbilt Hall in Grand Central Station! From March 14-17, the hall transforms into a wonderland that showcases many splendours of Japan – and this year includes a 3D Trick Art installation.
https://www.japanweek.org/
3. JETAA Toronto
Aquarium Adventure!
Join JETAA Toronto this March as we escape the winter cold with a jaunt through North America's longest underwater viewing tunnel. Let's learn about our aquatic friends from all over the world together!
Date: Sunday, March 4th
Time: 1:30pm
Location: Ripley's Aquarium
Price: JETAA members $10; JETAA members' children (up to age 13): free; non-members: $33. 
Please note, we have limited space; tickets are available on a first come first served basis at https://jetaaaquarium.bpt.me/
Please contact Alena at senpai@jetaatoronto.ca if you have any questions.
Check out our facebook event here
Posted in JETAA Events, JETAA Senpai
4. JETAA Chicago
March Member Meeting
Our March Member Meeting will be a special meeting. It will be part meeting, part workshop. Dinner will still be provided. As always, any questions can be emailed to info@jetaachicago.com
Call in option will be available.
Join us for an interactive workshop to build your skills in project management and event planning led by JETAA alumna Shannon Copp. You'll learn concrete methods for successful event planning as well as best practices for managing projects as small as planning a dinner outing to as large as a nationwide campaign.
To get the most out of the workshop, come with an event or project that's on your mind, something you haven't done a lot of planning on yet. There will be time at the end for you to ask questions and share any best practices you may have as well. See you there.
When: Monday, March 5th
Time: 18:30 – 20"30 CST
Place: 177 N. State Street, 7th floor, Chicago IL 60601
5. JETAA Ottowa
Board Games Day At The Loft
Thank you everyone for coming out to make the JETAA's February potluck event a smashing success! For our second event of the year, we'd thought we'd mix things up with a dice roll or two at Ottawa's own THE LOFT Board Game lounge! Come join us Sunday afternoon for some fun and games with friends!
If this sounds like something you'd want in on, please click "going" on the Facebook events page and fill out this form below to let us know a little more about you.
Form for Board Games Day @ The Loft – fill out if attending the event
The Details:
Date: Sunday, March 18th 2018
Time: from 1:30pm to wherever the night takes us!
Where: The Loft Board Game Lounge (2nd Floor, 14 Waller St, Ottawa, ON K1N 9C4)
What to Bring: $6 for the Loft's Stay-and-Play charge. The Loft also offers drinks and food, so keep that in mind if you plan join in on the fun for a few hours!
Hope to see you all there!
6. JETAA Portland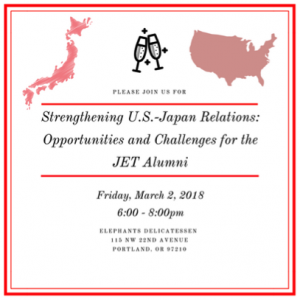 Sasakawa USA and JETAA Portland Dinner Reception
When: Friday, March 2nd
Time: 18:00 – 20:00
Place: Elephants Delicatessen, 115 NW 22nd Ave., Portland, OR 97210
As part of Sasakawa USA's 'The Alliance Working in America' series and in partnership with the JET Alumni Association of Portland, we invite you to join a special dinner discussion with Bill Clifford (Shizuoka ALT, 1987-89) President and CEO of World Affairs Councils of America, and Doug Smith (Okayama CIR, 1987-89), Business Development Manager, Port of Portland. The discussion will explore how the JET Programme experience has contributed to their career and their role in U.S. – Japan relations, and the challenges and opportunities ahead for JET alumni to contribute towards strengthening U.S. – Japan relations in their personal lives and networks.
7. JETAA WA
Our Perth's Sake Festival Sandra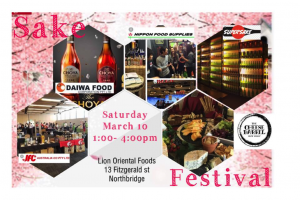 Lion Oriental Foods Especially Invites you to Our Perth's Sake Festival Sandra our Sake Specialists has invited all our suppliers to join us on this festive event. We will showcase a beautiful variation of different types of sake and plum wine .

If you have never tried Sake before this is your chance!!

Participants attending:
Nippon Foods Supplies
Showcasing: Sawahime premium sake and Orion Beer
Daiwa Foods
Showcasing: New Choya range
Supersake
Showcasing:
Namazake and Plum wine
JFC
Showcasing: Ippin sake ,Hakutsuru sake, Urakasumi Sake Brewery , Hakkaisan Sake Brewery..
The Cheese Barrel from Swan Valley together with Sandra Sake Specialist.
showcasing :7 types of different cheeses pairing with Sake.

Bring your friends and family😙to try delicious umeshu, found out why Japanese plum wines are now the biggest trend all around the world and Japanese sake where Rice is responsible for all those unique flavours!

Join us for this festive event feel free to dress up in Japan 🇯🇵 style . Come and see Perth's largest collection of Sake 🍶and Plum 🍹and Beer. 🍺🍺Kampai.🍻

Like or Follow Us on Facebook & Instagram. Please help spread the ❤ around for this free tasting event and follow us for more future event and news
8. JETAA Canberra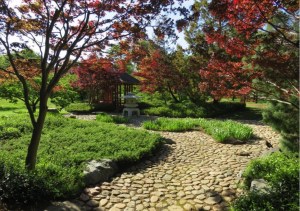 Memorial Service for Earthquake and Tsunami Victims in Japan
Date: 11th March
Time: 16:30 – 18:00 UTC +11
Place: Nara Canberra Park, Flynn Drive, Canberra, Australian Capital Territory 200
Details
Seven years have passed since Japan was devastated by a magnitude 9 earthquake and tsunami that struck the Tohoku and northern Kanto regions.

Each year, concerned Canberrans, friends of Japan and members of the Japanese community gather at the Canberra-Nara Peace Park to remember the victims and to show our on-going support for those who are recovering from the disaster.

Lighting a candle at the service will be an opportunity to send our prayers and thoughts to the victims and the displaced, and at this gathering we will renew our pledge to support the survivors into the future. The newly constructed Peace Bell located within the park will be rung during the service.
9. JETAA SA
Fringe Festival: Koto Music Concert – "10 Years in Adelaide"
When: Saturday, March 3
Time: 4:30pm – 5:30pm
Where: Garage international Adelaide Town Hall, 128 King William Street (Entry via Pirie Street), Adelaide SA 5000
Description:
TICKETED EVENT

2018 is Etsuko Kawaguchi's 10th year in the Adelaide Fringe. Her music has slowly gained a loyal audience. "Blissfully hypnotic climaxing with dissonance and musical momentum. Simply close your eyes and journey to the land and people of Japan." (Adelaide Review) This concert will express her gratitude to all who appreciate and enjoy her music.
Presented by: Sui no Kai & The Garage International
Etsuko Kawaguchi, founder and director of "Sui no Kai," was born in Tokyo. She graduated from Tokyo Arts University in the traditional Japanese Music department and then joined the NHK Traditional Japanese Music Academy and performed with them all over Japan and overseas. Etsuko is noted for her contemporary input into the traditional instrument, thus appealing to a wider and younger audience. Her virtuosity and flexibility in her playing communicates and reaches out to those who are yet not familiar with this instrument. 
The koto is a 13 stringed Japanese lute. It is a string instrument, yet also a percussion instrument, for the strings are plucked as well as beaten. 
Melodic yet rhythmic, the koto an appeal for all which has been proven for this will be her 10th year in Adelaide.

See pricing and full details here: https://adelaidefringe.com.au/fringetix/koto-music-concert-10-years-in-adelaide-af2018
10. JETAA UK (NW)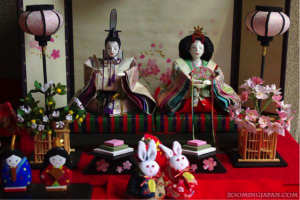 Hina Matsuri Liverpool
Date: 6th March
Time: 19:00 – 22:00 UTC
Place: Sugar and Dice Board Game Café, 33A Cornhill, L1 8DP Liverpool
Details:
Board games, matcha cheese cake and merriment await you at our next event, a celebration of Hinamatsuri (Girls Day). Non JETAA members, Go enthusiasts and even men are welcome!
A Japanese-themed evening to celebrate Hinamatsuri, Girls Day. Try your hand at making sushi, indulge in some matcha cake, and enjoy some Japanese board games with the local Go club.

Cost: £5 per person. (This excludes anything extra purchased at the cafe.)

RSVP: nwevents@jetaa.co.uk . Space in the cafe is limited so book with us in advance to secure your place.