By JQ magazine editor Justin Tedaldi (CIR Kobe-shi, 2001-02). Justin has written about Japanese arts and entertainment for JETAA since 2005. For more of his articles, click here.
From the silver screen to the stage to J-pop, November is just as colorful as the autumn leaves drifting through the air. Add these live events to the mix and you've got an irresistibly epic rundown.
This month's highlights include:
Now through Dec. 16
Yayoi Kusama: Festival of Life and Infinity Nets
David Zwirner Galleries, 525 and 533 West 19th Street and 34 East 69th Street
Free
Yayoi Kusama's work has transcended some of the most important art movements of the second half of the twentieth century, including Pop Art and Minimalism. The exhibitions will feature sixty-six paintings from her iconic My Eternal Soul series, new large-scale flower sculptures, a polka-dotted environment, and two Infinity Mirror Rooms in the Chelsea locations, and a selection of new Infinity Nets paintings uptown. The celebrated Infinity Mirror Rooms invite the viewer to experience a sense of infinity through the play of reflections between the circular shapes of light and the surrounding mirrors. The Infinity Net paintings on view at the gallery's uptown location are the latest works in a series begun in New York in the 1950s, when Abstract Expressionism was still the dominant style. These canvases embodied a radical departure, featuring minutely painted nets across monochrome backgrounds.
Nov. 3-5
Japan Society, 333 East 47th Street
$95, $75 Japan Society members, seniors and students (Nov. 4-5 only)
Part of Japan Society's NOH-NOW series, celebrating its 110th anniversary! Hiroshi Sugimoto, acclaimed visual artist and traditional Japanese arts connoisseur, offers his most recent noh piece. In this new play, the ghost of revered 16th century tea master Sen-no-Rikyu appears to tell the story of his tragic death by forced suicide. Opening a door onto medieval Japan, the program begins with a tea ceremony by Sen So'oku, direct descendent of Sen-no-Rikyu, and features Japan's top noh actors and musicians. Performed in Japanese with English titles.
Nov. 16-Dec. 3
SoHo Playhouse, 15 Vandam Street
$30
Universally funny and yet so very Japanese. Katsura Sunshine makes his highly-anticipated off-Broadway debut! As the world's first bilingual rakugo-ka (a traditional Japanese comic storyteller), he is an international ambassador of this 400-year tradition. Fresh off 10 smash-hit performances in London's West End, he will have a series of performances bringing his unique yet authentic rakugo to Off Broadway—in Japanese and English!
Nov. 17-19
Jacob K. Javits Convention Center, 655 West 34th Street
$35-$60; VIP passes also available
"Anime and manga have taken the world by storm. While New York City is the largest city in America, no focused event championing Japanese pop culture calls it home and with a population of eight million there's a massive demand here," says Peter Tatara, LeftField Media's vice president of anime events. "Anime NYC will be a celebration of this community of fans and a platform for publishers and studios from both sides of the Pacific to be in front of the eyes of attendees, trendsetters, and people who aren't yet familiar with the worlds of anime and manga. We're looking forward to a vibrant, dedicated celebration of everything in Japan that's nerdy and cool, in the media capital of the world!"
In this inaugural three-day celebration of Japanese animation powered by Crunchyroll, attendees will be able to view exclusive anime screenings and meet major guests courtesy of international animation and manga publishers; play the latest in Japanese gaming technology; chow down on Japanese delicacies and fusion cuisine; rock out to musical guests direct from Tokyo; and more! An estimated 20,000 fans are expected to attend, with special guests featuring the English-language cast of Sailor Moon Crystal for a panel screening; the U.S. premieres of the films Gundam Thunderbolt: Bandit Flower and Fullmetal Alchemist, and the NY Ramen Summit, featuring a discussion between famed ramen chefs from around the city.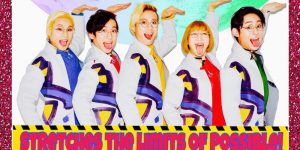 Saturday, Nov. 25; 1:00 p.m. and 7:00 p.m.
Broadway Comedy Club, 318 West 53rd Street
$15, $5 students
Jikken Dojo is an innovative performing artist troupe from Japan that weaves together elements of hip-hop, breakdance, comedy and Japanese culture to entertain and stretch the limits of your imagination! Fresh off a successful performance at Japan's prestigious 21st Century Museum of Contemporary Art, they've won first place at Japan's top three dance competitions (including an event hosted by the prestigious Cirque Du Soleil), and set a new world record for consecutive single-handed spins! A portion of all proceeds for these all-ages shows will be donated to the Lulu & Leo Fund, which helps children and families foster creative confidence and build resilience through the principles of creativity.
Nov. 26-27; Nov. 29
Various locations
$12.50-$13.50
The concluding film of Studio Ghibli Fest 2017! From director Hayao Miyazaki, Howl's Moving Castle is an Academy Award-nominated acclaimed fantasy based on the novel of the same name. Sophie, an average teenage girl working in a hat shop, finds her life thrown into turmoil when she is literally swept off her feet by a handsome but mysterious wizard named Howl. But after this chance meeting, the young girl is turned into a 90-year old woman by the vain, conniving Witch of the Waste. Embarking on an incredible adventure to lift the curse, she finds refuge in Howl's magical moving castle. As the true power of Howl's wizardry is revealed, and his relationship with Sophie deepens, our young grey heroine finds herself fighting to protect them both from a dangerous war of sorcery that threatens their world. Presented in English on November 26 and 29 and subtitled on November 27.
Nov. 29-Dec. 2
BAM Fisher, 321 Ashland Place
$25
"This is my 17th straight day without sleep." A Japanese housewife's mundane existence of chores and grocery shopping explodes when a haunting dream leads her to cast sleep aside, releasing her into a world of danger and the thrill of the unknown. Based on the 1994 short story by the beloved Japanese author Haruki Murakami (The Wind-Up Bird Chronicle), this hypnotic physical theater piece by Brooklyn-based, Obie Award-winning company Ripe Time follows one woman beyond the bounds of society. Led by a powerhouse female creative team—including director Rachel Dickstein and playwright Naomi Iizuka—and featuring an original score performed live by NewBorn Trio, this playful and eerie journey takes audiences through a wakeful realm where bodies float, ghosts lurk, and daylight rules no longer apply.
Thursday, Nov. 30, 8:00 p.m.
B.B. King Blues Club & Grill, 237 West 42nd Street
$35-$79.50
Keiko Matsui's music speaks to the hearts and souls of fans around the world, transcending borders and building bridges among people who share a common appreciation of honest artistry and cultural exchange. Journey to the Heart, her 27th recording as a leader, marks the 30th anniversary since her recording debut and is her boldest statement yet. On Journey to the Heart, Matsui more than delivers what she has come to be loved for breathtakingly beautiful transcendent melodies that transport the listener. A master storyteller, she crafts passionate and emotive songs with lush harmonies and global rhythms to create timeless musical anthems. This special evening is entitled Tidings of Joy and Jazz, and features saxophone journeyman Steve Grove.
Dec. 7-9, 7:30 p.m.
Japan Society, 333 East 47th Street
$35, $30 Japan Society members
Based on a 14th-century noh play with the same title, Hanjo, by provocative Japanese author Yukio Mishima, is a timeless tale of love, loneliness and betrayal. New York's beloved SITI Company unveils Mishima's story as a bilingual triptych in which the actors rotate through each character role. The production weaves noh theater's elegance, expressiveness and economy, together with techniques of contemporary theater, to shed light on identity, gender, language, and ultimately the art of acting. Performed in English and Japanese, the Dec. 7 performance is followed by a MetLife Meet-the-Artists Reception; Dec. 8 is followed by an artist Q&A.
Saturday, Dec. 9, 5:00 p.m.-9:00 p.m.
J-Collabo Annual Holiday Party
J-Collabo, 300 7th Street (Brooklyn)
$30 ($50 for two), limited to 100; VIP $300 ($500 for two), limited to 20; members free. RSVP by Dec. 2 to hsagaseki@gmail.com or call 347-987-3217.
Following the launch of their first-ever Annual Group Exhibition and Showcase from Dec. 8-23, join Brooklyn nonprofit J-Collabo for an evening of celebration! Performances by percussionist/singer-songwriter Mr. Reed and electronic music producer/violinist Kenji Williams top up a night of art, food, tea ceremony and music. Singer AK Akemi Kakihara is the night's MC, with Dan Grunebaum (Saiko) spinning Japanese tunes between sets.
Dec. 13-15, 7:30 p.m.
Kota Yamazaki / Fluid hug-hug — Darkness Odyssey Part 2: I or Hallucination 
Baryshnikov Arts Center, 450 West 37th Street
$25
Philosophy, dance, and folklore merge in Bessie Award-winning choreographer Kota Yamazaki's latest work inspired by French writers Gilles Deleuze and Félix Guattari, butoh pioneer Tatsumi Hijikata's notion of a "dance of darkness," and Japan's Goze music tradition. Darkness Odyssey Part 2: I or Hallucination explores the fragile body, the vaporizing body, and the body as an absorbing force. The choreographer performs with dancers Julian Barnett, Raja Feather Kelly, Joanna Kotze, and Mina Nishimura to an original score by Kenta Nagai and lighting by Thomas Dunn.
Friday, Dec. 29, 7:30 p.m.
New Jersey Performing Arts Center (Newark)
$39-$100
Created and hosted by game industry superstar Tommy Tallarico, Video Games Live includes a full symphony, a choir and accomplished soloists, all accompanied by state-of-the-art synchronized video and lighting effects, electronic percussion, live action, and unique interactive segments, creating an explosive, one-of-a-kind event for all ages. This interactive event combines the energy of a rock concert with the power of a symphonic performance, featuring music from the most popular video games of all time and special guests—all serving as an ideal way to introduce new audiences to the power of symphonic music. The all-new 2017 edition of Video Games Live will feature music from Mega Man, Sonic the Hedgehog, Metal Gear Solid, Kingdom Hearts, and many more!
Want to stay in the loop on future events? Follow Justin on Facebook and Twitter.