Sep
15

Japan Society Round-up, Uncategorized

Comments Off

on JAPAN STANDS WITH HOUSTON FUND Created by JAS Houston
             Posted by Cori M. Hallock (Hokkaido 2007-2008)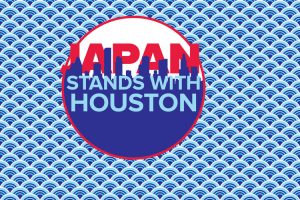 In response to the damage caused by Hurricane Harvey, the Japan-America Society of Houston (JASH) established the JAPAN STANDS WITH HOUSTON FUND. Gifts to the Fund will be donated to local Houston charities supporting recovery efforts.
JASH created the fund in response to an outpouring of concern from Japan over the severity of flooding and damage caused by Hurricane Harvey. JASH's website states:
Houston,
You were there for us in 2011 to assist people and communities affected by the Great East Japan Earthquake and Tsunami. You also came to our aid in 2016 as we responded to the Kumamoto Earthquake.  
Now, we are here to support you. JAPAN STANDS WITH HOUSTON. 
The Fund will serve as the focal point of support received from Japan and from friends of the U.S.-Japan relationship. All contributions will be utilized to support trusted local Houston charities with five-star ratings on Charity Navigator.
You can donate by check, wire transfer, or credit card through the JAPAN STANDS WITH HOUSTON FUND page. More information is available in English and Japanese on the fund page.
Hurricane Harvey hit Houston on August 30th, 2017 causing severe flooding and damage to thousands of homes. For updates on JAPAN STANDS WITH HOUSTON relief efforts, follow the JASH Facebook page.