Nov
9

Uncategorized

Comments Off

on "Miss Hokusai" – Film Review from the 19th Japanese Film Festival (Australia and New Zealand)
Eden Law (Fukushima-ken ALT 2010-2011) reviews "Miss Hokusai", a film about the little known but just as talented daughter of Hokusai. Go out and grab your pre-school paint kit.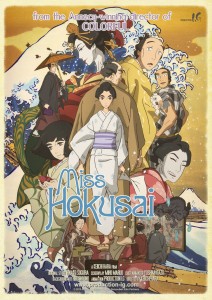 And you thought your Instagram pics were pretty sweet
The name Hokusai is instantly recognisable – or should be, given that his most famous work, The Great Wave Over Kanagawa, has been credited with helping give birth to impressionistic art in the 19th century. Prodigious in his output and talent, he covered a large and diverse range of subject matter, from courtesans and actors, to landscapes, ordinary life and erotica, using not just traditional Japanese methods but also experimenting with Western styles and materials. This probably explains the rather surprising and unexpected use of a modern electric guitar number that opens the film – a melding of new and traditional probably.
The story of the man as a legendary figure in art is well documented, but it has obscured other aspects of his story, such as his familial relationships. Such is the case with his daughter Oei, the "Miss Hokusai" of this movie, who not only inherited her father's talent, but seemed to be a fascinating personality in her own right. When I say "seemed to be", it's because not much unfortunately is known about Oei's life. So overshadowed is she that, apart from 10 artwork confirmed to be her work, the authorship of others are disputed, as she worked in such close partnership with her father, that their artistic output has been tightly tangled and woven, which the film expertly alludes to in several scenes.
Because of the gaps in the historical Oei's story, a straight-out traditionally told biography would be impossible. Instead, "Miss Hokusai" is more of a collection of scenes and situations, like the historical manga "Sarusuberi" (by Sugiura Hinako) that the film is adapted from. Oei is fleshed out by her interactions with the people around her – whether it be her contemptuous treatment of "useless" men, which includes her shabby and flaky father (whom she only ever refers to by name rather than by the usual honorifics); her patient and protective love for her sightless younger sister Onao; or her clumsy and shy missteps in love (pining for one, and completely oblivious to another). All these experiences, or lack thereof, is shown to inform her ability as an artist, whether as inspiration, education or as a source of frustration (in more ways than one).
Gorgeously animated, the film pays tribute to the art and skill of the Hokusai duo, drawing from the style and palette of their work, sometimes even including some famous pieces as scenic backdrops here and there with knowing wink at the audience. 19th century Edo is stunningly brought to life, but like the floating world of the ukiyo-e that Hokusai produced, it has a dreamlike quality of another world – the film quite vividly employs some touches of supernatural effects as a poetic illustration of this point. The artistic ability of Hokusai and Oei are depicted as being mystical, the duo being basically spiritual mediums, rare individuals who can see and depict this other world for mundanes to see, from capturing the dragon's twisting, sinewy body and gargantuan claws through the storm clouds, to vividly bringing to life the symbolism and weight of religious imagery, to inspire or terrify. Contemplative and beautiful, "Miss Hokusai" deserves widespread viewing.