May
5

Blogs, Food & Drink, I'll Make It Myself, Writers

Comments Off

on I'll Make It Myself!: Add a Dash of Cultural Imperialism: Japanese Food and Cooking (1956), Part 4
L.M. (CIR Ishikawa-ken, Anamizu, 2009-11) is the editor of The Ishikawa JET Kitchen: Cooking in Japan Without a Fight. Ze works in international student exchange; writes I'll Make It Myself!, a blog about food culture in Japan and the US; curates The Rice Cooker Chronicles, a series of essays by JETs and JET alumni on the theme of cooking/eating and being alone in Japan; and admins The JET Alumni Culinary Group on LinkedIn.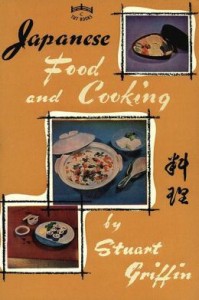 Part 4 on a series about Stuart Griffin's Japanese Food and Cooking (1956). 
We've made it to the sushi chapter, readers!
I've spoken with several people about Griffin's choice to describe sushi (well, nigiri sushi) as "rice sandwiches." While I think most Americans in 2015 have some idea of what sushi is, in the 1950s, outside of Japanese-American communities, some explanation may have been required. Reactions to "rice sandwiches" have ranged from "no, that makes sense" to "aren't they more like hors d'oeuvres?"* to (my favorite) "Do you know how sandwiches work?"