Apr
5

Article/Journalism, JETAA Chapters, JQ Magazine, Music

Comments Off

on JQ Magazine: NY JET Alum Collaborates with Japanese Expats on '2nd Avenue'
By Julio Perez Jr. (Kyoto-shi, 2011-13) for JQ magazine. A bibliophile, writer, translator, and graduate from Columbia University, Julio is currently working at Ishikawa Prefecture's New York office while seeking opportunities with publications in New York. Follow his enthusiasm for Japan, literature, and board gaming on his blog and Twitter @brittlejules.
She's an aspiring actress with visa problems; he's a gay law student and newly homeless. Can a fake marriage solve their problems? Mariko and Taichi are the stars of a goofy Web comedy filmed on location in New York called 2nd Avenue. You can tune into their zany adventures on YouTube and view the entire six-episode first season, which ended this past February.
The creative team behind 2nd Avenue includes Mari Kawade (director), Maho Honda (who plays Mariko), and Tsukasa Kondo (who plays Taichi). Kondo, who also is the writer for the series, was inspired by the many Web series online and decided to try writing something that would never be seen on Japanese TV, but would have a place on YouTube. He adds that his biggest inspirations for the story are "the actress Maho Honda, my life in New York as a gay man, and American TV shows." Honda and Kawade also cite the diversity of New York City itself, and the stories of what people do just to survive in it, as a significant creative inspiration.
As you may have guessed, you can't do something awesome involving Japan in New York without some JET alumni getting involved. Tony Waldman (Mie-ken, 2005-09) and his group New Beard provide the soundtrack for the show. The idea for this pairing took root after he met Kawade at the JET Alumni Association of New York's annual Meishi Exchange event in 2013.
"She mentioned that she was looking for music for this Web series," Waldman says. "We exchanged contact info and kept in touch. Many months later, she…asked if we could use my band New Beard's music in the show. Us here in Beard Town (Williamsburg) gave her the OK, and our music became the soundtrack to the entire show…a true JETAANY Meishi Exchange success story!"
2nd Avenue samples from New Beard's album, City, but as Waldman explains, "we usually just refer to the album as New Beard City. I guess we like confusing people." The music was used as written and different songs and sections were incorporated by 2nd Avenue's creative team into the show. Waldman describes their genre as "weird rock band with tuba…we sound and feel like Raffi for adults with tuba." 
The show is both powerfully dramatic and hilarious, which is a great achievement considering its simultaneous dialogue in both Japanese and English. The show is intended to appeal to speakers of both languages and even students of either language. A majority of the dialogue spoken among the main characters is in Japanese with English subtitles, but when English is spoken the subtitles switch over to Japanese. Kawade says that after considering having separate videos, "we did a test and found that audiences were not confused with alternating Japanese and English subtitles, and actually loved it because it looks cool and international." The effect is remarkable, but it also presented a unique challenge for both writing the dialogue and performing it on camera. 
"We were very careful putting in the subtitles," Honda explains. "Sometimes we needed to change the meaning completely in order for the jokes to be understood and still fit in the storyline."
"Comedy needed to be done visually not only because the show is bilingual but also because people watch it on YouTube, probably on the small screen of their smartphones," Kondo says. "When people are laughing watching our show, I guess a lot of them are laughing because of what's happening, not what's being said."
He continues, "That said, I tried my best to localize the two languages. I thought the way to go about writing a bilingual show was to use very specific language and references in each language and deal with the translation when it comes to making subtitles. Bilingual people must have noticed that in some scenes what's being said in the dialogue and in the subtitles are very different. I can't think of a good example off the top of my head, but ikemen (good-looking guy) was translated as 'Abercrombie model' in the subtitle."
As Kondo mentioned was his intent, the show also touches on a lot of issues and perspectives that aren't visible in Japanese media.
"2nd Avenue absolutely represents those Japanese who are trying to cope with American, and specifically, New York culture," Kawade says. "We Japanese need to understand better that there are many kinds of people and it's OK to be different from others. There's not a lot of cultural diversity in Japan and we, as a culture, think and feel in similar ways, which leads to a lack of understanding of minorities. We need to address this more, especially in Japanese media such as TV shows and movies where content is limited by taboos and unofficial rules."
Adds Honda, "The two leads, a gay guy and a Japanese woman who chooses to live abroad for her pipe dream, are the two noticeable minorities in 2nd Avenue. I believe they are portrayed uniquely because 1) Their stories were told based on very personal experiences by the minorities themselves (us!), and 2) Free from the politics of sponsors and industrial rules, using the Web as our platform they can tell things that Japanese TV can't."
The show is remarkably ambitious in putting subjects that are taboo for Japanese TV in full view, from marijuana to BDSM to tattoos for fashion, as well as gay characters that are not flamboyant in a stereotypical sense. Furthermore, these themes are more relatable to viewers through the lens of comedy.
"I do believe our show's story resonated among those who are struggling to fit into Japanese society," Kondo says. "In Japan, life can be harder if you are an opinionated person, especially for women. Gay people still can't come out and are deprived of incredible amount of civil rights."
He continues, "I like how American shows like Shameless and Glee have made successful comedies depicting minorities struggling. I feel like Japanese TV tends to avoid humor when they are portraying people's struggles. You never see zainichi (Koreans in Japan) people, handicapped people, and ethnic minorities like Ainu in a comedy show in Japan. It is a very considerate, polite thing that is deeply ingrained in our culture, but if you keep treating those people only as 'heavy, sensitive issues' in places like Japan, people stop talking about them. And that is the opposite of what we need to be doing.'
2nd Avenue has already captured the hearts of many across the world. Native speakers of both English and Japanese find it useful for studying their second language thanks to the subtitling. According to Kondo, the show has received many comments from non-Japanese immigrants from a variety of backgrounds regarding how much they can relate to the show. Kondo also notes that he has received positive feedback from Japanese fans that empathize with Taichi's situations and were pleased with how he overcomes the labels and stereotypes that other Japanese people try to apply to him.
Of course, those with experience living abroad, like JETs, find a lot to like about the show.
"One thing I love about 2nd Avenue is that it's not just a drama but a comedy as well. There is a good balance between the funny and dramatic and even some of the dramatic moments are hilarious," Waldman says. "The characters are really interesting, colorful, and loveable. I also like how it can appeal to many different demographics including the LGBTQ community, a group that has a smaller voice in Japan than here in the U.S. It is unique in that it is a bicultural and bilingual series with subtitles in both Japanese and English—a nice language-learning tool for speakers of both languages."
"2nd Avenue is an addicting, charming Web series for anyone who shares a connection with Japan," says Christina Ryu (Aomori-ken, 2011-13). With episodes no longer than 15 minutes, the show is an easy and entertaining watch thanks to its talented cast, relatable characters, and quirky humor."
Although all of the creators would love to see a second season happen, the course is not yet plotted as they are still waiting to see how broad an audience the show can reach. You can stay updated with 2nd Avenue by following its updates below. Share the episodes with your friends to show your support!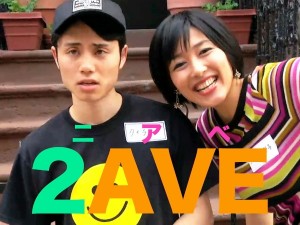 Homepage: http://2aveen.weebly.com
Facebook: www.facebook.com/2aveWebSeries
Twitter: @2ndAvenueNY
Interested in seeing other work from the creators? Check out New Beard by liking them on Facebook and listen to some bearded tunes at http://music.newbeardcity.com. For more on the cast and creators, visit their homepages below.
Tsukasa Kondo: www.tsukasakondo.com
Maho Honda: www.mahohonda.com
Mari Kawade: www.marikawade.com