Sep
11

Article/Journalism, Japan Local, Writers

Comments Off

on RocketNews24: Scowling mascot brings a little fame to Japan's least popular prefecture
Michelle Lynn Dinh (Shimane-ken, Chibu-mura, 2010–13) is an editor and writer for RocketNews24, a Japan-based site dedicated to bringing fun and quirky news from Asia to English speaking audiences.
Shimane Prefecture, ever heard of it? If your answer is a resounding "no," you're not alone. The oddly shaped prefecture stretching along the western coast of Japan is barely known within its own country, let alone abroad. But one disgruntled mascot is out to bring Shimane's shortcomings to light, making fun of the prefecture's lack of popularity and population, and giving the area a little boost in positive publicity online.
For the 95 percent of you who don't know, Shimane is a prefecture in the Chugoku region of Japan. Its claim to fame is having the most elderly people of any other prefecture and the most centenarians. Year after year, Shimane battles it out with neighboring Tottori for the title of "least populated prefecture" and has repeatedly landed itself at the very bottom of lists ranking areas by popularity.
Few tourist find their way to Shimane and many people understandably mistake the prefecture for its neighbor, Tottori, an area popular for its sprawling sand dunes. The mix-up has inspired Shimane's adoption of Yoshida-kun, a snarky and very unhappy-looking character originally from DLE's Eagle Talon, that isn't afraid to let tourists know of Shimane's weak points. Here's a souvenir that can be purchased in Shimane:
▼ "Shimane or Tottori, I'm not really sure which, but I went over to that area"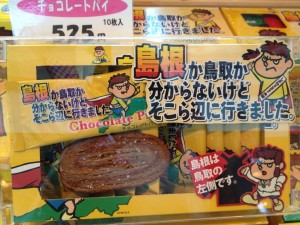 ▼ A close-up view of these chocolate pie souvenirs.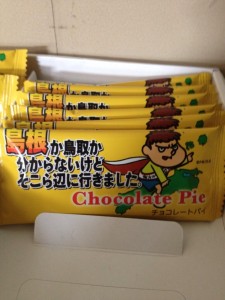 It seems the brutal honesty of Yoshida-kun has caught the attention of many Twitter users, inspiring delighted Tweets at the sight of his scowling face:
No way! I'll definitely buy this if I'm ever in Shimane!

I was delighted to get this souvenir from a coworker.

What the heck?! The next time I'm there, I'm going to buy some! lol!

I want to go over to Shimane just to buy that!

But if I received this from a friend, I still wouldn't know whether they went to Shimane or Tottori…

This is so great!
Yoshida-kun makes a few more appearances at tourist spots around the forgotten prefecture. His other sayings are as candid as the one above.
▼ "Welcome to Shimane, the 47th most famous prefecture."
(There are only 47 prefectures in Japan)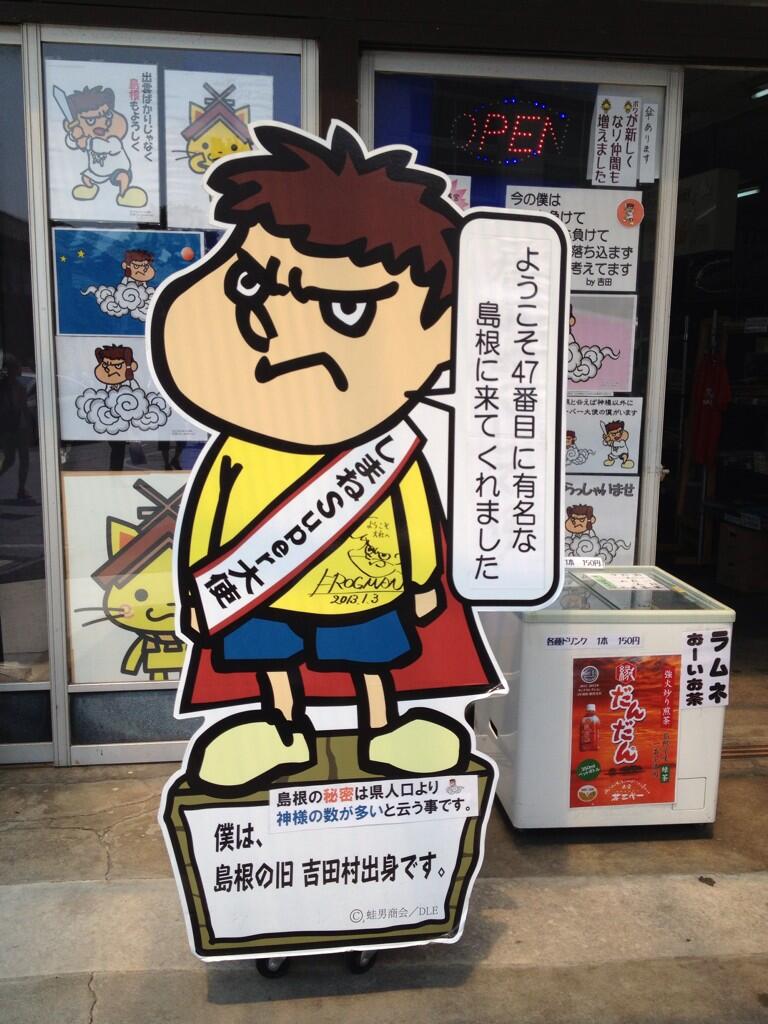 ▼ "Shimane at least has delicious cake"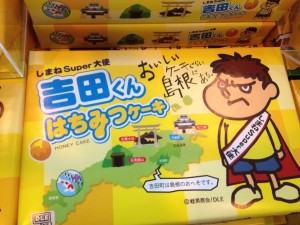 ▼ "Shimane. On the left side of Tottori."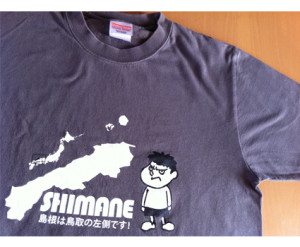 According to one Twitter user, Tottori Prefecture has taken to Shimane's Yoshida-kun, and you can actually buy this T-shirt at a store in Tottori Station.
What do you think of Yoshida-kun? When most mascots wear painted smiles and recite sickeningly sweet slogans, Yoshida-kun tells it like it is. His attitude seems to say, "Yeah, Shimane doesn't have a lot of things. Deal with it." Does his grumpiness make you want to travel to the area? Or is this mascot serving to drive potential tourists away?
Source: Naver Matome
Images: Unseki, Wikipedia (edited by RocketNews24), Twitter (Photo 1, Photo 2, Photo 3, Photo 4), Shimane Hajimari 
Related articles from RocketNews24:
Are you a writer? RocketNews24 English is hiring!