Apr
18

Events, Food & Drink, Translating/Interpreting, Uncategorized, WIT Life, Writers

Comments Off

on WIT Life #231: 2020 Olympics in Tokyo?
WIT Life is a periodic series written by professional Writer/Interpreter/Translator Stacy Smith (Kumamoto-ken CIR, 2000-03). She starts her day by watching Fujisankei's newscast in Japanese, and here she shares some of the interesting tidbits and trends together with her own observations.
Last night I went to a reception at the Nippon Club hosted by the Honorable Naoki Inose, the Governor of Tokyo.  His remarks were proceeded by some from Mr. Shigeyuki Hiroki, Japanese Ambassador and Consul General of Japan in New York, who was also a co-host.  Ambassador Hiroki offered his condolences for the recent tragedy in Boston before discussing Tokyo's exciting bid for the 2020 Olympics.
When Governor Inose took the mike, he described how he was enjoying his first visit to New York by doing things like going for a run in Central Park.  He explained that his delay in arriving had been due to a meeting at Yankee Stadium with Ichiro Suzuki, causing the crowd to laugh by saying, "Because Ichiro was late, I was late."  He went on to share that the person who had led his tour at the stadium was a former JET who spoke Japanese, and that this greatly impressed him and spoke to the power of the program.
JET alums we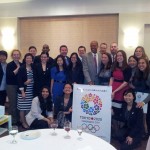 re out in full force, and nicely represented by NY Chapter President Monica Yuki in the reception's closing speech.  The audience also enjoyed a pre-kanpai greeting from Willie Banks, the amazing three-time track and field Olympian, NCAA and World Championship team member.  Banks was kind enough to take a picture with all the JETs, as shown here.  With sake flowing and sushi, tempura and Japanese foods a plenty, an enjoyable time was had by the 200 guests who were said to be in attendance at this jam-packed venue.