Oct
29

Events, Translating/Interpreting, WIT Life, Writers

Comments Off

on WIT Life #218: Hold These Truths
WIT Life is a periodic series written by professional Writer/Interpreter/Translator Stacy Smith (Kumamoto-ken CIR, 2000-03). She starts her day by watching Fujisankei's newscast in Japanese, and here she shares some of the interesting tidbits and trends together with her own observations.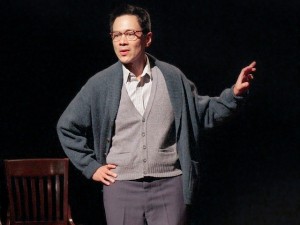 This weekend I went to see the heralded play Hold These Truths being shown at the 14th Street Y.  It starts Joel de la Fuente as Gordon Hirabayashi, second generation Japanese-American who defied Executive Order 9066, which led to the forced interment of Japanese Americans in camps during World War II.  De la Fuente (10-year veteran of Law and Order SVU) brings his proven acting chops to this one-man show, in which he plays not only the role of Hirabayashi himself, but also those of family, friends, law enforcement, lawyers, etc.
The play traces Hirabayashi's journey as a boy growing up in Seattle to university student to imprisoned activist to the eventually taking of his case all the way to the Supreme Court.   Unfortunately the Court unanimously rules against Hirabayashi and the other two Japanese-American resistors, but he is vindicated when his case is picked up 40 years later and then overturned in 1987.  Hirabayashi passed away earlier this year, but President Obama posthumously awarded him the Presidential Medal of Freedom this May.
Following each show is a half hour discussion with various guest speakers, and the intimacy of the venue lends itself to an interactive exchange between audience members and the speaker.  Please see the homepage's schedule for specific details, and get your ticket soon as the show will only run through November 25th.  For more information, please check out Ann Chow's recent interview with Hold These Truths playwright Jeanne Sakata, as well as look for my upcoming JQ review!