WIT Life is a periodic series written by professional Writer/Interpreter/Translator Stacy Smith (Kumamoto-ken CIR, 2000-03). She starts her day by watching Fujisankei's newscast in Japanese, and here she shares some of the interesting tidbits and trends together with her own observations.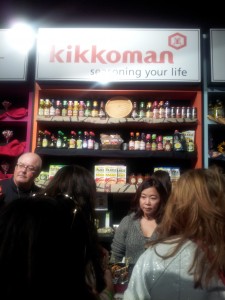 This past weekend I attended two food events where aspects of Japanese cuisine were being highlighted, the NYC Wine and Food Festival and the Japan Block Fair.  At the first, sake was being promoted by the Japan National Tourist Organization (JNTO), and my friend I enjoyed sampling some from the brand Momokawa.  Kikkoman also had their own booth, where they were offering panko coated kara-age as well as the three different sauces of sriracha, wasabi and soy.  During the Japanese news broadcast I watch every morning, Kikkoman's kara-age commercials have become more prominent, so  I sense that the company's push here in the States has recently been strengthened.
The other food event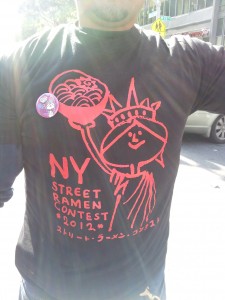 was dedicated to the Japanese soul food ramen, and was the third in a series of Japan Block Fairs.  This one was on the UWS on Sunday afternoon and featured yo-yo games and kimonos, as well as a wide assortment of Japanese foods.  As the photo here indicates, the event itself was a contest where everyone who bought ramen could rate the eight participating vendors.  Each bowl sold for $4, and their tastes ranged from the inventive Italian ramen to standard shoyu ramen with everything in between.
I favored the Dark Men (black sesame paste flavored soup) from Tabata Ramen, the winner of the previous round.  At the time I was at the festival, it looked like the stall for the Tonkotsu Shoyu Ramen from the Boston entrant Yume wo Katare was the most crowded, but Tabata managed to pull out yet another victory  Stay tuned for the Ramen Grand Championship which will take place sometime next year!
Seating at the block fair was at a premium and the streets were tightly packed, reaffirming that like its predecessor sushi, ramen is becoming a local favorite and perhaps even a New York food as ubiquitous as pizza and hot dogs.