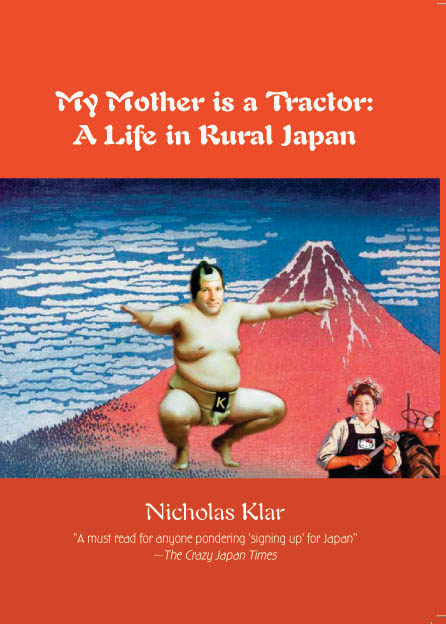 *************
JET alum Nicholas Klar's (Niigata-ken, Omi-machi (now Itoigawa-shi), 1995-97)  My Mother is a Tractor:  A Life in Rural Japan, originally published in 2006, is now available for free on Kindle for the next couple days.  Click here for more details.
Here's some more info about the book:
Less than six months after chucking in his management job to take up teaching Nicholas Klar finds himself on the JET Program and a plane to Japan – ending up as an ALT teaching English in Omi (now Itoigawa City) in the far reaches of rural Niigata prefecture.

Never one to be taken too seriously he spends two years far beyond the beaten tourist path in often carousing encounters with Elvis impersonators, love hotels, toilets, train schedules, cults, hostess girls, freezing weather, the local garbage-man and postal workers, plus the recording of a bizarre incident where a cow apparently falls out of the sky.

Combining humour, wonder and a good deal of eclectic research the author veritably crams his pages chock-full of tales of culture shock, humorous anecdotes and insights, reflections upon his own life and cultural baggage, strange facts, plus cultural incongruities and marvels. He inevitably falls in with a motley crew of acquaintances along the way and revealed are many of the personalities he encounters – both Japanese and foreigners.

My Mother is a Tractor is rollicking, fact-filled ride through the Land of the Rising Sun that will both amuse and inform.