*******Via jetaaottawa.ca By Lisa Mallin (Former CIR in Chiba-ken) for the JETAA Ottawa Newsletter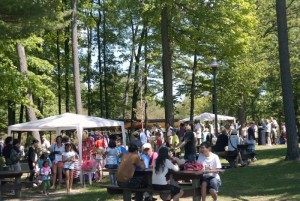 Blessed with perfect weather, JETAA Ottawa's 8th Annual Japanese Summer Festival attracted hundreds of participants from across the National Capital Region on Saturday, August 18, 2012, at Vincent Massey Park. The day was packed full of Japanese cultural demonstrations, intercultural experiences, and 500+ JETAA dogs!
Mr. Yasir Naqvi, MPP for Ottawa Centre, offered words of support for Japan's swift recovery from the March 2011 disasters while Japanese Ambassador Kaoru Ishikawa officially kicked off the day's events by thanking Canadians for their compassion and continued engagement.
Oto wa Taiko attracted people from all corners of the park to listen to their powerful drumming and watch their well-choreographed moves. Tateyama Dojo introduced ancient martial arts of Japan through their lively kendo, iaido and jodo demonstrations. Ottawa newcomer Ryoko Itabashi brought traditional tones to the crowd with each note by playing her shamisen (a three-stringed, Japanese musical instrument). Jordan Lincez, a JET Programme alumnus, won over the crowd with his musical collaboration featuring special guest Hitomi Iwase. For the first time, Ottawa was treated to a taste of Montreal-Japanese fusion with Japanese Folk Dance Group Komachi Montreal's beautiful performances.
Throughout the day, community partners and volunteers provided great activities such as children's face painting, calligraphy, and bonsai to introduce different aspects of Japanese culture and tradition. To top it off, JETAA Ottawa gave out more than 500 hot dogs over the course of the festival. (For the curious: Link to JETAA dog toppings recipes). 
JETAA Ottawa's Japanese Summer Festival is the largest Japanese festival in the National Capital Region. We have grown from a small alumni event to an inclusive Japanese arts and culture celebration. We are grateful to all of the participants, volunteers, performers, community partners, local Japanese communities and the Council of Local Authorities and International Relations for making the day's events possible.