WIT Life is a periodic series written by professional Writer/Interpreter/Translator Stacy Smith (Kumamoto-ken CIR, 2000-03). She starts her day by watching Fujisankei's newscast in Japanese, and here she shares some of the interesting tidbits and trends together with her own observations.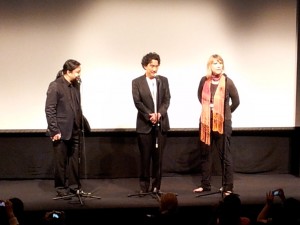 I had an unusually exciting Friday night as I got to meet one of my favorite actors, Yakusho Koji!  He was on hand at Japan Society's wonderful 2-week film festival Japan Cuts to screen his movie The Woodsman and the Rain.  He was also presented with the first ever Japan Cuts prize, the CUT ABOVE award for excellence in film.  He is pictured here with festival coordinator Samuel Jamier and interpreter Linda Hoaglund during the pre-screening introduction, during which time he humbly thanked the audience for their support after 3/11 and said he was honored that JS had selected him as the first recipient of this award.
After the film, a charming co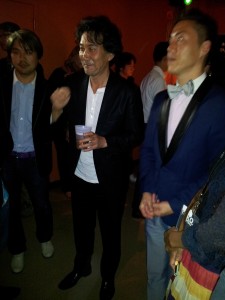 medy in which he plays a lumberjack, Yakusho fielded a variety of questions from the audience regarding his preparation techniques, roles he would like to conquer and issues facing contemporary Japan.  In response to the last question, Yakusho highlighted the growing prevalence of children's suicides as a result of bullying and adults' culpability in this phenomenon.  He expressed his desire to be in a movie with adult characters that young people could emulate.  Yakusho also elaborated on his love of samurai movies, and how he feels this is a vital aspect of Japanese culture that is being lost and needs to be preserved (The samurai film 13 Assassins in which he stars was also screened today).
Following the Q&A, the crowd moved into the reception area for a chance to chat with Yakusho himself!   You can see him here flanked by his JS bodyguards, kicking back with a beer (courtesy of sponsor Sapporo) while satisfying the long line of fans waiting for the chance to speak with him and shake his hand.
Not only is Yakusho an extremely talented actor, but I found him to be very heartfelt in person.  He lingered at the reception for quite a while and seemed to enjoy the interaction with fans.  Although I must admit that I was starstruck, Yakusho had no celebrity aura and seemed down to earth.  I'm looking forward to future work from this versatile Japanese legend.