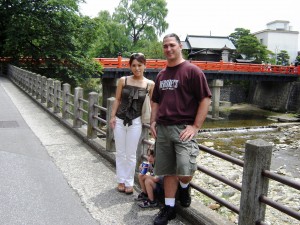 By John McGee (Nagano-ken, 2004-05) for JQ magazine. John is the Tampa Regional Representative for the Florida JET Alumni Association, and the founder of Tampa Natsu Matsuri, a free annual event organized by local residents with an interest in Japan.
The balmy breeze blew in through the screened doors of our house, floating the sheer curtains in soft billows.  Late May in southern Nagano is damp…it's always damp on the wet side of the Alps. But being from Florida, this was comfortable weather.
My good friend was visiting from America. He'd made quite a stir in our sleepy town striding around with his seemingly angry Native American scowl way up there brushing two meters, from which nearly a meter of black tresses flowed down like raven waterfalls.
We were watching the shadows slip up the mountains across from our home when the phone rang. It was our friend Sayaka. "The fireflies are here!" she said excitedly. "Want to come see them?"
Sure we would. If they were as big as other Japanese bugs, this could be a great sight. She told us where to meet her, so we carefully folded my wife, my three-year-old son, our giant Indian friend Bass, short for Sebastian, and myself into our Toppo and sputtered down our ski jump of a street to the main road.
We soon pulled up to the intersection where Sayaka was waiting. This miniaturized beauty stood out in our town every bit as much as Bass. She was dressed to kill as always, standing next to her shiny new Cube. Her family owned a ryokan and she had been all over the world.  She quickly waved us to get going and we followed her down out of our crevice of a valley into the wider spot where a smaller river joined the local Kiso River, forming a rare broad flat spot.
This area was checkered with small rice fields and ancient farm houses. As we neared the junction of the rivers I started to see quite a few cars. I was a bit surprised, but that quickly turned into open-mouthed shock as we saw that there was not one available place to pull off the road for nearly a kilometer!  Lightning bugs were apparently a big attraction in this sleepy town. Sayaka spotted a driveway open at a farmhouse and told us she'd ask if we could park there. "That'll never work," I thought, but of course this was Japan, so in a moment we were parked in the best spot on the field.
We stepped out into a dusky green sward dotted with families. Children hopping here and there. Some had jars.  Others had nets. Some just walked along with heads back and mouths agape. Against the black silhouettes of the steep mountains there were literally thousands upon thousands of small bright lights flashing as high up as I could see. In answer, the rice and grasses along the river were twinkling like Christmas lights.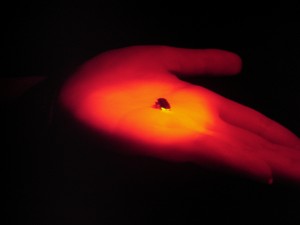 I had never seen anything like it. I, a naturalist by training, was in sublime rapture at the site. I whisked up my son and we headed out into the fields. Before long we were engulfed in the living lights popping like happy spirits all around us. Bass whipped out his camera and began snapping everything he could see. My wife and Sayaka walked along, and I, carrying my son, was charging for the woods where there were few people.
Once there I turned and could see the entire scene spread out before me. Behind, the ghostly lights became quickly thinner up the insane incline of the Alps. That's when I remembered: I can talk to fireflies!
I charged back out into my group still in the middle of the field and told them what I knew. Then pulled out a small LED on my keyring. I squatted down and told my son to watch closely. Cupping my hand on the ground over the light, I began to flash it slowly…on…off…on…off. Soon I saw some lights in the sky answer with the same pattern. I increased the rate of flashing and my flying friends answered back descending rapidly. Soon two dropped right onto my hand looking for the waiting female I had mimicked. I looked up to four sets of wide eyes in the dark and several exclamations in two languages.
Then they all spun around and grabbed whatever lights they had to try it. Naturally this drew some attention from the other watchers and soon I heard the breathy gasps of "shizenna maho!" I had heard that before as I loved to amaze my students with my nature magic. We showed several kids and parents what to do and before long there was a whole contingent of electric flies flickering up sweet nothings to the eager males.
My wife, who is something of an animal charmer by nature, seemed to be the best at it. At any given moment she could call them down so steadily that they would crawl around happily for quite a while before floating back up.
We played and chatted with the bugs for several hours before finally deciding it was time to leave the plump hotaru to dance their slow passionate romances in peace.
For some people Japan is ancient culture, for others elaborate festivals, exotic food, or the bright lights of some of the world's best cities. But for me, the soul of Japan drifts quietly out of the marshes on warm early summer evenings as it has for eons. And there in the moist air it catches fire for only the briefest moment. Ephemeral life.
If you go there and if you watch carefully, you will see them too, beating out their silent luminescent rhythm. And if you talk to them just right, you too might be lucky enough to have these friendly summer spirits touch you as well.
Read John's article on JETAA Florida's Tampa Natsu Matsuri here.