Jun
29

Food & Drink, Translating/Interpreting, WIT Life, Writers

Comments Off
WIT Life is a periodic series written by professional Writer/Interpreter/Translator Stacy Smith (Kumamoto-ken CIR, 2000-03). She starts her day by watching Fujisankei's newscast in Japanese, and here she shares some of the interesting tidbits and trends together with her own observations.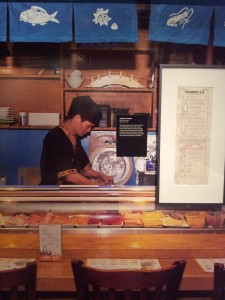 Yesterday I had the chance to check out the NYC lunch exhibit at the New York Public Library.  It offers fascinating tidbits regarding the origins of the meal we now know as lunch, as well as how has evolved over the years here in the city.  The aspect that interested me the most was the discussion of the first Japanese restaurant here in the city, dating back to 1932.  It was called Yoshino-ya and located at 76 West 47th Street.  Although it is often thought that the West Coast predates the East Coast in having sushi, this item can be found on Yoshino-ya's menu (However, it was in LA that the inside out roll was created in the 1970′s).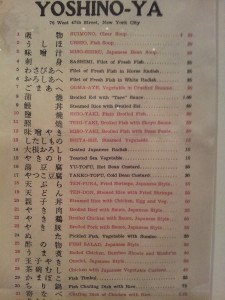 Pictured here, Yoshino-ya's bilingual menu contains familiar offerings such as the 20 cent miso soup, 35 cent shrimp tempura and the 50 cent oyakodon (chicken and egg over rice),but it also has some dishes that were clearly adjusted for American tastes, such as the sukiyaki which has olives and celery as part of its ingredients.  The exhibit runs through February of next year and is free, so be sure to check it out!