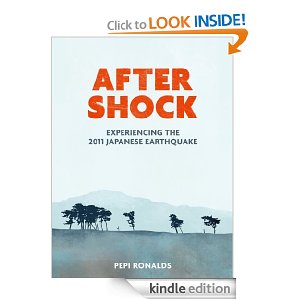 Australian JET alum Pepi Ronalds (Miyagi-ken, Sendai Shi, 2010-11) recently published an essay on Amazon titled "After Shock:  Experiencing the 2011 Japanese Earthquake."  Below is a bit of context from Ronalds along with an extract from the essay:
About Pepi
Pepi is a freelance writer, ghostwriter and researcher based in Melbourne, Australia. On any given day she is found writing, researching and craving sakuranbo soft-cream from the Omiyage shop below Yamadera. While working as an ALT in Sendai Shi, Miyagi prefecture she experienced the Great East Japan Earthquake first hand. She writes about the experience in her long-form article After Shock: Experiencing the 2011 Japanese Earthquake, which can be downloaded via Amazon or Pepi's website http://www.pepironalds.com.
"After finishing JET I returned to the freelance writing career that I had begun in late 2009. As a writer of non-fiction, I was keen to write about my experience of the triple disaster in Sendai. I knew that many people outside of Japan had a limited understanding of what had happened. – Yes, I was caught up in a natural disaster as a foreigner, and yes it was scary. But there was (and continues to be) so much more to my experience (and those of my fellow JETs and gaijins). I was astounded by the incredible generosity of my Japanese friends and colleagues, and the work they've done (and are doing) to rebuild."
As publishing paradigms change, I there are fewer venues for long-form articles like mine.  So in publishing this article I made my first foray into 'entrepreneurial journalism'. That is, I am selling direct to readers. Below is an extract. If you want to read the whole thing (6,500 words) you can either download the article via Amazon, or buy direct from me using Paypal."
Extract from After Shock: Experiencing the 2011 Japanese Earthquake
"We started the heaters," my friend Yuriko writes, "but we are trying not to use them often to save them in case of an emergency." I know the school in Sendai to which she refers. Winter is marked by a meter of snow on the baseball field. It's sustained by snowflakes the size of marshmallows that seem to fall horizontally. The winds wheeze and rattle at loose windows. When I was there last year, I was constantly dabbing my nose with a tissue. And when my friend writes this from Sendai eight months after the earthquake, winter in Japan has barely begun.

I read her email and think back to that frigid Friday, March 11, 2011. My students and I were decorating the walls of the school with a mosaic of origami-paper blossoms. It was so cold in the unheated hallway that my fingers seemed to move in slow motion. We worked with a feeling of purpose and excitement. Then there was a long, deep, foreboding yawp. An announcement from the earth beneath us that everything was about to change.

When people learn that I was in Sendai for the Great East Japan Earthquake, they ask me, "What was it like?" As their lips form the inevitable question I think about my students, the games we played and the pleasure of our simple conversations. Memories tumble through my mind like objects rattling from shelves. I think about learning Sendai's traditional dance, suzume odori, and about the spectacular orange of the city's mountainsides during autumn. I want to tell them about the day we welcomed spring at the kindergarten. I want to show them pictures of the view from Yamadera, the ancient Buddhist temple. And I also feel guilt. Mine was a place of relative safety. "It was long," I answer. "Earthquakes are meant to last for less than a minute, and this one went for at least three." And I am always back in that hallway, my pulse pumping a little faster.

The yawp below groaned upwards, stretching lazily, with a gentle rock. At first it felt like we were standing on a children's fairground ride – just a rocking, but with a clamorous rumbling. We stood in the hallway attentively, still holding the pins and decorations. We cocked our heads sideways and furrowed our brows, listening and looking nowhere in particular. In a moment the ride seemed to derail and upgrade itself by way of a lurch and intense rattling. We scattered, my colleagues yelling instructions to the students. Clatter! Rattle! Clatter! I scampered into a wobbling classroom and went under a desk near a door. I held onto the legs of the desk and vainly pulled them towards the floor. The other desks and chairs zigzagged like giant flies in small orbits around me. Papers on the teacher's desk fell one by one as if being sorted by an unseen presence.

Everything – literally – was rattling. It was being lifted, dropped, tipped and clattered. I could hear the movement of doors and walls and windows and curtains and pens and pot plants. The ceiling above creaked. People were calling somewhere. The noise was a rat-tat-tat, boom-boom-boom that I will always recognize as a cacophony unique to earthquakes.

"What was it like?" It's a near impossible question to answer. In the eight months I spent in Japan before the earthquake I had hiked through a valley so beautiful that everywhere I looked could have made a postcard. I rode buses through Japan's crazy urban landscape. I listened to taiko drums. I sang with my students. I didn't know about the tsunami until over six hours after the earthquake. I couldn't speak the language.

We evacuated to the baseball field, where there was a biting wind. Thankfully the snow had melted since spring had formally begun over a month earlier, but the puddles were ice blocks and a nasty mite-like snow stung my cheeks. I trembled. The building we'd been in looked like it was about to sneeze. I watched trees quiver apologetically.
Want to read on? You can buy a copy of the full article via Amazon, or full article direct from Pepi Ronalds – both for only $2.99!