Feb
24

Uncategorized

Comments Off

on Launch of Tomo anthology to benefit teens in Tohoku
Suzanne Kamata (Tokushima 1988-90),  Publicity Assistant for SCBWI-Tokyo shares this: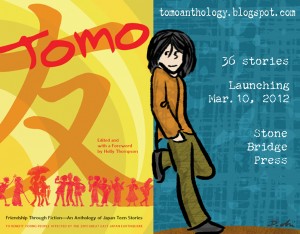 Saturday, March 10, 2012
Tomo Anthology Launch:
An Evening of Readings, Discussion and Reflection
Time:     Saturday, March 10, 2012, 6:30–8:00 p.m.
Place:     Tokyo Women's Plaza, Conference Room 1
5-53-67 Jingumae, Shibuya-ku, Tokyo
(by the Children's Castle and United Nations University).
             For a map see www.scbwi.jp/map.htm
Fee:        Attendance only: 500 yen SCBWI members; 800 yen nonmembers 
Attendance and Tomo book: 1,200 yen SCBWI members; 1,500 yen nonmembers
Reservations: RSVP contact (at) scbwi (dot) jp by Friday, March 9 
This event will be in English.
March 10, 2012, is publication day for Tomo: Friendship Through Fiction—An Anthology of Japan Teen Stories (Stone Bridge Press). One year after the 2011 Great East Japan Earthquake and Tsunami, this collection of short fiction brings teens worldwide closer to Japan and contributes to long-term relief efforts in Tohoku. Join us for this Tokyo Tomo launch event, which will feature readings by various Tomo authors, as well as panel discussion and reflection on this project.
Tomo (meaning "friend" in Japanese) is an anthology of young adult short fiction in prose, verse and graphic art set in or related to Japan. Edited and with a foreword by Holly Thompson, this collection for readers age 12 and up features thirty-six stories—including ten in translation—contributed by authors and artists from around the world, all of whom share a connection to Japan. Tomo includes a wide variety of unique stories, including tales of friendship, mystery, fantasy, science fiction and history. By sharing "friendship through fiction," Tomo aims to bring Japan stories to readers worldwide, and in so doing, to help support young people affected or displaced by the March 11, 2011, Japan earthquake and tsunami disasters. Proceeds from the sales of this book will go toward long-term relief efforts for teens in Tohoku. To begin with, Tomo fund donations will go to the Japan-based NPO Hope for Tomorrow (hope-tomorrow.jp), which in addition to providing educational expenses (including university entrance exam fees, travel costs to exam centers, etc.) also provides mentoring, tutoring, and foreign language support to high school students in hard-hit areas of Tohoku. Visit the Tomo Blog at http://tomoanthology.blogspot.com for interviews with contributors and more information about Tomo.
www.scbwi.jp