Posted by Ashley Thompson (Shizuoka-ken, 2008-2010) of Surviving in Japan: without much Japanese and Lifelines columnist for The Japan Times.
So you've prepared your home in Japan as best you can for winter and you've got a heater or two, or a kotatsu, to keep you warm. What else can you do to survive the winter in Japan, especially with the continued emphasis on energy conservation?
1. Carry "kairo" (カイロ). Small body (typically hand) warmers. The disposable kind are the ones you open and shake up and typically last a few hours. Some can be placed in your shoes, around your ankles, around your waist or even around your wrists. Here are a few examples.
I've also noticed a trend of "eco-kairo" (エコカイロ) this year. The eco-kind vary, but some are filled with gel and you heat them in the microwave. Some are battery-powered (I'm not sure exactly how that is very "eco" though, unless they're solar-charged, but I suppose it is less wasteful to some degree).
Some examples of "eco kairo" with cute covers (found at Loft):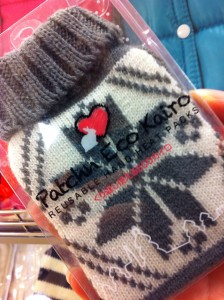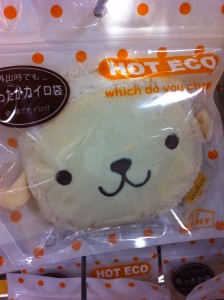 2. Use a lap blanket. Whether at work or home, these smaller blankets are good to have on hand. Look for ひざかけ (膝掛け).
3. Or a space blanket. They aren't just the shiny, futuristic looking sheets anymore (though you can get those too). These kind are fabric-covered. Look for スペースケット.
4. Or an electric blanket. Look for 電気毛布 (でんきもうふ, denkimoufu).
5. Use a hot water bottle (湯たんぽ, ゆたんぽ). Especially good for cold feet.
6. Eat hot dishes. Like Nabe. Curry. Ramen. Or any other hot meal. What's your favorite?
7. Drink lots of hot tea, especially if your workplace provides it for free.
8. Hot drinks. Remember that many vending machines and conveniences stores have a section for "hot drinks" (usually have a red label underneath and say あったかい or "hot drink" while the cold ones have a blue label, and yes, the vending machines that offer them do change over from summer).
When I first arrived in Japan I had no idea you could buy a hot beverage from a vending machine, and when I chose (cold) tea, thinking I was just choosing regular tea from a vending machine, the person I was with looked at me in complete shock.
"Don't you want a hot drink?" she asked.
"What? There's hot drinks?"
"Yes." She points to the red label, "These are hot." The look accompanying this was more or less, "how did you miss that…"
Not sure if it's just me, but I never really came across a vending machine in the US with hot drinks aside the dispenser types at some schools or hospitals, etc. Who needs a vending machine with a coffee shop on every street corner? I am from Seattle after all.
9. Heat Tech from Uniqlo. What you would call long underwear. If not from Uniqlo, wool or silk are also great materials (and yes, you can get non-itchy, lightweight wool base layers – merino wool is one of those). If you're prone to being cold like I am, you'll be extra thankful for that base layer!
10. Layer. Outer layer. While you're shopping for long underwear, do yourself a favor and get a warm winter coat. I recommend anything with down. Uniqlo and Muji have them, but here's a secret, Sierra Trading Post often has crazy discounts on down jackets. (No, they didn't pay me to say that – I wish). Be careful if you want anything with fur trim though, as customs might get you when you have it shipped here directly.
CLICK HERE to read the other 14 ways.