***********************
WIT Life is a periodic series written by professional Writer/Interpreter/Translator Stacy Smith (Kumamoto-ken CIR, 2000-03). She starts her day by watching Fujisankei's newscast in Japanese, and here she shares some of the interesting tidbits and trends together with her own observations.
Time truly flies, as I can't believe it has been so long since I've been here.  At any rate, tadaima!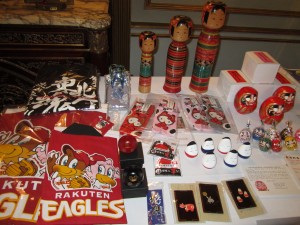 Although almost nine months have passed since the earthquake/tsunami in Fukushima, and I am glad to say that the recovery effort is still on people's minds.  Last night I went to the Artist Showcase and Fundraiser for Japan held at Ambassador Shigeyuki Hiroki's Residence. The event featured a reception honoring a visiting Fukushima prefectural government delegation to New York, along with artwork (some from JET alumni!) available for silent auction purchase.
Ambassador Hiroki offered his comments, and a representative of the Fukushima prefectural governor read a letter from him on his behalf.  On display were Fukushima goods, and guests partook of Fukushima sake as well as local culinary offerings such as delicious rice and peaches.  The filled to capacity crowd seemed to enjoy themselves and were glad to be able to contribute, even in a small way, to the ongoing struggle to restore normalcy in Fukushima.
For those who weren't able to attend last night but feel like they want to do something to help the cause, there is an event tonight in Union Square being held by the Blue Sky Project, a group of young Fukushima enterpreneurs, with backing from the New York Fukushima Prefectural Association.  For details, please see the press release below and hope to see you all there!
Support 
Fukushima: Candle Night in NY
New York, NY –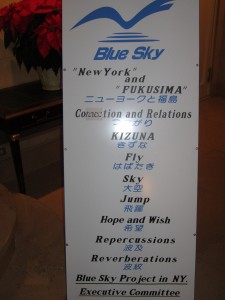 November 25, 2011 – Members of Young Entrepreneurs Group in various regions of Fukushima, Japan formed and established a group called "Bl
ue Sky Project" and will be in New York to raise their spirit of rebuilding their hometown after experiencing the Great East Japan Earthquake and tsunami followed by ill-fated Fukushima Daiichi Nuclear disaster. New York is the aspiration for Fukushima that the city also has experienced September 11th, and has been recovering financially and mentally from the tragedy. Fukushima has been suffering from financial damages and harmful reputation from radiation scare even after 8 ½
months later. In order to overcome the negative images and views towards Fukushima, the members of "Blue Sky Project" and its supporters of New Yorkers will conduct the event: Support Fukushima Candle Night.
Date and time: December 2
nd, 18:00~18:30
Place: Union
Square, the west side of the park, between 15th & 16th Streets
Object: Send out the messages to Japan and the rest of the world.
1. Positive image of the Fukushima once blessed with nature and has nurtured its abundant culture
2. New Yorkers' prayer for the rebuilding Fukushima
1.     Every participant lights a painted candle to pray for the rebuild Fukushima to bring back blue sky. The painted candle is traditional crafts known from Aizu region of Fukushima.
2.     Sing a few popular Japanese songs including "I love you & I need you Fukushima". This song was composed by musicians from Fukushima after the disaster and was widespread throughout Japan.