Nov
21

Article/Journalism, Interview/Profile, Music, Reviews

Comments Off

on Hibari-sensei: Interview with Mio Soul for Purple SKY
Jen Wang (Miyagi, 2008-09) is a lab tech in Dallas and a staff writer for the Japanese music website Purple SKY.  Her love of cosplay and her junior high school students inspired the name for her own Japanese pop culture blog, Hibari-sensei's Classroom.

Tokyo-born songwriter Mio Soul makes her debut with In My Skin.  The EP contains the heavy drum beats and smooth melodies of contemporary R&B with flavors of pop, dance, and jazz.  Simple yet candid, the lyrics are in English, except for the rap in "Let's Party" where Mio effortlessly flows in and out of her native language.  "Promise" chronicles Mio's pursuit of her dreams in New York City and features sensual vocals complemented by airy piano trills.  The final track, "Out of My Life", takes a complete 180 from the sweetness of "I Wish" in the beginning.  Mio engages an ex-lover in a showdown with passionate vocals and sexy Spanish guitars.  Even though she sings that her "story's ended" for that person, it has only just begun in the music world.
I had the opportunity to ask my fellow biologist via email about her career change, the "I Wish" PV, and her involvement with music-related charities.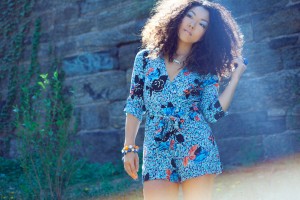 What made you change from being a biologist to a musician?

When it comes to biology, I had a huge influence from my father. My mom, however, is a pianist, so music was always around me as a child.  In college I was so curious about the connection of brain function and soul (heart)…I enjoyed all of the field work. I did, however, want to do music more than anything else.  I started performing more and attending singer and dancer showcases, and these live performances just really fueled me to continue pursuing music.
Science is a real academic thing.  You use instruments and theories to find the truth.  When it comes to music, singing or making beats is the art of using your own instrument (your body and soul) to express your truth.
Did you have any formal vocal training?
Yes, I had two amazing vocal coaches since moving to NYC: Stacey Penson and Jamelle Jones.  The best vocal training was…wait, should I mention this secret?  I can give a hint: it has to do with going to church on Sunday.
Click here to read the rest of the interview