Oct
25

Article/Journalism, JQ Magazine

Comments Off

on JQ Magazine Is Looking for Writers for Fall 2011!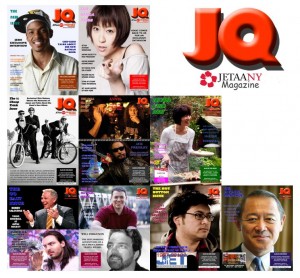 As the year winds down, JETAA New York's JQ magazine continues to provide weekly content with an ever-expanding array of articles, interviews and features (for our recent stories, click here). Following our quarterly meeting in Manhattan this week, we're now looking for new writers from all JETAA chapters worldwide to write and share more material that we can post online to the widest JET readership on the web through our hosts at the global JET alumni resource site JETwit.com.
Below are story ideas grouped by JET participants and alumni (JET World) and those more on Japanese culture (Japan World). If you're a JET or JETWit contributor from anywhere in the world, we welcome your interest or extra story ideas! Contact JQ's editor Justin Tedaldi (magazine [at] jetaany [dot] org) to sign up.
***JET WORLD***
JETAANY CAREER FORUM/WELCOME BACK RECEPTION (11/12)
We would like coverage of upcoming events in New York for any writers planning to attend.
JETs 'RETURN TO TOHOKU' SERIES
The Ministry of Foreign Affairs and the Japan Tourism Agency jointly organized an Invitation Program for JET Alums who worked as a JET in Iwate, Miyagi, Fukushima or Sendai-shi for 2 or more years to return to Japan as an ambassador. The goal of the program is to help promote the affected areas and do PR work on their behalf. From around the world, 14 JET alums were selected to return to Japan. Of those, eight were US JET alums. Visit the provided link to see their stories if you would be interested in doing a Q&A with one of them. Also, if you or other JETs are planning to return to help out in the wake of the devastation, we'd love to run an article so you can share your thoughts with other JETs around the world. www.jetaausa.com/tohoku-recovery/jet-alums-return-to-tohoku
'ALONE IN THE KITCHEN WITH A RICE COOKER' SERIES
We are running a new series on JETwit about solo cooking experiences while on JET (check out "Nattode," the first piece in the series). Did you discover a new favorite comfort food in Japan, learn to cook a mouthwatering meal that you still serve today or accidentally buy something really weird only to discover (and reluctantly) eat it in your mansion? We want to hear about it!
HOLIDAYS IN JAPAN ANECDOTES WANTED!
This year, we're bringing back seasonal holiday (from November through New Year's) anecdotes from JET alumni around the world! If you have a strange, delightful (or both—we all do) short story to share about your holiday seasons past in Japan, we'd love to publish it.
'JET GOT ME A JOB' SERIES
We've heard from several JETs recently who have found jobs in their home countries working for Japanese companies, organizations or related fields in education. If the JET experience was a big help in netting that job, we encourage you to write about it.
JET ALUM LAUNCHES CROSS-CULTURAL CONSULTING SERVICES SITE
Jennifer Jakubowski (Hokkaido '95-'97) has also spent several years in Japan outside of the JET Program. Although she have been doing Japanese-American cross-cultural business consulting and training for several years now, she has just officially launched a website advertising these services. Bridges to Japan is based in the NYC metropolitan area, but services clients all over the country. Talk to Jennifer or write about the site for an article.
JET AUTHOR ARI KAPLAN
JET alum author Ari Kaplan (Hyogo-ken, 1993-94), who practiced law for nine years at a big firm before setting out on his own and, among other things, writing The Opportunity Maker:  Strategies for Inspiring Your Legal Career Through Creative Networking and Business Development which became a big hit in the world of lawyers and especially among law students facing an increasingly uncertain job market and career prospects. It turns out Ari, who speaks regularly at legal career events, has a new book coming out soon on the theme of "reinvention" intended not just for lawyers but for all professionals re-thinking their careers in a society where the ground increasingly seems to shift below our feet. For more information about Ari, visit his website at www.arikaplanadvisors.com.  You can also see media coverage of him on WGN-TV Chicago, in the Wall Street Journal's Law Blog and in the Houston Chronicle.
JET ALUMS DEVELOP JAPANESE FLASH APP
Mark Makdad, founder of software company Long Weekend Mobile, has developed with his partner Ross Sharrott the Japanese Flash vocabulary builder app for iPhone, as well as the Rikai Browser for iPad for reading Japanese. Interested in giving these products a spin and writing about them?
'JET INSTANT NOODLE' COMICS
Profile of JET alum artist Shun Endo and his "JET Instant Noodle Comics." Read samples at http://jetwit.com/wordpress/2010/10/25/instant-noodle-comics-i-wish-facebook-had-the-boss-filter.
JET ALUM/SAKE EXPERT JOHN GAUNTNER
John Gauntner is a JET alum and noted lecturer on sake who travels the world to speak all about this appealing beverage. He has published a score of books on the topic and spoke at Japan Society last May. Visit his website www.sake-world.com.
ISSHONI LONDON – JET ALUM BLOG
London JET alum Vanessa Villalobos writes about Japan-related events, news, review and interviews. This would be a good Q&A piece for any JETs wanting to learn more about how our alumni groups operate overseas. Learn more at:
www.facebook.com/pages/Isshoni-London/119415767689
www.twitter.com/IsshoniVanessa
TEAMTEACHERS.COM
An innovative telecommunications site for Team Teaching, founded by a JET. www.teamteachers.com
JETSET – CANADIAN JETS IN JAPAN
Melissa C. runs JETset, a site for Canadian JETs in Japan and a well-known resource center for JET participants. See more for a profile at http://www.jetsetjapan.com.
***JAPAN WORLD***
 10/21-11/11 – SION SONO FILM SERIES AT THE MUSEUM OF ARTS AND DESIGN
Chainsaws, serial killers, and mutant hair extensions merge harmoniously with true love, coming of age, and the delicate family dynamics in the bracingly original cinema of Sion Sono. Known for his fiercely independent roots, Sono elegantly crafts together stories of cults, horror, and violence with themes like individual alienation, the desperate desire for love, and the often-brutal reality of life in contemporary society. For a list of upcoming films, visit http://madmuseum.org/series/sion-sono
11/4-11/6 – JAPAN ART MATSURI
One of America's largest Japanese art & music festivals, the 9th annual Amnet Japan Art Mtsuri (JAM) will be held from Friday, November 4th through Sunday, November 6th at the Theater for the New City in Manhattan's East Village. Guests include popular taiko troupe COBU, classical sensation Taka Kigawa, and Don't Give Up, a 2011 Grammy Award-nominated gospel choir produced by Danny Eason, a highly-recognized gospel music director, and Yoko Uchiki, the producer for Gospel Now 2001. http://japanesenetwork.org/en/amnet-jam
11/10-27 – JUN KIM'S NEW PLAY KUTSUKAKE TOKIJIRO PREMIERE
The Flea Theater of New York presents Kurotama Kikaku's production of KUTSUKAKE TOKIJIRO conceived, adapted, and directed by Jun Kim based on the popular 1928 Japanese play by Shin Hasegawa. Performances begin November 10 at The Flea Theater in
Tribeca. KUTSUKAKE TOKIJIRO is a traditional Japanese gangster story that explores the themes of love, obligation and self-sacrifice. Kurotama Kikaku's version of Kutsukake Tokijiro keeps the essence of traditional Taishu Engeki and fuses it with 21st Century's J-pop culture. www.kurotamakikaku.com
SACHIYO ITO DANCE COMPANY ARTICLE: 30th ANNIVERSARY PROFILE
Sachiyo Ito and Company is the only dance group in New York City to perform Japanese classical dance, Okinawan dance, and contemporary works based on these traditions. They recently hosted their 30th Anniversary Concert near New York's Lincoln Center on October 23, expressing the beauty of Japanese culture, taking the audience from medieval Japan to present day through dance and live music. Takers are invited to write about Sachiyo Ito or review an upcoming concert. www.dancejapan.com
KYUSHU BATTENKAI OF NEW YORK
Since last summer, JETAA NY has joined forces with the Kyushu Battenkai (an association of Japanese from Kyushu living in New York), and more than 60 participants attended the group's Fall Gathering earlier this month. As New York is home to many other similar prefecture associations, this team up is a model for future JETAA Chapter-Prefectural Association events. The Battenkai's president would be happy to get in touch with any JET writer interested in a Q&A or a feature article about the organization and its ties with JETAA.
WHERE DO YOU GET YOUR JAPAN FIX?
In an effort to revive the "Japan Fix" posts, we'd like to share a recent discoveries to help readers find a little piece of Japan close to home.  How do you get your Japan fix wherever you live?
ROBIN SAKAI OF GAIJIN POT
Gaijin Pot is a site that offers jobs, apartments and classifieds in Japan. Run by Robin Sakai, it strives to bring the Japanese and expat community together.
REVIEW OF JAPANESE LANGUAGE STUDY OPTIONS IN THE NY AREA
JETWit would like to add a listing as well as a possible review of Japanese language study options in the New York area. One of these is Hills Learning, founded by Jon Hills, who works with JETs in New York to promote his learning center, which teaches four languages to children and adults. Jon also co-presents monthly Asian networking events. Jon is open to a profile. Learn more at www.hillslearning.com.
MOVIE/BOOK/RESTAURANT REVIEWS
JETWit is accepting reviews on any Japanese restaurant that you'd like to spread the word about. (Even better if they're run by JETs.) JET alum Jamie Graves works for Kajitsu, an East Village restaurant in New York specializing in shojin cuisine, an ancient Japanese culinary practice developed in Zen Buddhist monasteries.
CONSULATE GENERAL SCHOOL CARAVAN
This is a decade-plus program run by New York's Consulate General of Japan that sends consulate staff (American and Japanese) to New York high schools and junior high schools to introduce students to Japanese culture, and JET alums have even served as presenters! The purpose of this article will be to increase awareness of the program so more JETAA members can get involved.
KEIO ACADEMY OF NEW YORK
Based in Purchase, NY, Keio Academy is a school for bilingual and bicultural education established by its Tokyo namesake.  Besides the various activities the school offers, it also seeks to recruit JET alums for potential work opportunities.  We can put you in touch with their business officer, who is happy ro speak with more JETs about the subject.
ASIA SOCIETY OF NEW YORK
In Jan. 2010, NYC's Asia Society held a concert called "Hogaku," or Japanese folk instruments played with modern flair. We've never profiled Asia Society, so this would be a great time to find out more about how they select their Japanese attractions and exhibitions.
JAPAN INFORMATION CENTER OF NEW YORK
Profile. Take advantage of Japan Information Center to promote Japan!
The Japan Information Center (JIC) is the cultural and public affairs section of the Consulate General of Japan in New York. The JIC distributes educational materials, posters and pamphlets on Japan, provides speakers on various aspects of Japan to the schools throughout this region, Provides information on the Japanese Government Scholarships & the JET Program, distributes the e-newsletter Japan Info, and loans videos/DVDs and cultural artifacts.