Aug
25

Blogs, Earthquake Tsunami, Japan Local, Notable JET Alums, Return on JET-vestment, Travel/Tourism, Volunteer, Writers

Comments Off

on Return to Tohoku: JET alum Tanya Gardecky arrives in Shiogama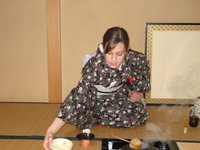 ******************
Tanya Gardecky (Miyagi-ken, Shiogama-shi) is one of the 20 Tohoku region JET alumni selected by the Ministry of Foreign Affairs (MOFA) to return to their town to both engage in volunteer efforts and also help document and share what's going on there.
Here's an excerpt from Tanya's latest post:
I eventually made it Shiogama (and instantly noticed some damage around the train station) and went city hall. There I was greeted by the Mayor and vice-mayor, along with many staff from the Shiogama Board of Education, and they welcomed me back. We talked about the state of the city after the earthquake, and I was shown a book full of photos of the damage in Tohoku. Most I had seen in the news already but to see them all in one book was a bit of a shock. They said they had made much progress in the reconstruction, and this was something I wanted to see. From city hall I went to the Board of Education to meet the staff again and to discuss my week. It's a very busy schedule but I know I can't afford to get worn out because there are people, places, and things I want to and need to see.
JETwit will continue to post updates from Tanya and other participating alums.  You can also follow Tanya's blog at http://www.travelblog.org/Bloggers/ShiogamaJET/.
If you are returning to Tohoku and would like to share your updates, please feel free to e-mail jetwit [at] jetwit.com.