Aug
22

Blogs, Earthquake Tsunami, Japan Local, Notable JET Alums, Return on JET-vestment, Travel/Tourism, Volunteer, Writers

Comments Off

on Return to Tohoku: JET alum Tanya Gradecky arrives in Japan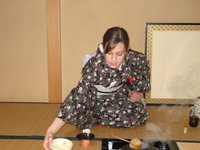 ******************
Tanya Gardecky (Miyagi-ken, Shiogama-shi) is one of the 20 Tohoku region JET alumni selected by the Ministry of Foreign Affairs (MOFA) to return to their town to both engage in volunteer efforts and also help document and share what's going on there.
Here's a quick excerpt from the first post on her travel blog:
"I'm about to head off to the Ministry of Foreign Affairs for a meeting and then I will be on my way to Sendai and Shiogama City in Miyagi Prefecture!!"
JETwit will continue to post updates from Tanya and other participating alums.  You can also follow Tanya's blog at http://www.travelblog.org/Bloggers/ShiogamaJET/.
If you are returning to Tohoku and would like to share your updates, please feel free to e-mail jetwit [at] jetwit.com.