Jun
14

Earthquake Tsunami, Japan Local, JETs in the News, Notable JET Alums, Return on JET-vestment, Translating/Interpreting

Comments Off

on Japan Times article on Iwate CIR Amanda Krips
********
Thanks to Fukui JET Mike Maher-King for forwarding on this Japan Times article about Iwate CIR Amanda Krips.
JET coordinator finds Iwate spirit contagious
Staff writer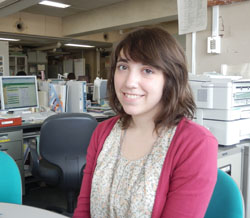 MORIOKA, Iwate Pref. — Iwate Prefecture's coast suffered some of the most severe damage in the March 11 quake and towering tsunami, where more than 4,500 people have been confirmed killed and 2,700 are still missing.
But only about two hours by car inland, Morioka, the prefecture's capital, was barely damaged by the 9-magnitude temblor. Residents only had to deal with a two-day power outage and a gas and supply shortage that lasted a few weeks, according to Amanda Krips, 24, an American who works for the prefectural government.
"Sometimes it makes it difficult to believe there is a total destruction only two hours away," said Krips, who is on the Japan Exchange and Teaching Program and serves as coordinator of international relations for the prefecture.
Iwate has one of the fewest numbers of JETs. In addition to three coordinators, including Krips, there were 21 assistant language teachers this year. But the tsunami took the life of one of them, Monty Dickson. The 26-year-old from Alaska perished in Rikuzentakata where he taught English to elementary and junior high school students.
As the prefectural advisor for JETs in Iwate, Krips contacted her colleagues soon after the earthquake. Although she had phone numbers and email addresses, checking updates on Facebook was the fastest way to confirm their condition, she said. "Even if they didn't have access (to the Internet) they could call their parents who would post on the wall."
In about four days, a worried Krips was able to confirm the safety of all the JETs except Dickson. "He became the only person who we haven't heard from. So after about a week I figured that it's probably not going to be good news," she said. Dickson's body was found about a month later.
"It was difficult to know that someone I had known in person had died," Krips said.
She went with her supervisor to Rikuzentakata for the first time when Dickson was found. "That was the first time I saw what happened, the extent of the tragedy. About 6 km from the coast I started to see debris on the riverside. You get into Rikuzentakata and nothing's there. Basically destroyed. That was really hard to see," she said.
Dealing with what happened and the radiation scare has been difficult and stressful to many, but Krips said the JETs didn't panic and reacted in a reasonable manner. A few returned to their home countries for spring break but are back and teaching at their assigned schools, she said.
Many will finish their contract in August and new replacements will arrive. "The situation is fine here; there's nothing to worry about. We'll try our best to assure them that they are safe," said Krips, who has another year in Iwate.
Having spent a year in Kyoto as a college student, Krips, originally from New Jersey, said that although Kyoto was a magical time, she likes Morioka much better, even after the quake.
"People here take a little bit longer to get past their shyness (than people in the Kansai region), but they are nice and genuine, and they're pretty strong people. That's what made living here so wonderful."
Krips observed that people have been stoic about the tragedy. "I haven't seen anyone curse nature. It happened, so we have to deal with it. I haven't talked with very many people, but I think a lot of them have the purpose of rebuilding now.
"Everybody is working hard. They have smiles and they don't complain or anything," she said.
Krips has done a lot of translation of incoming letters of condolence from other countries sent directly to the prefecture. "I don't think I can do very much for the reconstruction, but anything I can do to help relations between Iwate and people from other countries that might want to help, I'll do my best with that," she said.