May
11

Events, Food & Drink, Translating/Interpreting, Uncategorized, WIT Life, Writers

Comments Off

on WIT Life #168: Sake Guy John Gauntner
WITLife is a periodic series written by professional Writer/Interpreter/Translator Stacy Smith (Kumamoto-ken CIR, 2000-03). She starts her day by watching Fujisankei's newscast in Japanese, and here she shares some of the interesting tidbits and trends together with her own observations.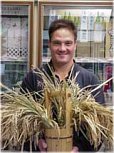 Last night I had the chance to brush up on my sake skills at the sold out sake tasting event Back to Basics held at Japan Society.  It was led by former JET John Gauntner, known as the world's leading non-Japanese sake expert.   He currently lives in Kamakura, and is well known among sake brewers and others within the industry as the window to making sake popular outside of Japan.  His presentation gave a comprehensive overview of sake in less than an hour, presenting the audience with the essentials in easy to remember sound bites.  His enthusiastic employment of the phrase "Absolutely!" in punctuating the rhetorical questions that he posed to himself had a particularly great impact.
We learned that translating sake as "rice wine" is a misnomer, as it is brewed in a way more similar to beer.  Gauntner discussed how sake is one of the few products in the world that is fairly priced the majority of the time, meaning you get what you pay for (though he pinpointed $80 as the amount where there starts to be a divergence between price point and quality).  He said that if there was one thing we should take away from the evening, it would be the word "ginjo," which refers to the premium sakes in the top 7% of the sake market.  They use better quality rice and are made with hand-crafted, labor-intensive techniques as opposed to the automated process most sakes go through in their creation.
During the Q&A portion, JETwit's own Steven Horowitz (Aichi-ken, Kariya-shi, 1992-94) asked about Gauntner's inspiration for entering the world of sake.  He was a JET back in the early days of the program in 1988, and his first encounter with sake was during that New Year's.  He fell in love with its taste and depth, and that started him on the path he has traveled the last 18 years.  His journey to becoming a sake expert was one of many small steps, as he started by writing a bimonthly Nihonshu Column in the Japan Times (Japan's most widely read English language newspaper) for eight years, then a weekly one in Japanese in the Yomiuri Shimbun.  This led to a book deal, and his fifth and most recent book was published in 2003 and titled "Nihonjin mo Shirenai Nihonshu no Hanashi" (Things About Sake Even Japanese People Don't Know).
Gauntner confessed that sake continues to fascinate him in terms of its history, culture and brewing methods, not to mention its flavors and aromas!  This passion ensures that his reign as the sake go-to guy will continue, and he will keep enlightening us regarding the mysteries of this alcoholic beverage.