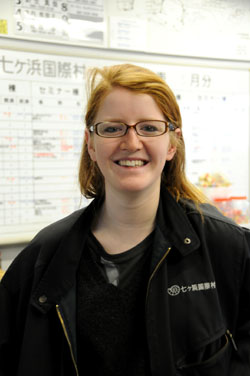 *************
Here's an April 7 Japan Times article about Marti McElreath (CIR Miyagi-ken, Shichigahama-shi).
JET post best, not 'pityfest'
American helps, refuses to leave beloved, battered beach locale
Thursday, April 7, 2011
Staff writer
SHICHIGAHAMA, Miyagi Pref. — There is a picture folder in Marti McElreath's Facebook account that chronicles her time in Shichigahama, a town located on a small peninsula in Miyagi Prefecture less than an hour's drive from Sendai and where she has been working since last summer under the Japan Exchange and Teaching Program.
Her comment on the folder reads: "I have the best JET placement in Japan," a view McElreath hasn't changed despite the massive earthquake and tsunami that brutally transformed the once peaceful beach community she has come to love.
"I mean, it's heartbreaking and hard to see what happened, but people are laughing and kids are playing and life is going on. Even after all that's happened, I still believe it, I believe that I have the best JET placement in Japan," she said.
While radiation fears from the Fukushima No. 1 nuclear power plant have led many foreigners in the region to flee, McElreath, who said the town lies on the cusp of the 80-km evacuation zone recommended by the U.S. government, has remained firm in her conviction to stay and do what she can to help the community.
"I've only been here for seven or eight months, but I really do love Shichigahama. The people here have been really amazing to me, and they've done so much to help me — I couldn't imagine just leaving," said McElreath, 23, from Westborough, Mass.
The earthquake and tsunami that hit the small town of 20,000 claimed 56 lives, and 18 people remain missing. Nearly 1,000 people were still living in the town's six evacuation centers as of Tuesday, and many houses in the coastal area were swept away or damaged.
The facility McElreath works for, Kokusaimura, or International Village, is being used as a temporary shelter, providing food and a place to sleep for around 300 people, and McElreath spends her days helping out evacuees as the only foreigner among the staff.
According to the International Affairs Division of the Miyagi Prefectural Government, out of the 70 JETs in Miyagi — excluding those in Sendai — 36 have either returned to their homeland or evacuated from the prefecture following the earthquake and subsequent nuclear disaster.
A municipal representative from Sendai said out of the 70 JET assistant-language teachers working in the city, 50 remained, and the rest planned to return before schools reopen Monday.
When the magnitude 9.0 earthquake hit at 2:46 p.m. on March 11, McElreath was at her office at Kokusaimura, going about her usual business.
As a coordinator for international relations, McElreath, fluent in Japanese after studying as an exchange student in Kobe during high school and then at Tohoku University during her senior year in college, was responsible for organizing various community events the facility hosted, as well as giving English-language and culture classes to local residents.
Without warning, the earthquake cut off the lifelines at the facility, and while sirens blared out tsunami warnings, people began evacuating to Kokusaimura, which sits on a hill.
McElreath said no one at the facility at that point was aware of the scale of the tsunami that was about to crash into the peninsula. By the time emergency electric generators were able to re-connect television sets, evacuees were confronted with horrific images of the disaster.
"I think it was around that point that we realized that we were going to be here for a while," she recalled.
Then at around 6 or 7 p.m. a huge explosion shook the facility and its residents as the JX Nippon Oil & Energy Corp.'s Sendai oil refinery, located a few kilometers from Shichigahama, went up in flames.
"The entire sky went red, and everyone gathered around the windows and looked outside and it was, like, an inferno," McElreath said, adding the smoke from the refinery lasted two or three days.
While McElreath was able to notify a prefectural adviser of the JET program of her safety immediately after the earthquake, cell phone reception quickly died.
It was not until the third day after the earthquake that she rode her bicycle 6 or 7 km toward Sendai and her cell phone finally re-connected, allowing her to contact family and friends to let them know she was safe.
McElreath said that as the Fukushima nuclear disaster unfolded, many foreigners she knew in the region, including non-JETs and those from other nations, were contacted by their respective embassies and advised to evacuate.
"There are noticeably less foreigners, there is almost no one left that you can tell by just walking around," McElreath said, adding she did not feel threatened by the radioactivity leaking in Fukushima.
"I decided that I would rather stay here as long as possible and keep on monitoring the situation," she said, adding that while her parents are concerned for her safety, they understand her desire to remain and help the community.
While electricity returned about a week after the earthquake, and propane could be used, water remained undrinkable and was only restored Tuesday in some areas of town. McElreath said that while Kokusaimura was well stocked with food and drinking water, evacuees missed taking baths.
Meanwhile, McElreath said Plymouth, Mass., Shichigahama's sister city, has been making fundraising efforts, already gathering $80,000 to be used in the town's rebuilding. Teams from as far afield as Turkey have arrived on search and rescue missions, and various volunteers, including many celebrities, make the rounds to Kokusaimura to drop off goods and cheer up the evacuees.
McElreath has recontracted with JET until July 2012, and she is determined to stay and work — if the situation allows her to — for the entire duration.
"I'd like to let everyone know that the people here are positive and we don't want this to become a pityfest.
"We are doing our best."