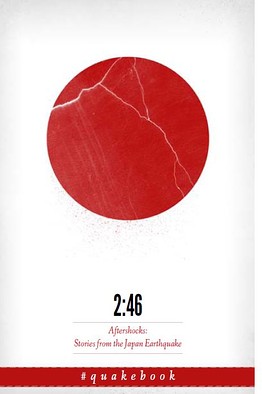 Fukushima City JET Brent Stirling recently put out word to JETAA chapters about Quakebook, "a book of stories, art and photographs that reflected first person accounts of the disaster" which will soon be available on Amazon.com with all proceeds going to benefit the Japan Red Cross.   Brent contributed his own story and has also offered to help with marketing and spreading the word.  Below Brent provides some insight into the unique process that led to the creation of of the project as well as his own involvement.
I lived in Fukushima City from August 2006 to August 2010 and worked as an ALT there.  The recent earthquake, tsunami and nuclear crisis in Tohoku has had me glued to my computer since it began, as has probably been the case with all JET Alumni.  Keeping in contact with my friends in Fukushima-ken through Facebook and Twitter, I felt helpless as far as how to help and what to do.
With limited access to news in the first days after the quake, I compiled information from friend's Facebook status updates, Twitter and a variety of news sources.  I sent these updates via Facebook to my friends who didn't have the time to comb through the news in order to get an accurate picture of what was going on.  Updates included news about transportation, gas, areas with running water, wind directions, reactor conditions and radiation levels.  Facebook became a source of news for everyone in the prefecture.  The current and former Fukushima JET community along with Japanese people worked together in order to get a clear picture of what was going on in Fukushima.
A week after the earthquake, I was sent a link to a blog asking for contributions about the earthquake.  The blogger, OurManInAbiko, hoped to create a book of stories, art and photographs that reflected first person accounts of the disaster.  He vowed to edit all the submissions and donate all of the proceeds to the Japanese Red Cross.  Looking to help anyway I could, I put in a submission about my experience in Canada throughout the ordeal and how proud the JETs and Japanese community had made me throughout the crisis.  My submission discusses sensationalism in the media and how the JET community worked together using social media to overcome adversity and share accurate news on the situation as it unfolded.  I didn't know that within 15 hours, OurManInAbiko had received 74 eyewitness submissions from all over Japan, as well as reactions from elsewhere in Asia, Europe and North America.
Through Twitter, the idea of #Quakebook grew.  Just as the Fukushima-ken JETs had used social networks in order to keep in contact, #Quakebook was using the networks in order to promote and create a book.  People joined in to spread the word and help with the logistics of publishing a book of this magnitude in such a short span of time.  Soon after, writer, William Gibson wrote a piece for the book, then Jake Adelstein contributed, Yoko Ono has recently come on board, offering her own piece in Japanese and English  Through the work of so many on Twitter from all over the world, #Quakebook began to take off.  Articles appeared on the BBC website, the Wall Street Journal and CNN Go to name a few.  Amazon has agreed to publish the book, waiving all of their fees with 100% of the money going to the Japanese Red Cross.  The all-volunteer team of #Quakebook is now working at getting translations of the book into different languages so that it can be a truly worldwide phenomenon.
The group that comprises the Quakebook team is continually growing.  Every person involved is using their skills and their own contacts in order to get the word out to every corner of the globe.  The team, while working closely is completely anonymous as everyone is referred to by their Twitter names.  My role has been very small throughout the Quakebook marketing process, but I believe in the book and I think it has the potential to bring people who are otherwise removed from the situation in Japan closer to it.  In buying the book, not only are people making a donation to the Japanese Red Cross, but they're also getting the stories of the people involved, the people that this disaster has affected.
I know that all JET Alumni are tied to Japan the same way that I am.  Everyone's time in Japan had a profound affect on where they are now and what they've done with their lives.  I'm hoping that this connection to Japan will get JET Alumni Associations worldwide to support and promote this book as best they can.  By putting a link to the Quakebook website on your blog, printing Quakebook posters for around your neighbourhood or your local library or getting it into the media wherever you are, everyone can make a difference in this project and help with the relief efforts in Japan.