Apr
4

Article/Journalism, Earthquake Tsunami, Justin's Japan

Comments Off

on Justin's Japan: In New York This Week, JET Fundraisers, Networkings, Sake, Arts, Monster Wrestling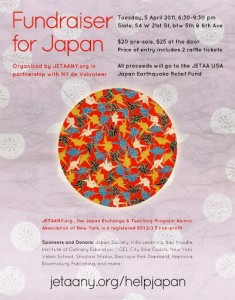 By JQ magazine's Justin Tedaldi (CIR Kobe-shi, 2001-02) for Examiner.com. Visit his  page here to subscribe for free alerts on newly published stories.  
Only in New York. As the JapanNYC festival's slated performances wrap up this week, here's a rundown of more Nippon-flavored events of note:
Tuesday, April 5, 6:30 p.m.-9:30 p.m.
Slate – 54 West 21st Street (between 5th and 6th Avenues)
$25 donation for entry, plus two raffle tickets. Additional tickets can be purchased both in advance and during the event.
The JET Alumni Association of New York, in partnership with NY de Volunteer, will be holding a fundraiser to benefit Japan. The night will include great drink specials, entertainment, and wonderful raffle prizes. Over 30 generous JET Alumni and local businesses have donated goods and services to the cause, such as cooking classes, bottles of sake, private dance lessons, handmade jewelry, and more!
All proceeds from this event will go to the JETAA USA Japan Earthquake Relief Fund. During the event, volunteers will be collecting messages for Send Hope to Japan from the World to further express solidarity during this difficult time. This open event will have a great crowd of JET alumni, members of the local Japanese community, and many other New Yorkers wanting to show their support. All are welcome to attend.
Tuesday, April 5, 7:00 p.m.-10:00 p.m.
Solas – 232 East 9th Street (between 2nd and 3rd Avenues)
Free with RSVP to events@hillslearning.com. $5 suggested donation at door.
Spring is here, and what better way to bring in the new season than to celebrate and network! Hills Learning and Two Rivers Associates will provide a raffle, snacks, and, of course, multiple opportunities to build your network. Come enjoy the fresh smells and sights of spring and build up your contacts in the season of new opportunities. The Solas bar will of course provide an extended happy hour for guests, and an exclusive second floor private bar service.
Saturday, April 9, 11:00 a.m.-11:00 p.m.
Concert for Japan
Japan Society
333 E. 47th Street (between 1st and 2nd Avenues)
Tickets: $5/$100 for gala block for certain acts
Japan Society's is raising the roof (and funds to help Japan) with this ambitious 12-hour concert extravaganza, from which 100% of the proceeds will go to the Japan Society's Japan Earthquake Relief Fund. John Zorn organized the GALA BLOCKS, which include Philip Glass and Hal Willner, Lou Reed, Laurie Anderson, Ryuichi Sakamoto, and Bill Laswell with gigi band. New York-based Japanese bands Echostream, Hard Nips, and Me and Mars will also perform. Shakuhachi Grand Master James Nyoraku Schlefer assembled a group of traditional Japanese artists such as koto player Masayo Ishigure and gagaku flute player Sadahiro Kakitani. In addition to these musical delights, there will be special activities, from learning basic Japanese phrases to origami crane folding to learning the basics of shodo calligraphy.
Saturday, April 9, 7:00 p.m.
Kaiju Big Battel – "When Danger Comes to Town"
B.B. King Blues Club & Grill
237 West 42nd Street (between 7th and 8th Avenues)
Tickets: $15.00 advance general admission/$18.00 day of show
In perhaps the ultimate American nod to Godzilla and Ultraman-styled smackdowns, Kaiju Big Battel is live wrestling of epic proportions. Planet Earth is under threat: scattered throughout the galaxy is a monstrous mob of maniacal villains, menacing alien beasts, and giant, city-crushing monsters that are waging war against one another. Currently, the Kaiju Universe maintains an active roster of approximately 30 monsters, including a blue alien-glutton named Sky Deviler, a factory-worker-turned-soup-can called Kung-Fu Chicken Noodle, and a despicable, square-headed mad scientist known as Dr. Cube. After a rapturous reception at Brooklyn's Warsaw last October, Kaiju is taking Manhattan with no holds barred.
Click here for the rest of this week's events.