Nov
22

Books, Celebrity, Cultural Outreach, Food & Drink, Notable JET Alums, Writers

Comments Off

on Culture Spreader: John Gauntner – The Sake Guy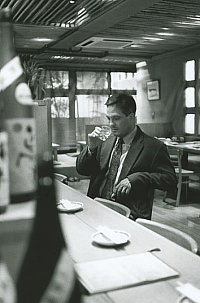 Culture Spreaders is a new feature intended to shine a spotlight on JET alums involved in spreading and sharing Japanese culture in their home countries.  If you know of a good JET alum for a future post, just e-mail jetwit [at] jetwit.com tell us why you think that alum is a Culture Spreader.  (Self-nominations welcome too.)
JET alum and leading sake expert John Gauntner (aka "The Sake Guy") has established himself as the leading non-Japanese sake expert in the world.  See, e.g., this 2009 Japan Times article titled, "Nihonshu evangelist preaches heady mix of culture, taste."
Not only does John spread the sake gospel through numerous appearances and events in the U.S. and elsewhere, but he also offers a Sake Professional Course in various locations to teach others how to be sake experts and evangelizers.  As  a result, there are now four sake-only specialist shops in the U.S.–True Sake (San Francisco), Sakaya (NYC), SakeNomi (Seattle) and The Sake Shop (Honolulu)–and the owners of all four attended John's Sake Professional Course for the purpose of starting their respective businesses.
For his work spreading Japanese sake culture around the globe (and helping the Japanese sake industry expand its markets), John Gauntner is hereby recognized by JetWit as a serious "Culture Spreader."
Editor's note: In the "JET's a small world" department, it turns out that both John Gauntner and last week's "Culture Spreader" Bruce Rutledge are both originally from Cleveland and previously have met at SakeNomi in Seattle, where Bruce currently lives.