Nov
5

Article/Journalism, Music, Writers

Comments Off

on Hokkaido JET Annual Musical Production Tradition Continues
Snow, Sea and Song
Hokkaido's hills are alive with the sound of music, thanks to the efforts of its ALTs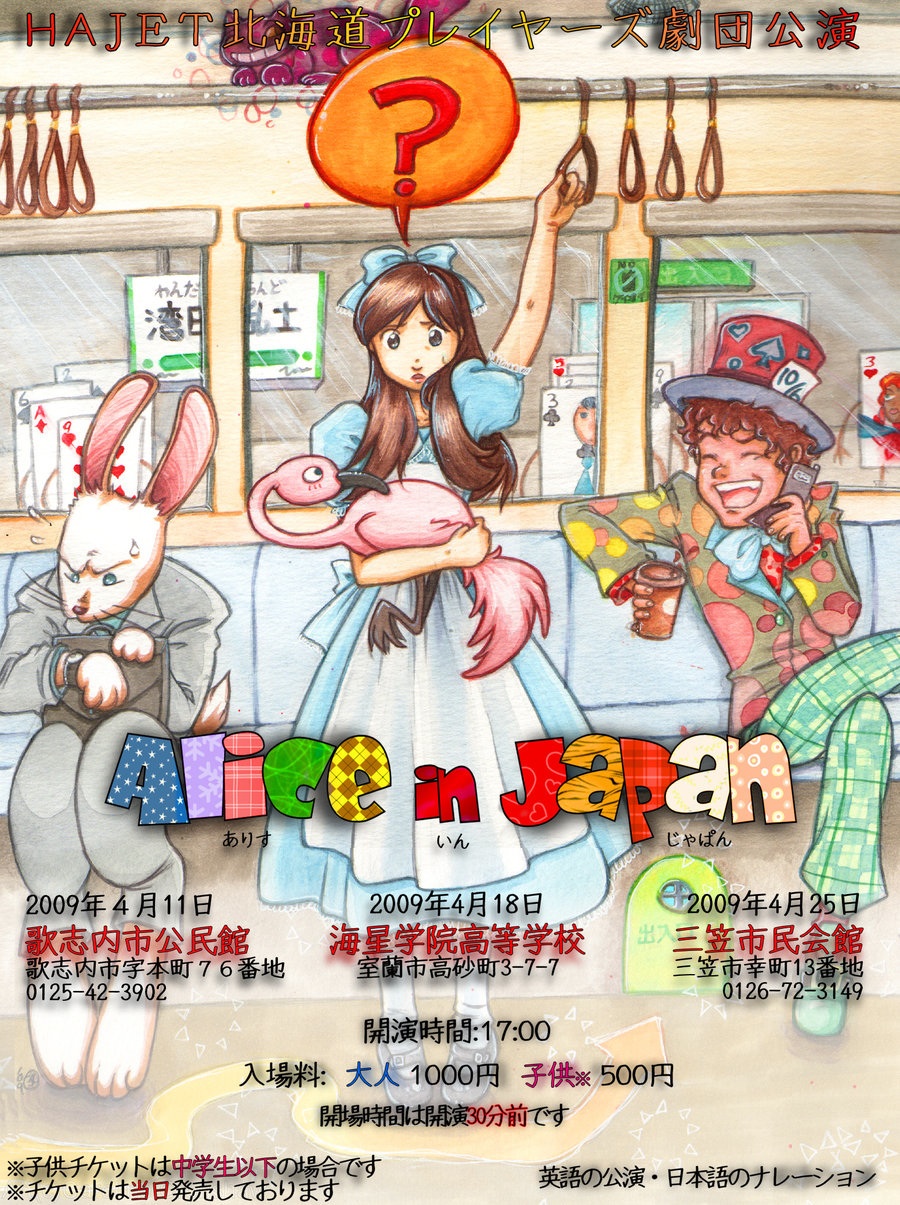 By Caroline Cronshaw (Hokkaido, 2006-09) – Caroline is an amateur illustrator and instructor at the University New Brunswick in Saint John, New Brunswick, Canada. She has painted and designed posters for the HAJET Hokkaido Players' productions for the past four years, and is currently working 2011's poster as of this article. Her work can be seen at http://carrie-ko.deviantart.com.
Whether they choose to go to Hokkaido or not, several hundred new JET participants, some of whom have never seen a snowflake before in their lives, come to live on the northernmost island in the Japanese archipelago each year.
Hokkaido, with its vast tracts of wilderness and ghostly former coal mining towns, can cause even the most steadfast and Canadian of JETs to surrender to homesickness and cabin fever during its long and snowy winters. It's those same cold and white expanses that probably inspired the Ainu peoples to come up with place names like Shiretoko – 'the ends of the earth'. Indeed, it's not easy being a homesick alien living in a half-buried BOE-owned hut in midwinter.
Thankfully, however, the ALTs of Hokkaido have come up with an unusual cure for the winter blues: musical theatre.
Since the mid-1990s, denizens of many Hokkaido communities have been witness to a mysterious caravan of vans and cars rumbling into town on a Friday night and parking in front of a local community centre or temple. These vehicles, laden with wooden planks and props, belong to none other than the members of the HAJET Hokkaido Players, an amateur theatre troupe comprised of JET participants from across the island. While some members do have experience in acting or stage production, there is no requirement except dedication and the desire to help bring international understanding to the people of Hokkaido. The troupe is partly administered by HAJET, the Hokkaido AJET chapter, and is entirely non-profit. If there is money left over or gained from performances, most of it is used to sponsor the Hokkaido English Challenge, an annual non-profit English-language summer camp program also organized by HAJET. The rest of the profit is saved for next year's show.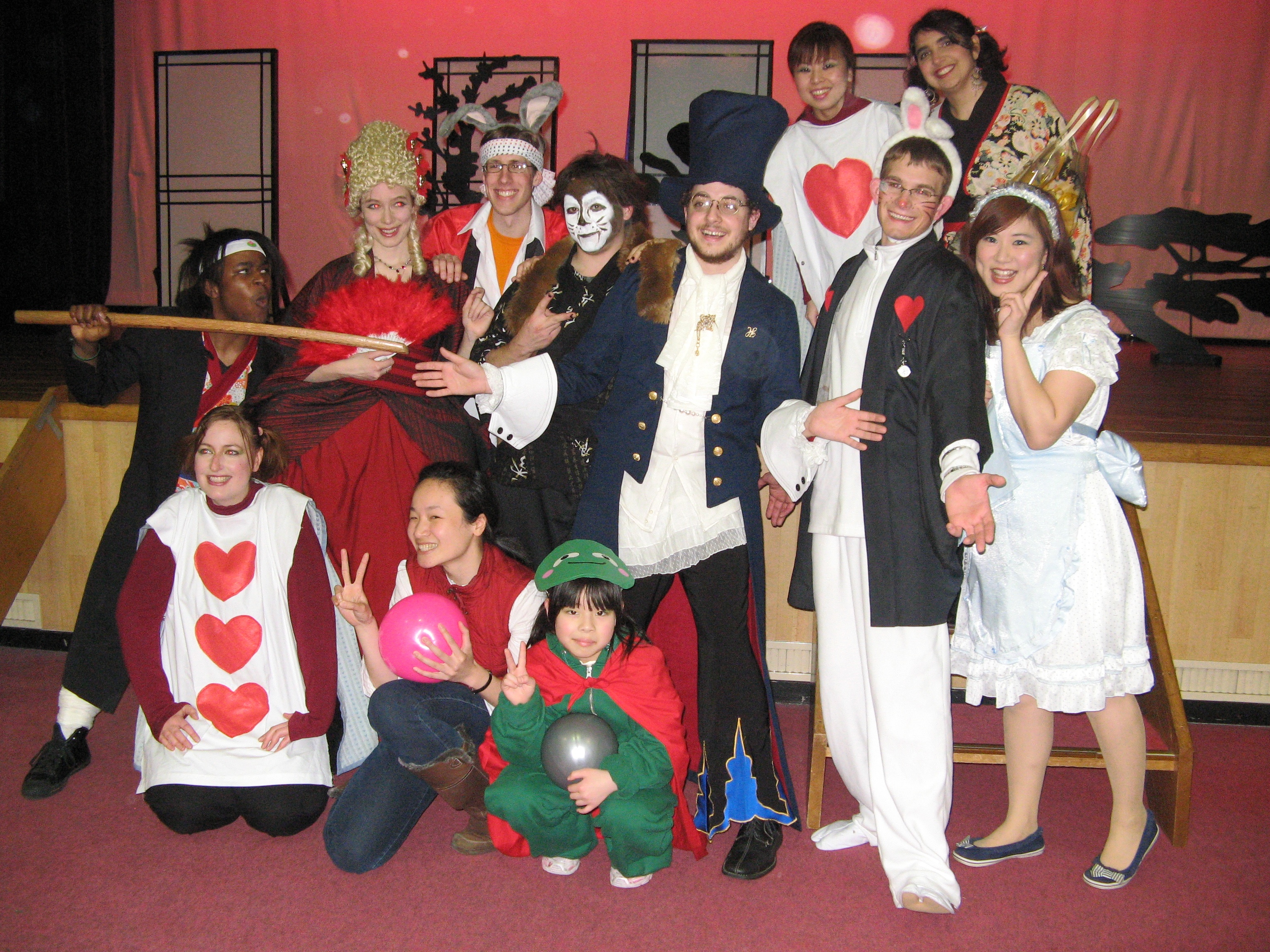 Among the various Broadway staples the HAJET Hokkaido Players have performed are such familiar titles as West Side Story, Annie, Peter Pan, Oklahoma!, and Guys and Dolls. They also on occasion perform original works, such as 2009's Alice in Japan, originally written by ALTs in Niigata. This year's production will be an original play based on The Jungle Book (the Kipling novel, not the Disney adaptation). According to the Players' current director, Melissa Golden, the production will incorporate elements of Bollywood cinema and traditional Indian costume, as well as make use of Lion King-style animal masks.
The Players start planning their productions early in the year, around the end of August when the newbies first arrive from overseas. Recruitment is usually done around early to mid September during the various welcome parties (with an island that big, you'd need to have several parties), and the first rehearsal is typically scheduled for later in the month or in early October. From that point onward, it's full speed ahead, and anyone who can't commit will be left in the dust. Despite the subject, it's serious business.
Depending on the show and the wishes of the director, the English script is augmented with either lines in Japanese, framed scene-by-scene with Japanese narration, or both. This is to help audience members without English proficiency or previous knowledge of the play to understand what is going on. The Players also do their research in more pop culture-related subjects – their scripts regularly include references to currently popular owarai comedy skits or bits of everyday Japanese existence. (Alice in Japan featured one great scene of the titular heroine studying for her high school entrance exam.) In addition to the spoken bits, there is great variety in the music performed by the troupe. Due to copyright reasons, it's inevitable that the Broadway classics remain unchanged lyrically, but the current trend of new and original musicals allows the Players to select whatever popular song fits the scene.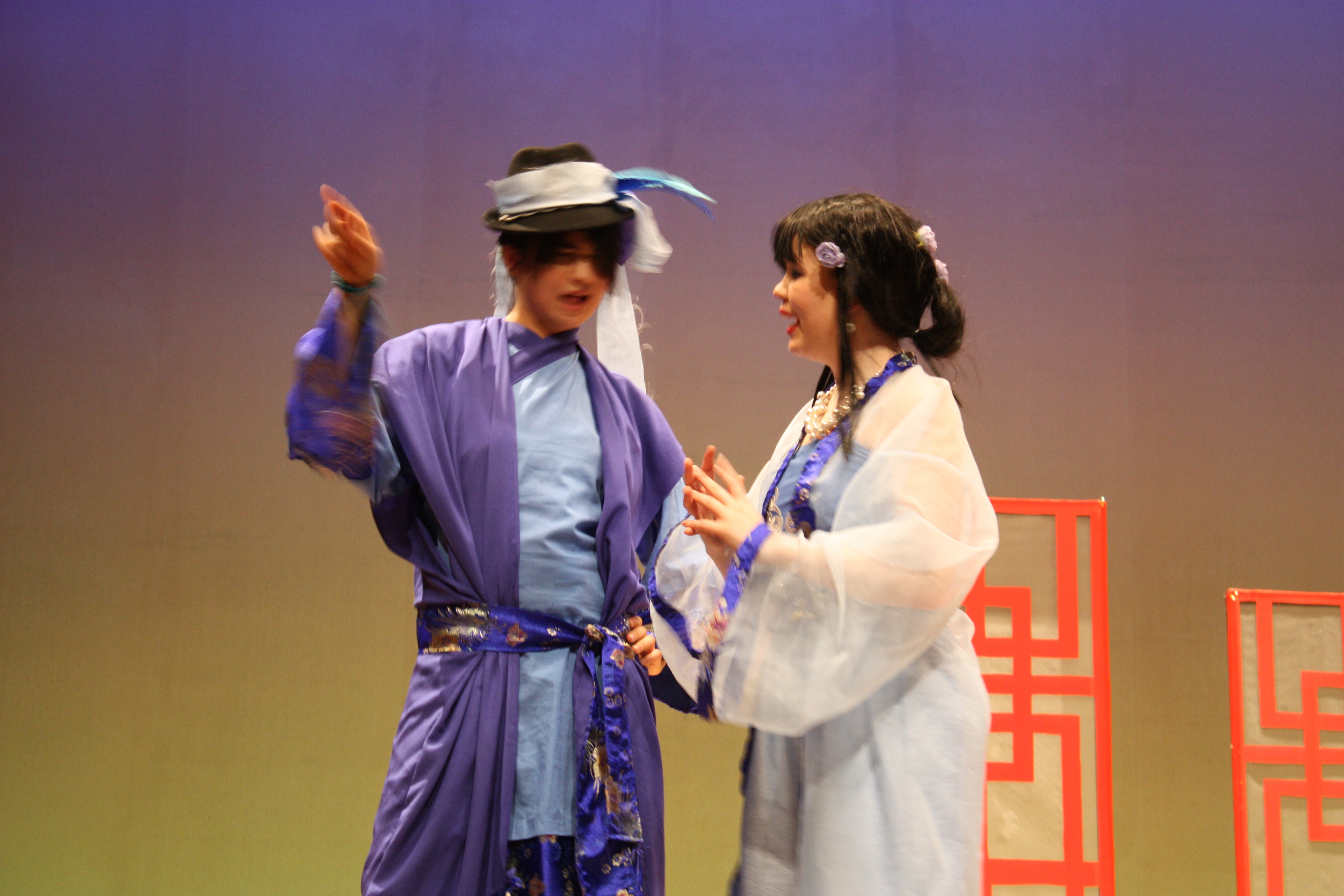 After getting some sleep at their often showerless lodgings, the Players trek over to the rehearsal site – usually a chilly school gym or town hall; anything with a stage will do – and practice lines and moves from early Saturday morning until late in the evening. After that, it's time to scrub off the day's grime at the local onsen and then relax with some cold beer and grub at the local izakaya. Post-rehearsal dinners are almost always done in locally owned establishments, thus establishing relationships with communities and supporting their local businesses. Practice resumes Sunday morning, and is followed by a noontime farewell until the next rehearsal a few weeks later.
As with any stage production, the HAJET musicals have not been without their fair share of down moments. Sometimes members have to leave the group mid-production due to personal or financial issues, or sometimes their board of education won't allow them to get involved in non-school related activities. Sometimes the budget won't allow for props or better venues. Sometimes the potential audience doesn't understand the point of an English-language play being done in Japan. Sometimes it's simply a case of the proverbial excrement hitting the proverbial fan. But in spite of the occasional setback, the Players have always bounced back to deliver a great and memorable show to kids and adults alike.
The final product of nearly eight months of travel and preparation is a titanic effort on the parts of all involved. Performances are done three weekends in a row during April of each year, each one in a location situated hundreds of miles away from the other two. As they have done during the rehearsals, the troupe arrives in town on a Friday evening and arrives at the theatre the next morning to start set-up and rehearsing. The difference here is the added manpower of a dozen or more volunteers, many of them JETs, local non-Japanese residents, and Hokkaido locals – folks whose dedication and attitude help get each performance up and running. Just before the doors to the auditorium open, the cast and crew take a moment to interact with the local school kids through English-themed games and activities, thereby strengthening the bond between host community and performer. Afterwards, with the audience revved up and ready for some genuine English exposure, the curtain raises and the show begins.
Three crazy weekends later and it's time to put the costumes and props into storage, to clean up the stages and calculate budget expenditures, and for the HAJET Hokkaido Players to return to having a single occupation as a public school instructor in their sleepy springtime towns and cities. Some of them will choose to return and perform next year, while others may choose to repatriate or to concentrate on more teaching-related matters. Whatever the choice may be, it's clear that the HAJET musical experience stays in the hearts and minds of all those involved. The weeks of practice and traveling presents an amazing opportunity for new JET participants to see parts of Hokkaido they would otherwise never glimpse and to make friends with Japanese and other non-Japanese from all walks of life. I cannot think of a better way to acculturate and beat the winter blues than this.
Far more important than beating culture shock, however, are the kids and adults who came and saw these brave souls perform. It is they who walked away with a better appreciation of other cultures, and with a better understanding of English as a genuine method of communication outside of the classroom. It is for those same people that the HAJET Hokkaido Players continue to devote eight months a year and will continue to do so long into the future.
The HAJET Hokkaido Players' next production, The Jungle Book, is scheduled for late May and early June 2011. You can find more information about this and past productions at http://musical.hajet.org. If you live on Hokkaido and would like to volunteer with the Players, please contact Director Melissa Golden at lissagold.gmail.com.